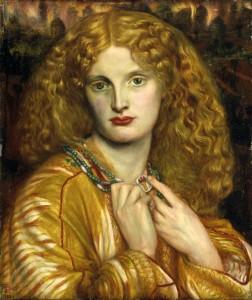 Dante Gabriel Rosetti Helen of Troy
In Michelyn Camen's interview last year with Bertrand Duchaufour he mentioned that he likes to work with a central duality in all of his compositions. When I heard that he was working on a fragrance for Parfums MDCI called La Belle Helene I was thinking it would be inspired by the dessert created by Auguste Escoffier, of The Ritz, employing pears and chocolate along with crystallized violet. I was hoping for the duality in my imagination to be something like pear and chocolate with hints of violet. Of course there is a reason I am a reviewer and Bertrand Duchaufour is, well, Bertrand Duchaufour.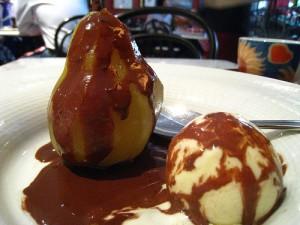 Belle Helene Dessert
His dualities are not that obvious. According to Denyse Beaulieu, in her review on Grain de Musc, the owner of Parfums MDCI Claude Marchal wanted to have M Duchaufour create a white flower fragrance. After a day of brainstorming they settled on a fragrance consisting of pear and osmanthus. This combination after having been realized in the bottle of Parfums MDCI La Belle Helene shows the wisdom of M Duchaufour's duality style of composition.
While my hopes for a fruity gourmand seemingly were dashed in many ways they weren't because while osmanthus is indeed a flower it is a flower which carries an unusual duality of its own. Osmanthus has been described as a mix of apricot and leather. I get that comparison but it seems a simplistic way to describe it because really osmanthus carries a deep animalic quality to it which feels leather-like but has a little something extra to my nose. Osmanthus has a feel of one of M Duchaufours recent creations for L'Artisan, Traversee du Bosphore, as that has an almost sweet loukhoum note in concert with leather. In La Belle Helene the sweetness of the pear brushes against the animalic facets of osmanthus to create something similar but also something very different.
La Belle Helene starts with the pear and the pear that is evoked here is the kind that is crisp and tart in flavor and character. The violet is also present in these early stages adding some nice counterbalance to the fruitiness. The heart arrives with the apricot notes of osmanthus leading the way. This apricot character has a concentrated quality to it that feels just right. As the more animalic quality of the osmanthus begins to predominate; the finish of patchouli, vetiver, and oak moss give La Belle Helene a pronounced chypre-like feel. Very late in the development there is a little musk accentuating the leatheriness that remains and sandalwood smoothing out the finish.
La Belle Helene has almost 24 hour longevity and average sillage.
Again referring to Mme Beaulieu's review it says M Duchaufour was toying around with a pear and iris duality before his brainstorming session with M Marchal. While I imagine M Duchaufour could have worked something magical out of pear and iris; I can only thank the serendipity that changed their thinking to pear and osmanthus. La Belle Helene is the kind of perfume that allows the aesthetic of M Duchaufour's duality to shine beautifully.
Disclosure: This review was based on samples purchased from Luckyscent.
–Mark Behnke, Managing Editor
Thanks to our friends at Luckyscent we have two samples of La Belle Helene to give away to two different commenters. Leave a comment about Bertrand Duchaufour, your favorite duality or "pear" of things; fragrant or not. The Draw closes March 4, 2011 at 10:00 pm.
Editor's Note: I chose Rosetti's Helen of Troy as it was painted the same year Auguste Escoffier created Belle Helene 1863