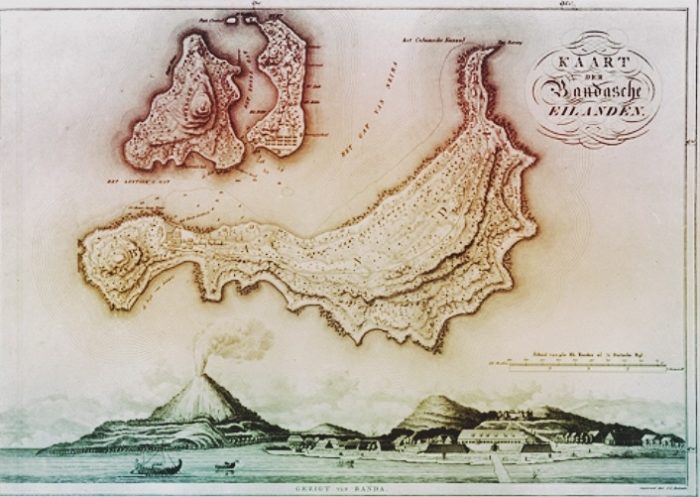 Map of The Banda Isla apped Mc
Nutmeg, the hard seed of the evergreen tree Myristica fragrans, indigenous to the Banda Islands of Indonesia, was probably the most highly valued and sought after spice in 17th century Europe. At one point European traders were selling nutmeg at a mark-up of nearly 6,000 percent. At the height of its power, the Dutch East India Company supplied most of the world's nutmeg and paid enormous dividends to its stockholders. It is easy to understand why the company wanted total control of the spice trade (referred to the Nutmeg Wars). In order to monopolize production, the Company either killed or made slaves of the inhabitants of the Banda Islands, replacing their small farms with Dutch owned and operated nutmeg plantations. Despite the murder and mayhem there was one island that remained in the hands of the British and was not under Dutch control. In order to resolve conflicts with the English in the New World, the Dutch were more than happy to give up New Amsterdam (Manhattan) for the spice island of Rhun. With the treaty of Breda in 1667, Manhattan was traded – for nutmeg.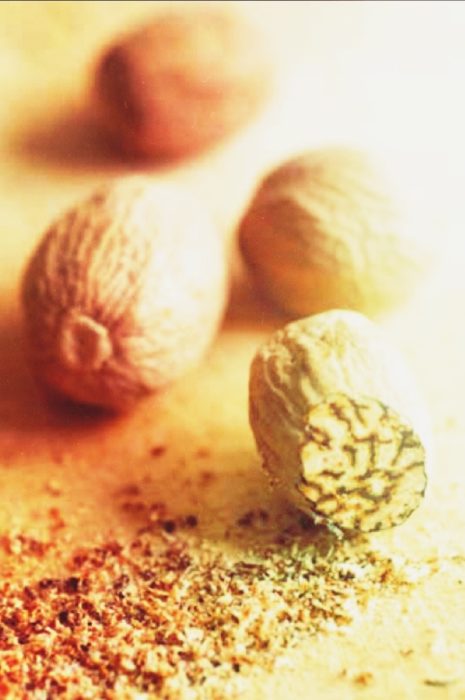 Nutmeg is narcotic and an aphrodisiac (appedMC) howstuffworks.com
So what was it about nutmeg that drove 17th century consumers wild? First of all Europeans craved the taste and aroma of the spice. Nutmeg was also known to be narcotic as well as hallucinogenic and was considered a protection against the plague, repelling fleas. Another important use of nutmeg was as an aphrodisiac. Nutmeg was – and perhaps still is – an aromatic key to the secrets of love.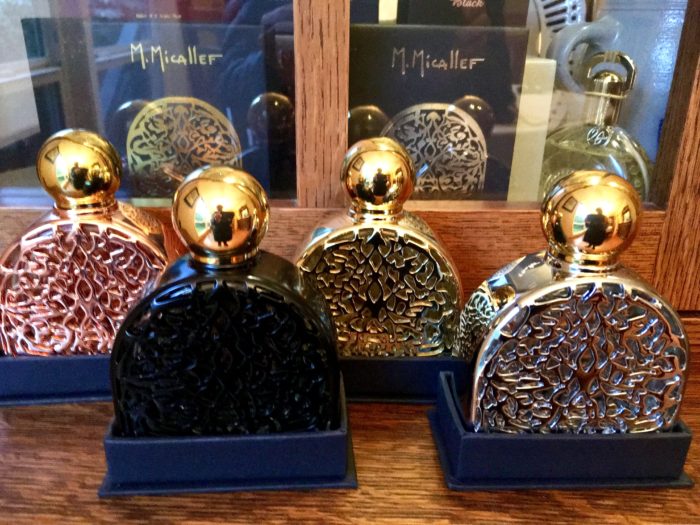 The Secrets of Love Collection from M.Micallef (photo Gail)
M. Micallef latest fragrances, the Secrets of Love, created by Geoffrey Nejman and Jean-Claude Astier are unmistakably French haute perfumery – with a spicy, Middle Eastern twist. The four very different Eau de Parfums are housed in gorgeous 75 ml bottles designed by Martine Micallef. Each bottle is covered with ornate metalwork in black, silver, gold or rose gold tone. Nutmeg is featured in three of the four fragrances and I detect the spice in all of them.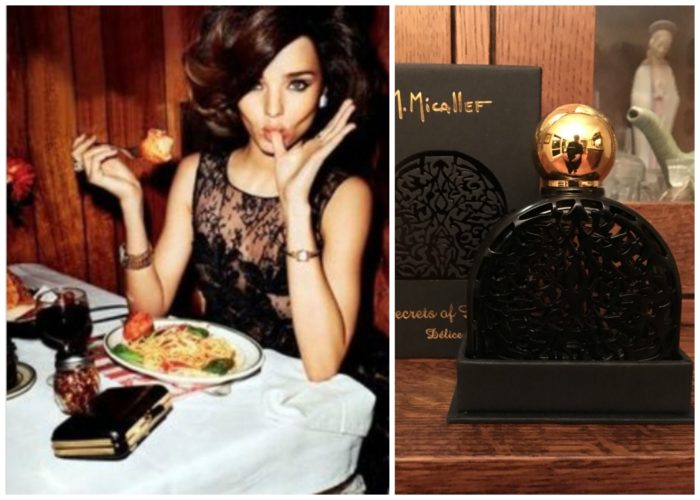 Miranda Kerr for Harper's Bazaar Terry Richardson and Secrets of Love Délice
Secrets of Love Délice
"Food as a symbol of love when words are inadequate" – Alan D. Wolfelt
Délice is bottled in black matte, metallic "lace" and begins with a scorched, woody/oudy accord spiced with nutmeg, cinnamon and bay. The first phase of the fragrance is extremely focused, raw, dark and glossy with a deep rose-red sheen. The effect is sharp edged, like glass or shiny black obsidian. After a quarter of an hour the volcanic glass slowly melts into a torte of tart berries, plums, vanilla, cinnamon and again nutmeg. The oudy note takes on a warm buttery quality adding richness to the fruit and spice. This mouth-watering delight lingers for two or three hours before it begins the dry-down to a light, ethereal oud and vanilla, powdered with the barest suggestion of musk. While the sillage of the initial phase is quite pronounced, the gourmand heart and oudy dry-down stay close, disappearing into the skin after about 6 hours but clinging much longer to clothing. Délice is the Secret of Love is a decadent dessert. Fragrance Notes: Nutmeg, orange, bay leaf, plum, cinnamon, rose, vanilla and oud.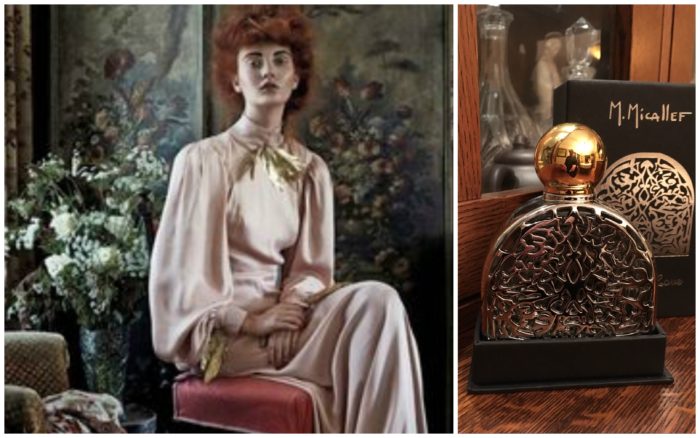 Vogue Germany 2013 and Secrets of Love Sensual (Gail)
"…'Then stay with me a little longer', Madame Olenska said in a low tone, just touching his knee with her plumed fan. It was the lightest touch but thrilled him like a caress." – Edith Wharton, The Age Of Innocence
Cool green galbanum, a touch of acerbic lemon and refreshing grapefruit color the woody opening of Sensual. The ubiquitous nutmeg is threaded through green tendrils of scent creating an enticing open weave of sweet resinous aromatics housed in the shimmering silver-toned bottle. The cool greenery slowly blooms into the heart of orange blossom and jasmine, enveloping the wearer in a tracery of delicate, warm, white florals. The narcotic effect of nutmeg is ever present and can still be felt as the fragrance dries to a veil of sandalwood and vanilla. Sensual is an extremely tactile perfume, inviting closeness and soliciting touch. The fragrance recalls an innocence, at once erotic and spiritual, a shy first love that sings for 8 hours on skin but is remembered forever on fabric. Fragrance Notes: Galbanum, nutmeg, lemon, grapefruit, orange blossom, jasmine, musk, sandalwood and vanilla.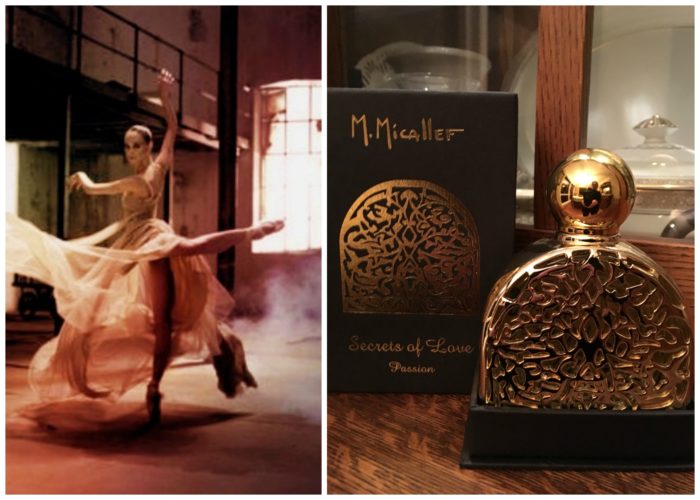 Ballet fashion Vogue Russia apped mc and Secrets of Love Passion
"Nobody cares if you can't dance well. Just get up and dance. Great dancers are great because of their passion." – Martha Graham
Passion, enclosed in a golden metallic flacon, opens with a glowing, vibrant, almost fluorescent cadmium orange hue, laced with cinnamon, a breath of oud and my imagined aroma of nutmeg. The effect is semi-opaque, exciting, juicy, and playful. Over time the spiced orange infuses the sweet caramel and Cashmeran core of Passion with a zest and flame peculiar to citrus fruits, stems and leaves. This effect last for hours, eventually fading in a mist of sandalwood, benzoin and musk. Passion is a fragrance of enthusiasm, intensity and fervor, suggesting the brilliant, unlimited joy and pleasure available to those who are willing to set aside their fears and follow their love and their dreams. Fragrance Notes: Oud, orange, cinnamon, Cashmeran, caramel, benzoin, sandalwood, musk and patchouli.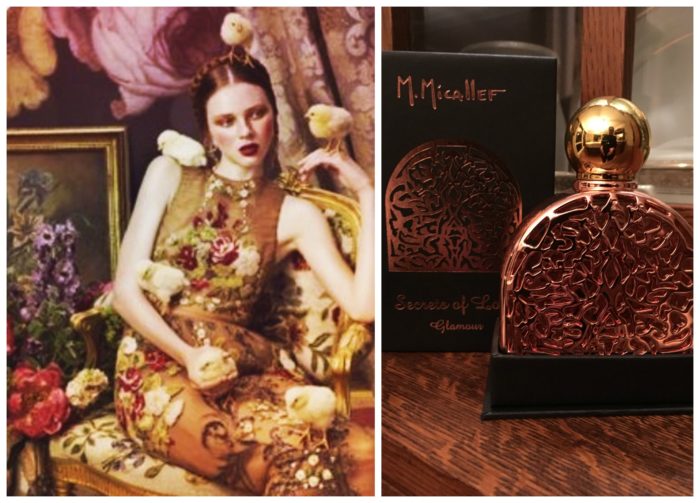 Ornate Expections Andrew Yee How To Spend It Magazine and Secrets of Love Glamour
Secrets of Love Glamour
"I don't do fashion. I am fashion." – Coco Chanel
Glamour is the most luxurious of the four Secrets of Love perfumes. My first spritz from the rose-gold colored bottle speaks of spicy indulgence and peachy glitz. Glamour is not a perfume for the shrinking violet or faint of heart. The opening is a powerful scent bomb of nutmeg, peach, apple and just a touch of cinnamon. After a few moments, hints of saffron create a dazzling, satiny olfactory experience. From the start Glamour envelops the wearer in an almost visible cloud of fragrance, forming and reforming for several hours as billowing rosy fruits and creamy jasmine. This luscious perfume, spiced with the addictive scent of nutmeg, flows seamlessly for hours, from the heart of jasmine and rose to the sweet finish of benzoin, musk, sandalwood and vanilla. Glamour is extremely feminine, classically oriental, seductive and rich. It personifies the bold and romantic spirit of the woman who creates her own life and her own style. Fragrance Notes: Nutmeg, peach, apple, cinnamon, saffron, jasmine, rose, plum, Cashmere, sandalwood, musk, vanilla.
A final note on nutmeg: In 1699, the pirate Captain William Kidd buried several chests of treasure. One was later recovered and found to contain neither gold nor silver, but a bale of nutmeg and cloves.
Disclaimer: Many thanks to the team at M.Micallef for the beautiful bottles of the Secrets of Love. My opinions are my own.
Gail Gross – Sr. Contributor
Editor's Note and Art Direction: Michelyn–The Secret of Love Collection is a limited edition and although Secrets of Love Délice is sold out, but we have one bottle available. Glamour (my personal favorite) and Passion can still be purchased from the Micallef website here and Sensual, Glamour and Passion are available at Osswaldnyc.com
Thanks to the amazing generosity of Parfums Micallef, we have a 75 ml bottle of Secrets of Love ($275), the reader's choice for one registered reader worldwide (be sure to register or your comment will not count). To be eligible, please leave a comment with what appeals to you about any of the Secrets of Love fragrances, the history of nutmeg, which one you would choose should you win, where you live and if you have a favorite fragrance by M. Micallef. Draw closes December 5, 2016.
Follow Parfums Micallef @parfumsmmicallef @cafleurebon on Instagram.
We announce the winners only on site and on our Facebook page, so Like Cafleurebon and use our RSS feed…or your dream prize will be just spilled perfume