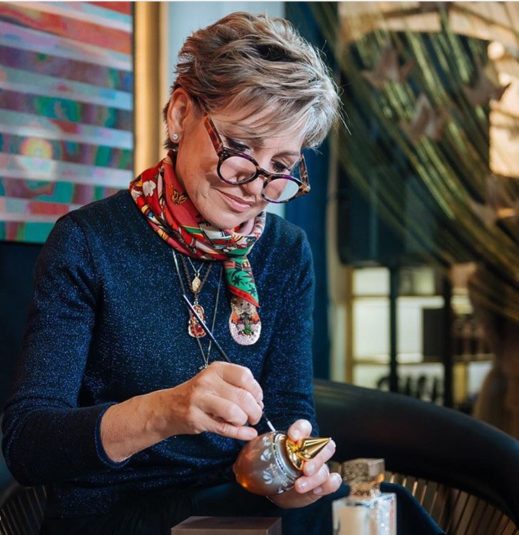 Martine Micallef of Parfums M.Micallef
"For me to be a woman in the world of business allowed me to develop more my intuition side of my character… My sensibility accompanies me in my creativity. As I am an artist, I feel free to take décision only with my feelings. I love to experiment new roads…". –Martine Micallef of Parfums M.Micallef
My children can attest to the fact that my personal mantra and studied reaction to just about every situation I encounter is a quotation from a Sufi teaching story entitled "What Befell the Three". Because I firmly believe that the words we use shape our realities, I always make an important addition to the original quotation: "There are as many Ways as there are hearts of men [and women]." – Murad Shami (1640 – c1720). Today, as we celebrate International Women's Day, I would like to extend this tenet into the realm of fragrance, focusing on the extensive oeuvre of the amazingly talented woman entrepreneur, the co-founder and designer of Parfums M. Micallef, Martine Micallef. When I consider the strength, romance and femininity of womanhood, three unique fragrances by M. Micallef, which was co- founded by Martine Micallef in 1996 immediately come to mind: 20 Ans (2016) Secrets of Love Gourmand (2017) and Pure Extrême (2015).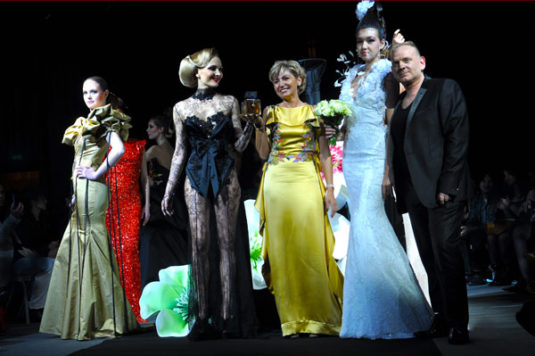 Martine Micallef of Parfums M.Micallef (in yellow) Denis Durand (R) Cannes 2013
Martine Micallef and perfumers Geoffrey Nejman and Jean Claude Astier are the three creative minds and noses behind the house of M. Micallef. In the past 20 plus years M. Micallef has probably introduced as many stunning perfumes for men and woman as there are personal tastes in perfumery. For International Women's Day I have selected three perfumes by M. Micallef to define three of the many scented pathways that express the ideals strength, romance and femininity in fragrance.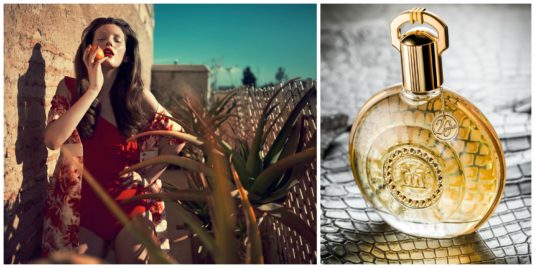 M. Micallef 20 Ans and Veroniek Gielkens by Duy Quoc Vo for Avant Garde 2011
The First Pathway – Temptation – M. Micallef 20 Ans is my dream of a fantasy garden, a temptation sparkling with light reflecting through a snakeskin patterned bottle. My first taste of 20 Ans recalls the soft pink pith and the sweeter than grapefruit aroma of the flesh of my favorite citrus, the luscious pomelo. I take another bite and am immediately swept away by a blend of mysterious fruits, suffusing my skin with a golden glow. Davana (Artemisia pallens) adds an intoxicating richness to the fragrance. The perfume is at once exhilarating and sultry, comfortable and exotic, with a sillage that is quite flirtatious while remaining polite. The complex structure of 20 Ans dries down and finishes, after several hours, with a nutmeg spiced wood accord. From the first breath to the last lingering sigh, 20 Ans shimmers with a kaleidoscope of olfactory effects, offering a tantalizing, seductive aroma that could easily be the scent of the original forbidden fruit. Notes: Bergamot, nutmeg, exotic fruit, white rose, davana, orange flower, jasmine, geranium, patchouli, caramel, vanilla, precious woods and white musk.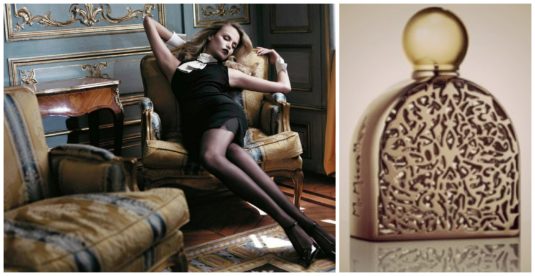 Natasha Poly by Willy Vanderperre for Vogue China November 2012​©​ and Secrets of Love Gourmet
The Second Pathway – Smoldering Pleasure – M. Micallef Secrets of Love Gourmet opens as a glowing, smoky gourmand, smoldering with incense, nuts and sweet leather, developing, after a few minutes, into a buttery, vanilla chestnut torte. A touch of something phenolic – the residual leather perhaps – or the effect of aoud, incense and smoking frankincense, ignite a slow burn that warms as it dries down. Secrets of Love Gourmet is rich and bold with a just hint of airy violet and a slightly tart raspberry. The sillage is pronounced but never overpowering and the longevity at least eight hours on my skin and days on clothing. Secrets of Love Gourmet finishes, as it starts, a pleasure filled, sweet chestnut dessert, lingering as a glaze and a haze of labdanum, aoud and precious woods. Notes: Incense, raspberry, violet, leather, chestnut, labdanum, aoud and vanilla.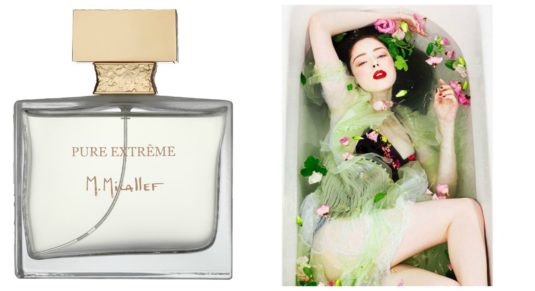 M.Micallef Pure Extreme and Sofia Sanchez & Mauro Mongiello©, Model: Coco Rocha​
Final Pathway – Afterglow – M. Micallef Pure Extrême: After succumbing to the temptation of 20 Ans and savoring the smoldering pleasure of Secrets of Love Gourmet I find myself basking in the floral afterglow of M. Micallef Pure Extrême. Pure Extrême is the ultimate relaxation, rose petals, jasmine and gardenia blossoms floating in a steamy bath of amber, woods and white musk. Opening humid, moist and balmy, Pure Extrême soothes with the transparent, luster of a fragrant gold-toned rose. As the perfume develops it suffuses, surrounds and comforts me with the intimate touch and feel of the delicate, waxen petals of white flowers, gardenia and jasmine, ever so slightly bruised and gilded with golden amber. I luxuriate in this elixir of flowers for eight hours and more before Pure Extrême slowly vanishes into a mist of woods and musk. Notes: Gardenia, rose, jasmine, precious woods, amber and musk.
20 Ans, Secrets of Love Gourmet and Pure Extrême are perfumed pathway to strength, femininity and romance, you need only follow your nose and discover your heart in these three entrancing beauties by Geoffrey Nedjman and Martine Micallef of Parfums M. Micallef.
Disclaimer: Many thanks to Martine Micallef of Parfums M. Micallef for the beautiful bottles of 20 Ans, Secrets of Love Gourmet, and Pure Extrême. My opinions are my own.
Gail Gross – Senior Editor
Art Direction: Michelyn Camen – Editor-in-Chief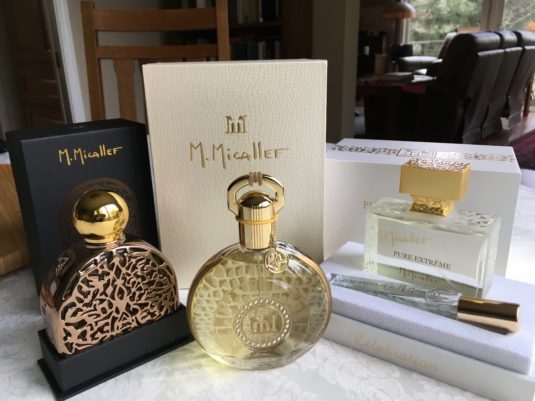 M.Micallef Secrets of Love Gourmet, 20 ans and Pure Extreme. Photo © Gail
Thanks to the generosity of Martine Micallef M. Micallef we have a large size bottle of your choice of 100 ml 20 Ans, 75 ml Secrets of Love Gourmet and 100 ml + travel size of Pure Extrême available to one registered reader anywhere in the world. Be sure to register or your comment will not count.) To be eligible for the draw, please tell us where you live and what appeals to you about Gail's reviews and which you should choose should you win. You can also let us know how you celebrated International Women's Day 2018. Draw closes March 11, 2018
We announce the winners only on site and on our Facebook page, so Like Cafleurebon and use our Blog feed…or your dream prize will be just spilled perfume.