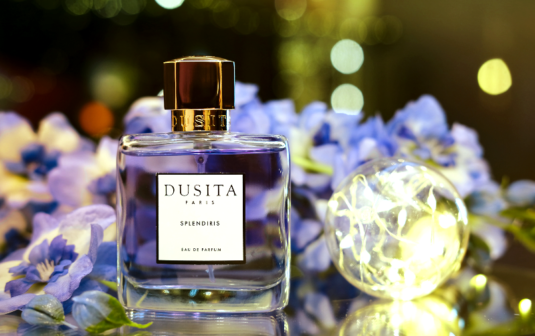 Parfums Dusita Splendiris (Photo: Parfums Dusita)©
"I write by the candlelight
in a night wrapped by many layers of dreams." – Montri Umavijani (1941 – 2006)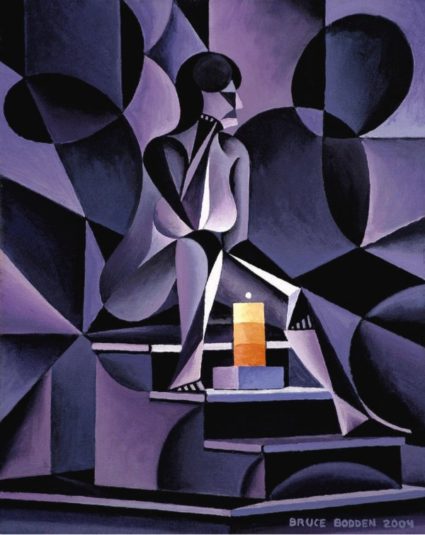 Nude On Steps Study (2004) by Bruce Bodden©
After a 2-month naming competition with 957 international entries, Splendiris is the chosen name for the newest addition to Parfums Dusita's already impressive perfume collection. Courtesy of Pissara Umavijani (founder and perfumer of the brand), last summer I've had the pleasure to try an earlier version of the fragrance, which I remember as an utterly charming, powdery iris scent with a discreet gourmand base.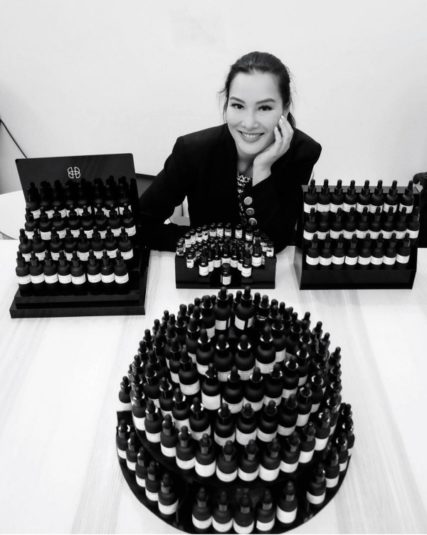 Pissara Umavijani, founder and perfumer of Parfums Dusita (Photo: Parfums Dusita)©
However the talented perfumer – ever the perfectionist – wanted to give her composition a more contemporary twist, and also tone down the powderiness (common characteristic of many iris scents), without decreasing the amount of orris butter (a precious material extracted from the iris root, after the latter is left to age, then powdered, and subsequently steam-distilled; the produced oil then solidifies into a concrete). She admirably succeeded in subliming Parfums Dusita Splendiris by masterful (re)blending which changed the scent's balance, without adding anything but carrot seed oil to the original ingredients.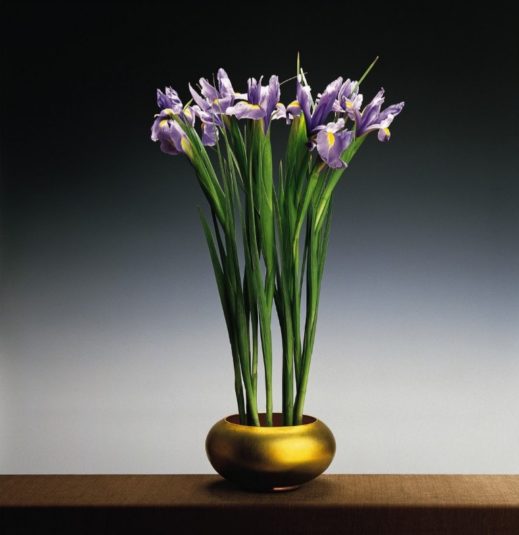 Irises (1988) by Robert Mapplethorpe©
Interviewing Pissara about Splendiris, she shared with me the challenges of working with orris butter, firstly because the raw material requires careful handling (its texture is oily and waxy). Even greater was the challenge of showcasing her – powerful – star ingredient as a perfectly integrated element of an overall fluid composition. Last but not least, she wanted orris (a raw material of rather cool character) to shine in a warm, sensual manner (like in vintage Guerlain Shalimar).
Iris (1906) by Norman Prescott Davies©
An amateur painter, Pissara often talks about perceiving perfume ingredients as colors, to be blended in her olfactory "paintings". In the case of Splendiris, she achieved the desired compositional harmony, in her own words, "just like a visual artist would add splashes of different colors in a drawing of glorious purple flowers (irises and violets): in this case, some bright green (a flower accord with violet and fig leaves), some pastel yellow (a gentle gourmand accord), a little off-white (a touch of jasmine), and some darker beige (a woody, earthy base)". Her synaesthetic approach to perfume making has always worked out beautifully – and Parfums Dusita Splendiris is no exception. For the skillful perfumer has created what I perceived as a fragrant interpretation of a caress's emotional impact.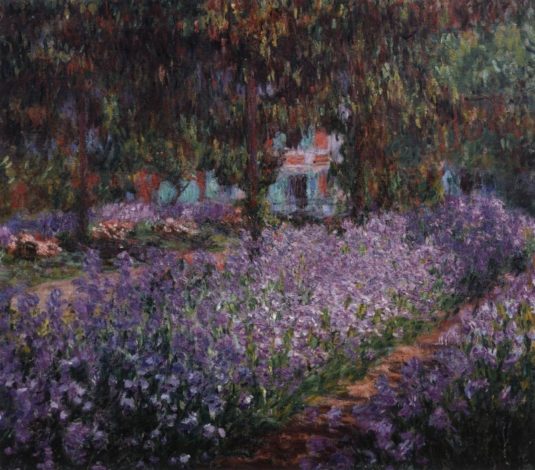 Irises at Giverny (1900) by Claude Monet©
Parfums Dusita Splendiris opens with a bright, succulent citrus accord (bergamot, mandarin, blood orange) that lasts just enough to awaken the senses. A more assertive touch comes with the invigorating greenness of violet and fig leaves. The rootiness of carrot seed oil arouses the curiosity, just before the increasingly stimulating heart of the fragrance emerges – big in florals, and emotions. Rich in orris, violet notes, May rose, and just a hint of honeyed jasmine, the floral accord is as sensuous and sweet, as a fully-bloomed garden in Grasse.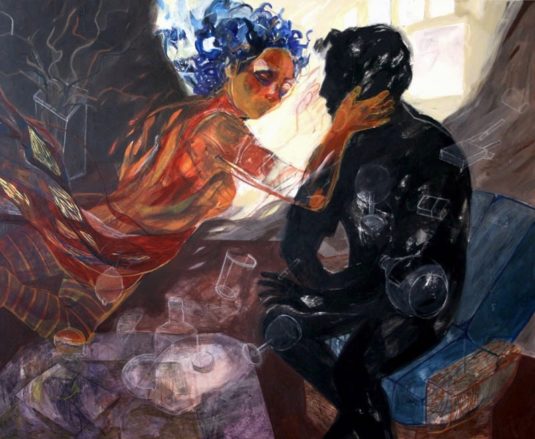 Caress (2009), by Golnar Tabibzadeh©
As this fragrant caress warms up on the skin, its sensuality is felt deeper and deeper: along with the sumptuous floral heart (present at every stage of the scent's evolution), the earthiness of cedarwood and gorgeous Haitian vetiver, the elegant gourmand touch of delicious vanilla, and the slight animalic shade of ambergris complete a deeply satisfactory sensorial experience. Considering the richness of its ingredients, Splendiris amazingly retains an ethereal aura in all its intensity; airy and deep, soft and sensual, voluptuous and comforting at the same time. A seamless composition of high-quality ingredients, admirable balance and affecting beauty, Parfums Dusita Splendiris is meant to caress one's skin, and heart.
Notes: Calabrian Bergamot, Capuan Mandarin, Blood Orange, Violet Leaf, Fig Leaf, Carrot Seed Oil, Orris Butter, Violet, Rose de Mai, Jasmin Sambac, Madagascar Vanilla, Cedarwood, Haitian Vetiver, Ambergris
Parfums Dusita Splendiris will be released in early May 2019.
Note: In consistence with how I perceived the scent, "Caresse d'Iris" was my name suggestion in the brand's aforementioned competition, in which I was a runner-up.
Disclaimer: Many thanks to Pissara Umavijani and Parfums Dusita for my samples. The opinions are my own.
– Despina Veneti, Editor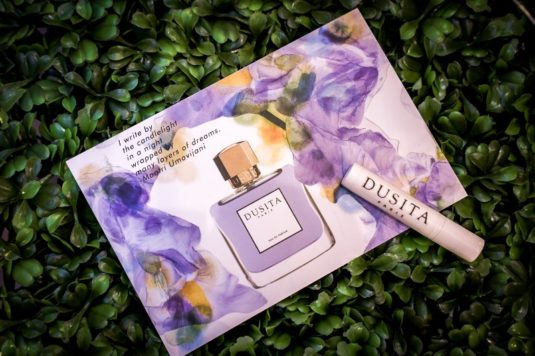 Parfums Dusita Splendiris sample (Photo: Parfums Dusita)©
Thanks to the generosity of Pissara Umavijani, we have a draw for five avant-première samples of Parfums Dusita Splendiris, for five registered readers worldwide. You must register here or your comment will not count. To be eligible, please leave a comment saying what you enjoyed most about Despina's review of Spendiris, if you have a favorite Parfums Dusita fragrance, and where you live. Today is Despina's birthday, please leave her some love in your comment. Draw closes 2/12/2019
We announce the winners only on our site and our Facebook page, so Like Çafleurebon and use our blog feed… or your dream prize will be just spilled perfume.