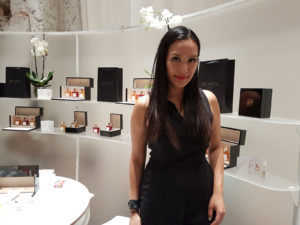 Photo of Perfumer Pissara Umavijani September 10, 2016 by Danu at Pitti Fragranze
Pissara Umavijani, the founder and amazingly talented perfumer of Parfums Dusita, is the daughter of one Thailand's great modern poets Montri Umavijani (1941 – 2006). It is easy to understand how the daughter, inspired by the poetry of her father, would naturally be drawn to artistic creation. Fortunately for fragrance lovers, Pissara's chosen art form is perfumery.
Painting byThai artist Thawan Duchanee
The name of the house, Dusita, refers to a heavenly realm of pure light and contentment. Pissara Umavijani's fragrant dreams and her father's vision of Dusita have been realized in five limited edition fragrances that use the highest quality rare, natural materials reflecting this realm of light.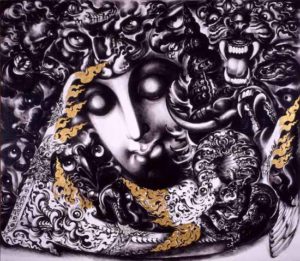 Future by Thawan Duchanee
La Douceur de Siam Eau de Parfum – 2017
The twilight hour comes; even my grief is swept away by the anonymity of life. – Montri Umavijani
I've opened a door into a cool wet, tropical night. A heavy rain has bruised the blossoms of golden champaca, roses and ylang ylang releasing the vibrant floral perfumes and the green, spicy freshness of the leaves. The scent of the forest floor swirls though the mist. A vintage perfume moves on the air – Diorissimo? No! This fragrance is much more exotic, wilder, at once rich and effervescent. Over time the cool air warms to the relaxed and sultry embrace of vanilla, amber and sandalwood. La Douceur de Siam is a fragrant paradise rich with life and mystery. Notes: Rose de Mai, Frangipani, champaka, carnation, Ylang Ylang, violet leaf, cinnamon, Thai chalood bark, vanilla absolute, sandalwood Mysore, Amber and Ambergris.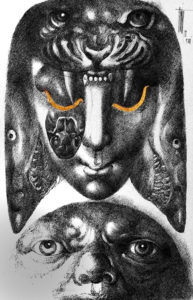 Le Sillage Blanc -Eau de Parfum (2017)
Light fell on us –a discreet light, making its paved way through the chill and dusty air, as I was reading your love. — Moment by Montri Umavijani
Le Sillage Blanc is a glorious fume of resinous, bitter galbanum and peach artemisia (A. ludoviciana) suggesting the high desert air and the first chill of winter, dry, bright and expansive. Once again something vintage comes to mind – Niki de Saint Phalle, perhaps for the artemisia or maybe Robert Piguet's Bandit for the leather and the oak moss – but this perfume is all its own.
Thawan Duchanee Future, 1992, Oil and gold leaf on canvas
Le Sillage Blanc is a modern chypre warmed and sweetened with the scent of neroli and honeyed orange blossom, resting lightly on a bed of patchouli and ambrette musk. Notes: orange blossom and neroli, Ylang Ylang, leather, Artemisa, Persian Galbanum, ambrette seed, oakmoss absolute, Patchouli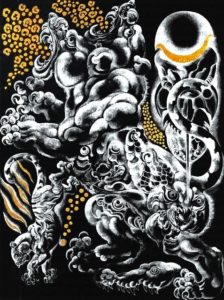 Oudh Infini – Extrait de Parfum – 2015
Dawn in the sky:
a tiny stream of gold
flows and expands,
imperceptibly,
until it covers the whole sky
and turns itself into silver. – Montri Umavijani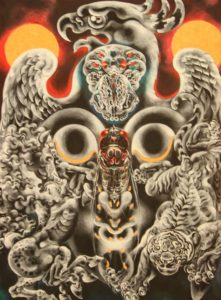 Thawan Duchanee Power of the Land 1997
Dr. Umavijani published 27 volumes of poetry. The last volume, written in 2003, is entitled Totally Tehran. I can't help but think that perhaps the perfumer's creation of Oudh Infini was inspired by the poet's impressions of and adventures in Tehran, reflecting the vibrant life of the markets and bazaars of this ancient city, tucked up against the high Alborz mountains of Iran.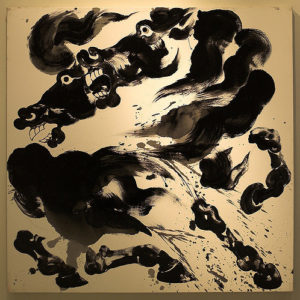 I am overtaken by memories of the smoky air of this city that I love and the scent of oud (in this case Laotian oud), roses, petrol and something phenolic with just a bit of barnyard and animalic civet. The sharp edges are rounded and warmed with Tunisian orange blossom, benzoin, Madagascar vanilla and musk. Like every Dusita creation, Oud Infini lasts for many hours and the sillage is generous and enveloping. Notes: Laotian oud, rose de mai, orange blossom, benzoin, sandalwood, vanilla, musk, civet
Disclosure: I received my samples from Parfums Dusita—Thank You. Opinions my own
Gail Gross – Senior Contributor
Art Direction: I used the drawings and paintings of Thawan Duchanee (1939 – 2014) who is considered to be the greatest contemporary Thai artist. His predilection for traditional Asian motifs and style is well known and in 2001 the Office of the National Culture Commission of Thailand awarded him the Arts and culture prize. You can see his work on the site dedicated to him here
Editor's Note: Le Sillage Blanc and La Douceur de Siam will be released in January 2017. Parfums Dusita is available online at Parfums Dusita and in the USA Luckyscent.
Thanks to the generosity of Pissara Umavijani and Parfums Dusita we have a worldwide Registered reader's choice (YOU MUST REGISTER Here)of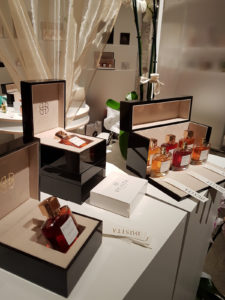 Photo of the Parfums Dusita stand at Pitti Fragranze by Danu Seith Fyr
a five x7ml coffret of Le Sillage Blanc, La Douceur de Siam, Oudh Infini, Issara, and Melodie D'Amour
OR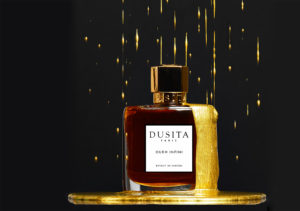 Parfums Dusita Oudh Infini courtesy of Pissara Umavijani
a 50 ml bottle of Oud Infini $395
To be eligible, please leave a comment with what appeals to you about Parfums Dusita La Douceur de Siam, Le Sillage Blanc or Oudh Infini based on Gail's reviews, where you live, your choice should you win and if you have a favorite Parfums Dusita fragrance. Draw closes 10/21/2016.
Please Like Parfums Dusita on Facebook
We announce the winners on our site and on our Facebook page, so Like Cafleurebon and use our RSS feed…or your dream prize will be just spilled perfume