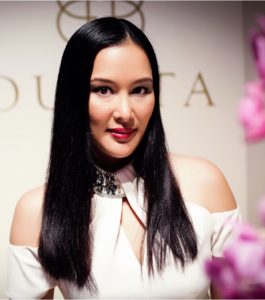 Pissara Umavajani at Pitti Fragranze 2017 via Pissara
Pissara Umavijani, the founder and perfumer for Parfums Dusita, a 2017 Art and Olfaction award winner, is one of artisanal perfumery's brightest rising stars.The daughter of Thailand's great modern poet Montri Umavijani (1941 – 2006), Pissara was naturally drawn to artistic creation, her chosen art form perfumery.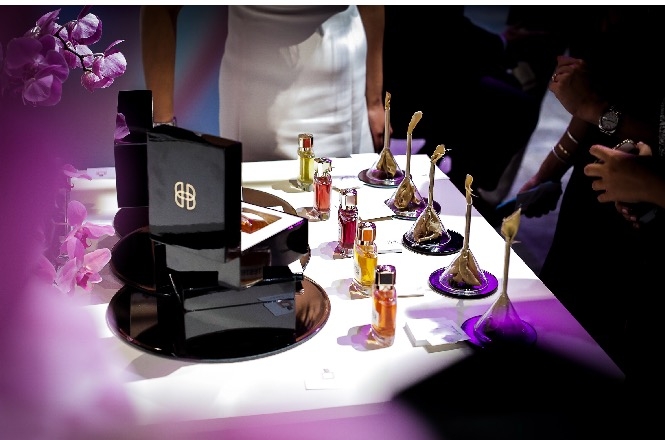 Beautiful display of Parfums Dusita at Pitti Fragranze via Pissara
The name of her fragrance house, Dusita, refers to a heavenly realm of pure light and contentment. Parfums Dusita's newest offering, Fleur de Lalita, inspired by the Indian goddess Lalita (the name in Thai also means a charming lady with imagination, much like Pissara), debuted in Florence at Pitti Fragranze 2017.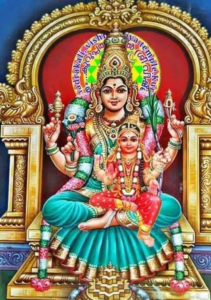 Sri Lalita with her daughter artist unknown 1930s
In Hindu cosmology Sri Lalita ("she who plays") is the triune goddess of creativity; the mother, the daughter and the wise elder personifying the forces of life that pervade the physical world. Lalita initially manifests as a beautiful young woman, radiating a playful, sexually powerful energy. She smiles and a universe is born. Lalita appears again as the nurturing mother, preserving and protecting her myriad children with subtle maternal care and affection. The cycle of life is complete when the goddess takes on the persona of the Wise Woman. Meditating on mortality she transcends life and death. Liberated by her own wisdom from the bonds of desire, the goddess vanishes into the heavens, perhaps into the heaven of Dusita. Physical creation disappears, but the cycle begins again and the universe is reborn.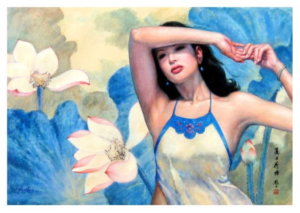 Karl Bang magnolia©
Parfums Dusita Fleur de Lalita is a hymn to the multiple facets of the feminine. Like the goddess herself, Fleur de Lalita appears first as playful, fresh, sensual energy. The cool white and pink of magnolia is fused with the green of galbanum, singing a focused, almost sharp melody of wet, verdant life. This first song of the goddess flushes my skin with a primitive sensuality, a youthful fragrance of moisture and promise, veiled in the sweet and edgy seduction of Jasmine Sambac. Over the course of the first hour Fleur de Lalita slowly transforms.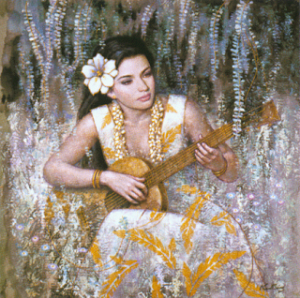 Serenade by Karl Bang ©
The Sambac jasmine blooms into the luxurious, rich and soothing voice of Jasmine grandiflorum, touched with tuberose and vanilla. This is the warm heart of the loving mother crooning a sultry and scented lullaby to her children, relaxing the body and restoring the spirit.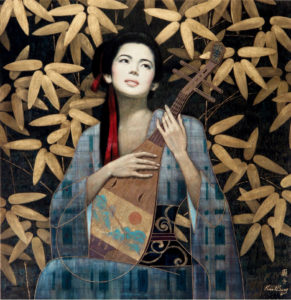 Pang Ka Karl Bang 龐卡 Tutt'Art@
I am mesmerized by her fragrant voice for up to five hours before Fleur de Lalita begins to fade, whispering a quiet, vegetal, musky refrain. Colored with tonka and laced with crisp green galbanum Fleur de Lalita lingers for another hour, very close to the skin, and then is gone – vanishing into the æther.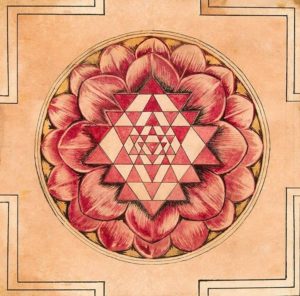 mandala sri yantra
Every fragrant note in Fleur de Lalita has a lively, focused energy, an intensity of vibration that combines and reforms, changing personalities throughout the life of the perfume. And like the goddess Lalita and the Sri Yantra that condenses her wisdom into a geometry of desire, every aspect and facet of Fleur de Lalita fragrance personifies the motivating force behind the eternal play of creation, preservation and liberation – the force of life that powers love in this world, this Realm of Desire.
Notes: Magnolia absolute, Indian Tuberoses, Jasmine Grandiflora absolute, Jasmine Sambac absolute, vanilla absolute, galbanum absolute, ambrette seeds and tonka.
Disclaimer: Many thanks to Pissara Umavijani and Parfums Dusita for the lovely travel size Fleur de Lalita. The opinions expressed are my own.
–Gail Gross, Editor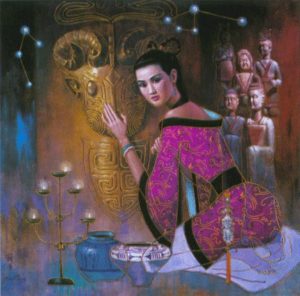 Pang Ka Karl Bang 龐卡 Tutt'Art@
Art Director: Michelyn Camen Editor-in-Chief. I used art from Shanghai born painter 龐卡 Pang Ka (Karl Bang) who was formally trained by the master artists of Chinese painting and formally trained in the European painting tradition in France and Belgium. He is known for his beautiful and multi-cultural depictions of women of all nationalities. Women as "goddesses". I also could imagine Pissara being painted by him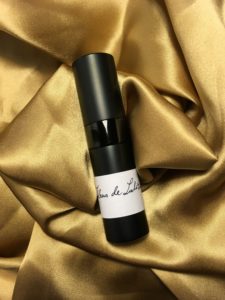 photo courtesy Dusita
Thanks to the generosity Parfums Dusita we have two avant premier deluxe sprayers (7.5 ml) of Fleur de Lalita for one registered reader anywhere in the world (be sure to register or your comment will not count). To be eligible, tell us where you live, what appeals to you about Gail's review, your favorite fragrance by Parfums Dusita and the woman in your life who represents the "divine feminine". Draw closes 9/18/2017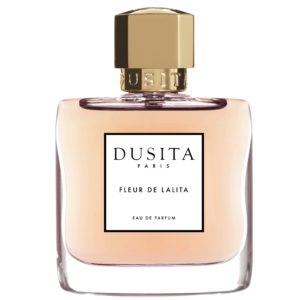 Editor's Note: Fleur de Lalita will be available in February 2017 in 50 ml edp
We announce the winners only on site and on our Facebook page, so Like Cafleurebon and use our RSS Feed…or your dream prize will be just spilled perfume.