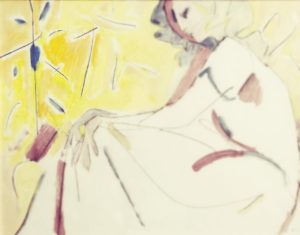 Digitalized by MC @deviantart
This year the change of season from summer to autumn has brought much needed rain, blustery cold weather and, unfortunately, a rash of painful illnesses afflicting several writer friends, perfumed colleagues and yes, even me. Despondent and overwhelmed by the prospect of what could be months of unremitting pain and discomfort, the last thing I wanted to do was sample a fragrance. Fortunately I could not resist just a tiny whiff of the new Dusita Erawan Eau de Parfum the lovely companion of Fleur de Lalita, which will be released early next year.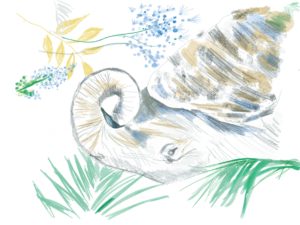 Drawing of Erawan by Pissara Umavijani©
The background of the name itself – Erawan – was enough to take my mind off my woes. Perfumer Pissara Umavijani was inspired to create Erawan by her favorite shrine in Bangkok, where the statue of the three-headed elephant god Airewan (Erawan) is venerated.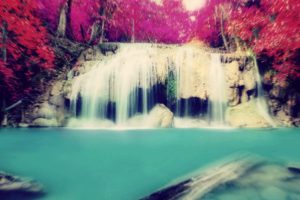 Erawan waterfalls Thailand Park via googlesearch
Erawan is also the name of a 550 km2 national park in western Thailand in the Tenasserim Hills of Kanchanaburi Province. The park is well known for its magical caves but especially for its stunning seven layered waterfall, named for this same wish granting, rain making white elephant god, the mount of Indra in Indian and Thai mythology.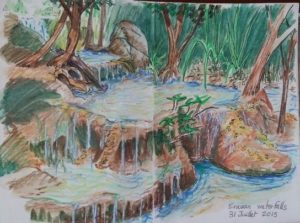 Erawan Waterfalls via deviantart ©
The first level of Dusita Erawan opens with an energizing green tonic of petitgrain and clary sage. The initial impression is at once calming and invigorating, refocusing my mind and relieving any sense of doom and gloom. This effect of new, energetic, green life gradually gives way to a second level of healing, as the sweet breath of liatris suffuses my skin. Liatris absolute has a slightly dusty vanilla effect that filters the initial bracing green opening through a haze of vanillac mist. The result is at once powdery, creamy and verdant, nuanced with notes of earthy vetiver and fresh cut hay. I take comfort here for 30 minutes and longer before the next layer of Erawan reveals the cool, translucent and restorative qualities of lily of the valley touched with a suggestion of clary sage. Images of the clear turquoise pools of the third and fourth levels of the waterfall come into my mind, offering quiet healing and comforting stillness. I gratefully relax in this place for several hours before the perfumes of cedars and oakmoss pull me in to yet another world of scented solace. Erawan becomes warmer as it dries down, revealing the richness and vitality of sunlight filtering through the leaves of a tropical forest. After more than twelve hours on my skin (and days on clothing) this perfume slowly vanishes, leaving me with a nurturing blessing of ethereal vanilla and transparent musk.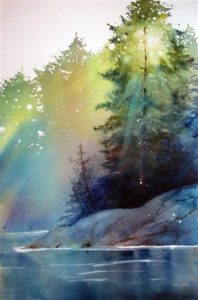 Ann Fullerton Autumn Afternoon©
The god Airewan was responsible for bringing healing waters to the earth. As I wear Dusita Erawan I can imagine the sounds and sights of the falling water, the clarity of the still, blue pools, the smells of overhanging trees and surrounding forests. Erawan not only describes this idyllic place in scent but also brings me the same sense of calm and peace I enjoy as I view the images of the waterfall itself. While perfume can't cure what ails me, this preview of Dusita Erawan has sustained me with its calm beauty, offering me a respite from illness and distracting me with a marked sense of well being and wet woody comfort. Like the natural beauty of the seven level waterfall and the blessings of the god Airewan, the scented layers of Dusita Erawan fill my spirit with a sense of well being and peace, with the pure light and contentment of the realm of Dusita.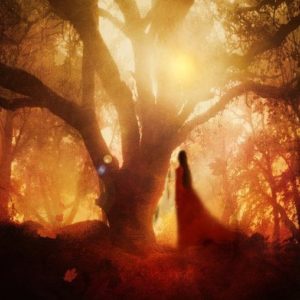 @moonriverlady
"I did not know how I got there:
I walked through an autumn wood
in the twilight country;
it was wonderful how I
journeyed then to light…" – Montri Umavijani
Notes: Paraguayan petigrain, lily of the valley, Haitian vetiver, hay, clary sage, liatris, cedar, oakmoss and vanilla.
Disclaimer: Many thanks to Pissara Umavijani and Parfums Dusita for my cherished sample of Erawan. The opinions expressed are my own.
Gail Gross, Senior Editor
Art Director: Michelyn Camen Editor-in-Chief.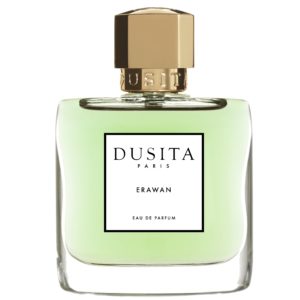 Parfums Dusita Erawan courtesy of Dusita©
Thanks to the generosity of Pissara Umavijani Parfums Dusita we have two avant premier deluxe sprayers (7.5 ml ) of Erawan for two registered readers anywhere in the world (be sure to register or your comment will not count). To be eligible, tell us where you live, what appeals to you about Gail's review, your favorite fragrance by Parfums Dusita and if you believe that perfume can heal your spirit. Draw closes October 28, 2017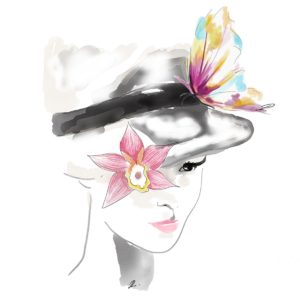 Drawing for Fleur de Lalita by Pissara Umavijani©
Editor's Note: Pissara is not only an Art and Olfaction award winning artisan perfumer,( recently featured in our Series Art Of Artisan Next Generation) but she is also a talented artist. 50 ml bottles of Fleur de Lalita and Erawan will be available in February 2018.
We announce the winners only on site and on our Facebook page, so Like Cafleurebon and use our RSS Feed…or your dream prize will be just spilled perfume.