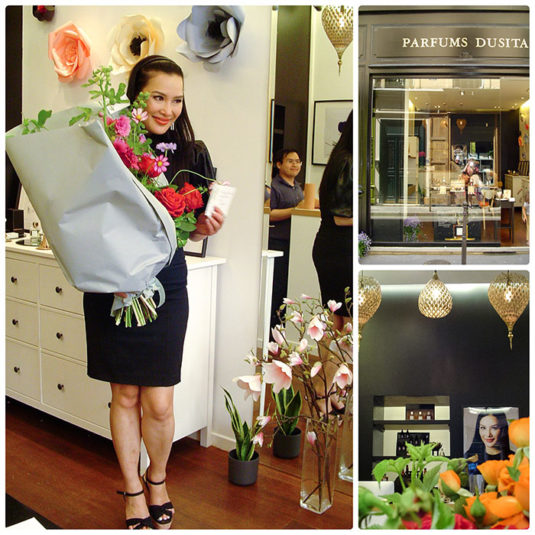 Pissara Umavijani of Parfums Dusita just before the boutique inauguration (Photos/collage: Despina Veneti)©
Paris, always an epicenter for perfume welcomes a new fragrance haven. The inauguration of the first PARFUMS DUSITA boutique took place in the blazing hot afternoon of June 27, in equally warm atmosphere.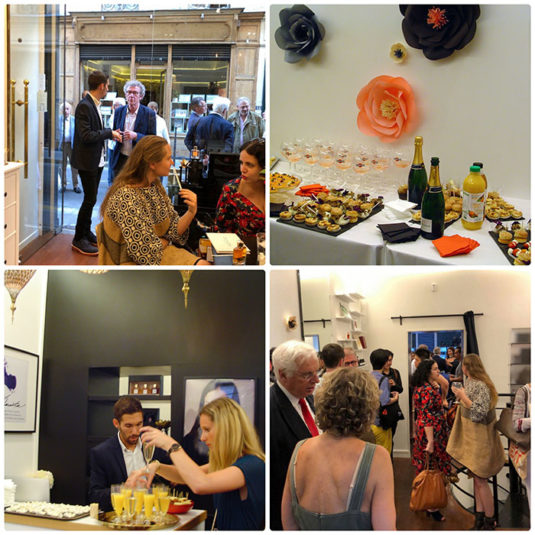 The party about to start (Photos/collage: Despina Veneti)©
Dozens of guests flooded the Parfums Dusita Boutique, situated at 11 Rue de la Soudière, Paris 75001 – just a breath away from rue Saint-Honoré.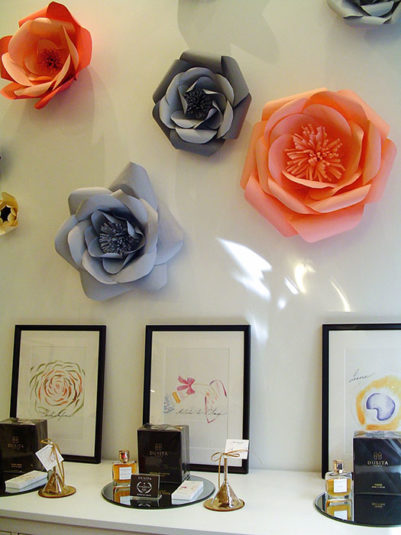 Paper flowers & perfume displays in front of Pissara Umavijani drawings (Photo: Despina Veneti)©
The walls are decorated with handmade paper flowers, with the precious perfumes displayed in front of Pissara Umavijani's (creator and perfumer of Dusita) own drawings, and in glass domes filled with their raw ingredients.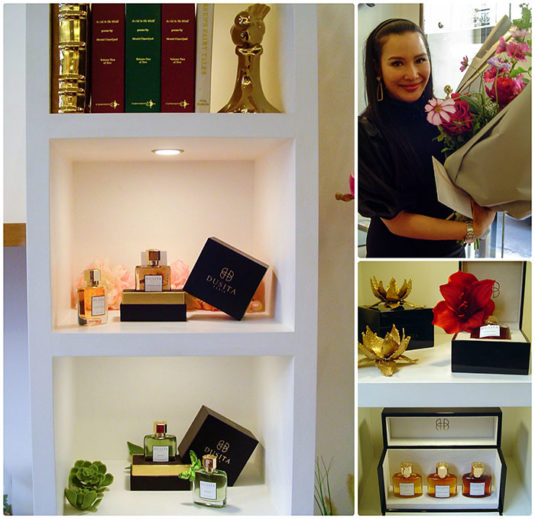 Perfume displays, Montri Umavijani's poetry books, and a smiling Pissara (Photos/collage: Despina Veneti)©
The bookcase's top shelf is lovingly dedicated to the poetry books of Pissara's late, beloved father, Montri Umavijani. The back room will be used for masterclasses.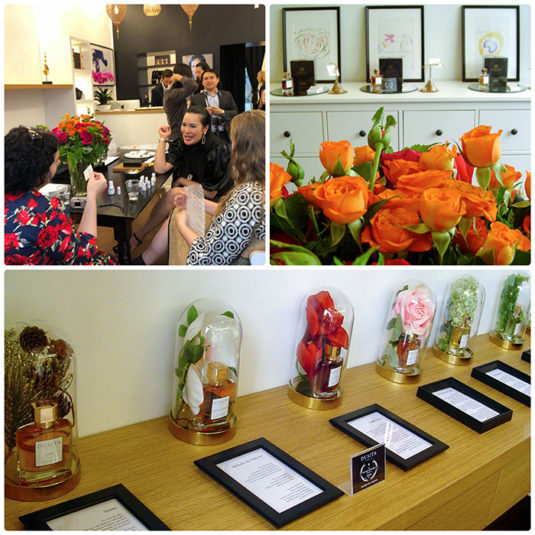 Talking with Pissara Umavijani at the boutique (Photos/collage: Despina Veneti)©
I was warmly greeted by the radiant perfumer and her charming mother, Chutatip Umavijani, a Philosophy professor. During our long talk, Pissara emerged as one of the most unpretentious, sincere and delightful people I've ever met. Her contagious laughter and disarming personality won me immediately. I was trusted to smell four of her perfumes-in-progress, two of which I even tried on.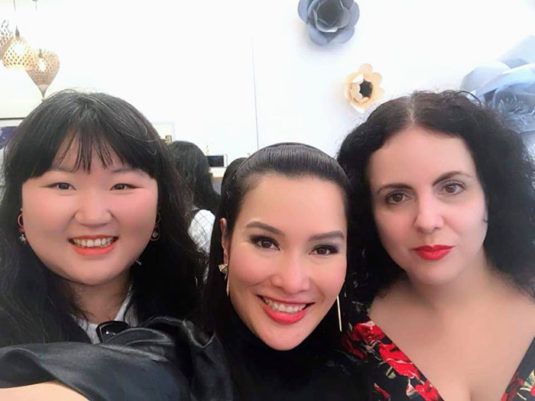 Pissara in a souvenir selfie with Stella (StellaDiverFlynn) and Despina©
Congratulations on your first boutique! When you created Dusita, did you expect it to happen that soon?
Pissara Umavijani: Happy to meet you! To be honest, I did not expect anything. Having a boutique has always been a dream – like having my own home where people can come to. Eight years ago I came to Paris with a dream, and I did not even speak French! I received rejections, but did not give up. For me life is like running a marathon, I just have to try harder than anyone else.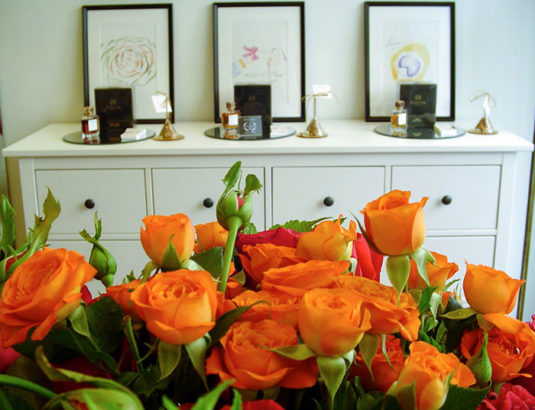 Parfums Dusita Paris boutique (Photo: Despina Veneti)©
Will there be exclusivities in the boutique?
Pissara Umavijani: Yes, I plan to create exclusive products. We'll also be offering masterclasses. The most extensive one will include workshops focusing on different olfactory families (Atelier Gourmand, Smell of Exotic Places, Voyage around the World, Mystery of Vintage Creations), and a Perfume Creation Workshop in which I will personally assist the creation of each participant's perfume, to be obtained in travel size format (2 X 7.5 ml).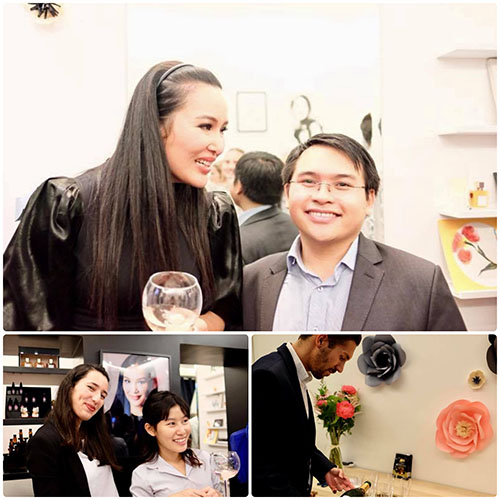 Pissara Umavijaniwith her team (Photo: Parfums Dusita)©
Pissara Umavijani:: The most important thing for me is being true to myself. No matter what happens, I always remind myself why I created Dusita. We never compromise as far as freedom of creation and quality of raw materials is concerned. As I grow older, I realize that problems are part of life, we have to cope with them positively and effectively. I set modest goals to achieve everyday. I cherish the work of my team, and when I return to my laboratory, I challenge myself to be better. Meditation and yoga help me be calm and concentrate in the tasks I need to do. Eating healthy food and seeing the positive side of life reduce a lot of stress.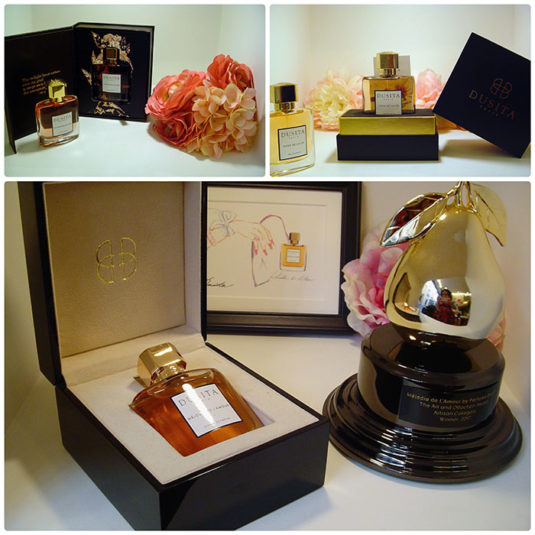 The three splendid Dusita florals, La Douceur de Siam, Fleur de Lalita and Melodie de l'Amour (Photos/collage: Despina Veneti)©
You have a remarkably varied collection of 7 fragrances. At what pace will you be releasing new ones?
Pissara Umavijani: No more than 1-2 new fragrances per year, and only one at a time. I might do different concentrations, once I have completed a collection that will include every member of the olfactory family. I prefer to create new scents for future body care products and candles, as our perfumes contain high percentage of natural ingredients. It's also fun creating something new!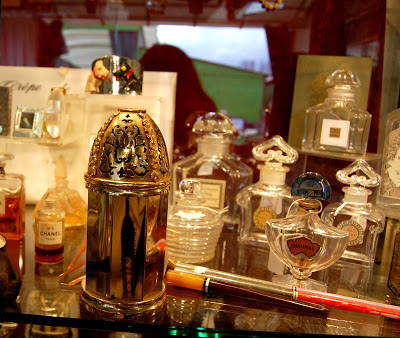 Vintage perfume shopping at the Porte de Vanves flea market (Photo by Eurydice Mégalou)©
You are the sole perfumer of Dusita, and very active on social media. Are 24 hours a day enough? What relaxes and entertains you?
Pissara Umavijani:: I love visiting Parisian flea markets in search of vintage perfumes bargains (I got the old Bandit EDT for €5!) Not long ago, I ran into a man who sold vintage perfume advertisements. I talked to him about illustration, the golden years of perfumery… it made me think how creative perfume advertising was in the past. I wish I had 24 hours more a day! I love cooking, jogging, biking and gardening. Early morning is my solitude time, which I treasure.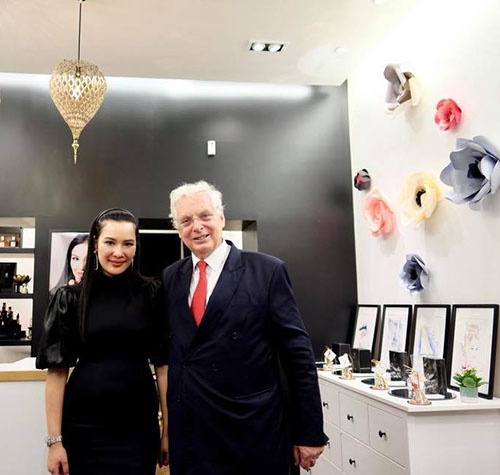 Pissara Umavijani with Michel Chevalier (Photo: Parfums Dusita)©
Tell us about your team.
Pissara Umavijani: I have a very small team of 5 people, and they are like a family to me. My professor, Michel Chevalier (President of my company), is someone who always supports and encourages me.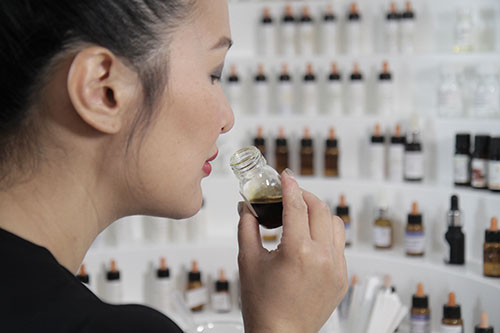 Pissara at her lab (Photo: Parfums Dusita)©
As a young, self-taught perfumer, how hard was it to obtain high quality raw materials? How do you cope with the IFRA restrictions?
Pissara Umavijani: Being a small company means placing small orders, so the key is to find a good partner, and stick to him. Concerning IFRA restrictions, I choose my desired natural ingredients in safer (i.e. Terpeneless or Low Atranol), but also more expensive, versions. If a brand wants to offer the best to its clients, there are still quality choices within the restrictions.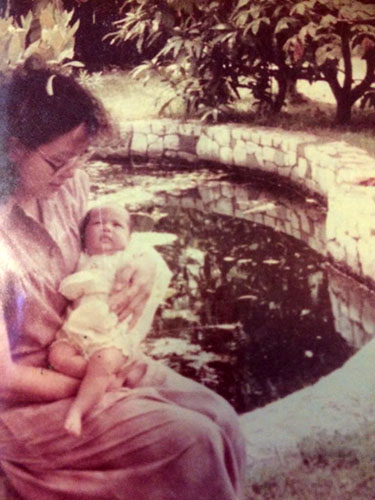 Baby Pissara and her mother at their Thai garden pond (family photo courtesy of Chutatip Umavijani)
What are your first olfactory memories?
Pissara Umavijani: My first olfactory memory is the smell of my house, "Ekamai" – a place filled with books and antiques collected by my grandmother. We had a big garden with a lotus pond, and I still remember the smell of the garden after the rain, and all those exotic flowers like Champaka, Ylang Ylang, and jasmine grandiflora.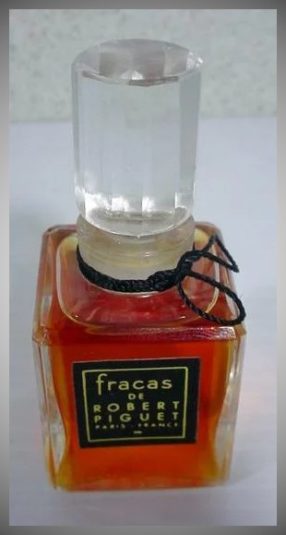 Vintage Fracas by Robert Piguet, one of Pissara's favorites (Photo: rubylane.com)
Which classic perfumes would you wear to: A. Feel cosy. B. Boost your energy. C. Enhance your eroticism.
Pissara Umavijani: Cosy: the old Fidji, Eau Sauvage. Energy: Guerlain's Nahema. Eroticism: the very old Tabac Blond! And of course, vintage Fracas.
Apart from all your hobbies, you have entered a beauty contest, acted in films, and run marathons! What was it in perfume creation that captivated such a multi-faceted woman?
Pissara Umavijani:: In my life I try many things. When I choose to do something, I have the determination to do it well, and improve everyday. I must admit that perfumery is as difficult as running a marathon. The challenge is listening to one's own body and instinct, as well as setting new goals. It is a challenge that I am truly passionate about.
Do you believe that people in Thailand have an exceptionally trained sense of smell?
Pissara Umavijani:: People in Thailand have certainly learned the olfactive language in different forms. In the old days, we used to perfume our food, desserts, even our clothes! People made their own perfume blends based on local flowers and woods.
As the country developed, people liked purchasing branded fragrances, but now the niche market is growing fast! It means that more and more people seek something qualitative and unique.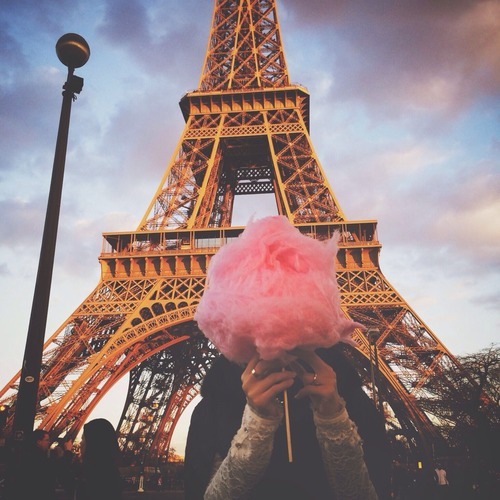 Cotton candy under the Eiffel Tower (via Tumblr)
How would you describe Bangkok and Paris from an olfactory point of view?
Pissara Umavijani:: Bangkok: the first dew in the tropical morning, the smell of the city after the rain, the jasmine and champaka at the flower market. The smell of the special wet powder of the smiling old woman on the street, the night blooming frangipani and ylang ylang in the garden, and the smell of the spices from the kitchens. Paris: the smell of croissants in the bakery, the fresh bouquets of roses & lilies in the floral shops. The wind through the leaves in the Tuileries Garden, the passing boats in the river Seine, and the barbe à Papa (cotton candy) under the Eiffel Tower.
Finally, what will your next perfume creation be about?
Pissara Umavijani: The memory of my childhood!
– Despina Veneti, Guest Contributor
Parfums Dusita Erawan & Fleur de Lalita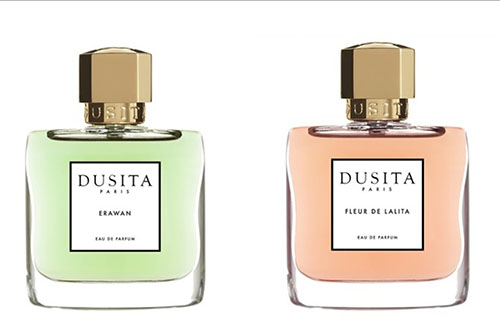 Thanks to the generosity of Pissara Umavijani and Parfums Dusita, we have a worldwide registered reader's draw You must register or your comment will not count).The winner can choose a 50 ml bottle of either Erawan or Fleur de Lalita eau de parfum. To be eligible, please leave a comment saying what you enjoyed most about Despina's presentation and interview with Pissara, where you live, a memorable quote and your choice of the two perfumes for draw. Draw closes 07/13/2018.
We announce the winners only on our site and on our Facebook page, so like Cafleurebon and use our blog feed … or your dream prize will be just spilled perfume.