Aqua Nativa, Izwe, Kashi, Tsingy and Tundzha
If there is any doubt still in the minds of fragrance lovers that natural perfume is not an art, especially in the French tradition of classical perfumery, five respected French perfumers join forces to create their first 100% natural perfume collection under the brand name Parfumeurs du Monde™. Each perfumer composed a perfume around one country and one ingredient that are close to their heart, following on their commitment to adhere to the Parfumeurs du Monde's charter of using only natural ingredients.
Part of the profits will be given to Coeur de Forêt, a Paris-based NGO established in 2005 which supports small producers for the rehabilitation and protection of forests in Bolivia, Cameroon, Indonesia, Madagascar and Peru.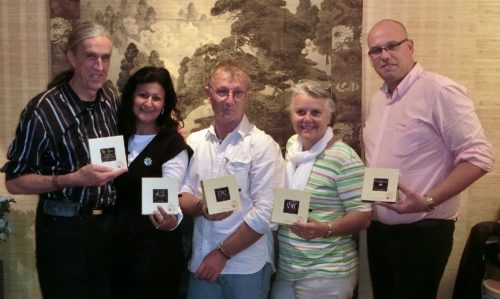 Michel Roudnitska, Isabelle Gellé, Thierry Bernard, Perrine Scandel, Eric Gigodot
The perfumers for this project include:
Master perfumer Michel Roudnitska: Aqua Nativa (Peru)
Perrine Scandel: Izwe (South Africa)
Isabelle Gellé: Kashi (India)
Thierry Bernard: Tsingy (Madagascar)
Jean-Claude & Eric Gigodot: Tundzha (Turkey & Bulgaria)
The collection is to be launched in France and online in December 2016. Samples will be available late November 2016
Editor's Note: Jean-Claude Gigodot has created a natural fragrance Swiss Cowboy for Richard Luscher Britos and is the in house perfumer for Au Pays de la Fleur D'Oranger
Michel Roudnitska has composed fragrances for Frederic Malle (Noir Epices), Parfums Delrae (Debut, Amoureuse, Bois de Paradis, Emotionelle), Ellie D,, Grandiflora (Madagascan Jasmine and Magnolia Garndiflora Michel,) Hors La Monde and has created natural fragrances including those in collaboration with Aigle Bleu
Isabelle Gellé is the founder of the Perfumery Art School & Les Parfums Isabelle
Perrine Scandel has over 29 years experience in the aromatic industry, the creation, the development of raw materials, She was trained in 1985 at Lautier-Florasynth by a High class fragrances Parisian Perfumer and have completed training at Givaudan in Switzerland
Thierry Bernard has 25 years experience as a perfumer and has been recognised as a Master Perfumer and nose by the French Society of Perfumers.
Via Isabelle Gellé
Michelyn Camen, Editor in Chief