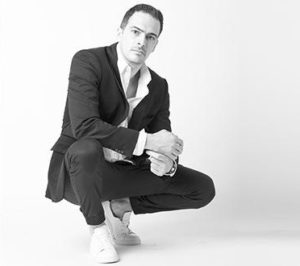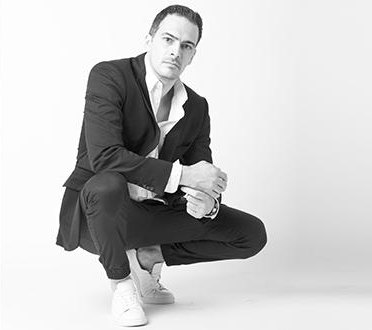 Pierre Guillaume of Parfumerie Generale.
Perfumer Pierre Guillaume loves a good riff. Over the last two years, he has given a "radical reworking" to several fragrances in his Collection Parfumerie Generale, taking melodies from the originals and rearranging their notes and beats.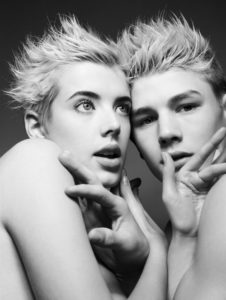 Agyness Deyn and Luke Worrall, photo by Solve Sundsbo, 2008
Suede Osmanthe, the latest 'rework', is premised on 2005's L'eau de Circe, a "melancholy fruity-floral." L'eau de Circe retains an echo of 30s Paris, nodding a Marcel-waved head to prewar oriental chypres with its Mitsouko-like peachy florals. But protégé Suede Osmanthe is a modern betty, rocking a laser-cut suede jacket and boy hair. Her flowers are pared down, the leather amped up, while apricots and black tea skews the fragrance from the femme of Circe to androgynous. This is Agyness Deyn in a tulle skirt and Doc Martins turning up for tea at Claridge's.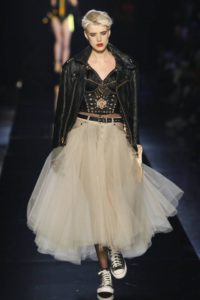 Agyness Deyn, Jean-Paul Gaultier fashion show, 2007
Did I say the flowers were pared down? Actually, they are completely absent. Despite the delicate yuzu-apricot waft of osmanthus at the heart of the fragrance, Guillaume has performed one of his signature sleights of hand in suggesting osmanthus in a scent that has not a single flower in it. Guillaume has broken down osmanthus' distinctive notes – apricot, leather and a jasmine-like floweriness – and suggested them by using Suederal © (a molecule developed by IFF), apricot and aldehydes to suggest osmanthus' singular perfume.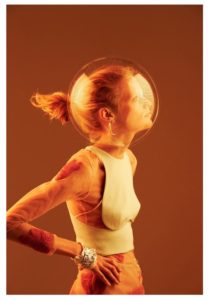 Hanne Gaby Odiele by Will Davidson for Oyster No.101
The real brilliance of Suede Osmanthe is Guillaume's ingenious use of aldehydes. Suede Osmanthus bubbles up like soda overflowing a just-opened bottle, aldehydes cresting under a wave of vivid orange and apricots. Their leavening quality imparts an uncharacteristic, upbeat lightness to the suede, and, along with moreish black tea, gives Suede Osmanthe its of-the-moment verve.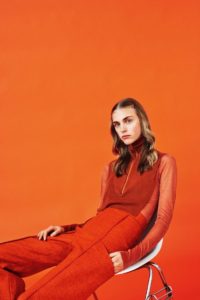 Photo by Hedvig Palm for Cover Magazine, October, 2015
As aldehydes give a lift to the weightier notes, that complex fruit note of the opening hums along in parallel. This accord somehow mimics the piquant-sweet smell of plumcots one moment, mandarin and damson the next. The first moments of Suede Osmanthe is rather like sniffing sophisticated fruit cocktail made with a very dry prosecco. It's a concerto waiting to start.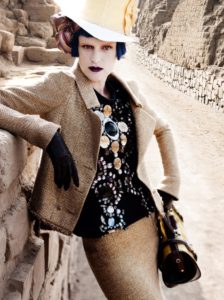 Stella Tennant, in 'El Dorado' by Mario Testino for Vogue US
Those first few seconds are so juicy that the fine-textured suede that will dominate the fragrance sneaks up. But when it arrives, this suede is sticking around for more than cocktails. The orchestra warm–up of fruit and fizz quiets down as the leather brings the composition into a slower tempo. From this point on, Suede Osmanthe is all about that almost powdery, sandy smell of glove suede: warm, smooth, expensive.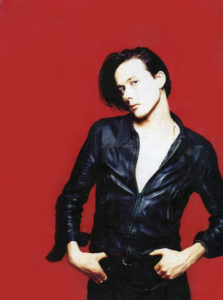 Brett Anderson of Suede, 1990s, stock photo
Borrowing aromas from Bergdorf's gloves counter and tea at Takashimaya, Suede Osmanthe has the uptown vibe of a downtown stylista, a boarding school background hidden beneath some insouciant swag. It smells expensive but approachable, those spangly aldehydes keeping everything as lighthearted as a Cole Porter tune. Wearable by anyone anywhere, Suede Osmanthe is melancholy Circe happily buzzed on champagne and grooving to some Brett Anderson.
Notes: Aldehydes, black tea leaves, Suederal©, apricot, cashmeran and musk.
Disclaimer: Suede Osmanthe provided by Parfumerie Generale – many thanks. My opinions are my own.
– Lauryn Beer, Senior Editor
Co Art Direction: Lauryn and Michelyn Camen, Editor-in-Chief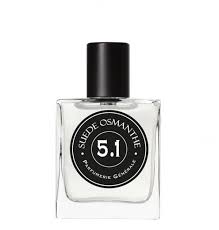 Parfumerie Générale​ Suede Osmanthe 5.1
Thanks to the generosity of Pierre Guillaume and Parfumerie Générale, we have a 30 ml bottle of Suede Osmanthe for 1 registered reader in the U.S., Europe or Canada. To be eligible, please leave a comment with what appeals to you about Suede Osmanthe based on Lauryn's review, where you live and if you have a favourite Parfumerie Generale perfume. Draw closes September 23, 2017
We announce the winners only on site and on our Facebook page, so Like Cafleurebon and use our RSS feed… or your dream prize will be just spilled perfume.