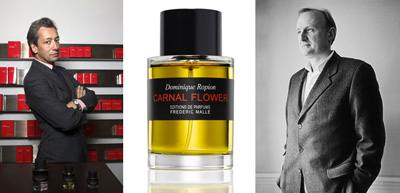 Frédéric Malle and Dominique Ropion
The first time I went to Hawaii, and fell in love with island culture, and felt Hawaii entering my bloodstream, I spent nine days on the island of Kauai'i. Also known as the Garden Island, Kauai'I is a gorgeous place filled with magnificent flora that smells and looks amazing. The lei that I wore there had tuberose and orchids primarily. Tuberose is heady and so distinctly tropical. But I have a very particular association with tuberose and Hawaii that goes beyond my introductory trip to Kaua'i; it's more associated with a different time that I spent in Honolulu.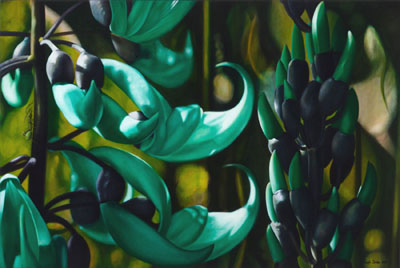 "Jade Vine 2" by Dayle Jordan
I used to study hula, and one year I traveled to assist my hula halau, or school, which I was not a performing member of, just a student, with a show that they were bringing to Honolulu for the first time. The director and teacher (also known as kumu) was known in California and elsewhere for bringing contemporary music to traditional Hawaiian dance. We were all excited to see the audience reaction to this blend of ancient and modern Hawaiian, and contemporary styles in the art of hula (it was a hit). I worked selling t-shirts and as an usher. On the final night I wore my most beautiful dress and got all made up but the last thing to find was the perfect lei. I found one made from this beautiful turquoise flower interspersed with tuberose and it was absolutely magnificent, although slightly more expensive than the normal lei that were on display. The lei lay across my chest just so, right along my neckline. It was a very special evening as the fragrance of that lei wafted up and hypnotized me all night. The pity was that I couldn't take it back to SF because the Jade Vine flower that was so beautiful was rare and could not leave the island. I was lucky to have been there right when they were blooming.

Na Lei Hulu I Ka Wekiu in performance (via Facebook)
Fast forward a few years and imagine a perfumista (that would be me) standing in Barneys in San Francisco smelling Frédéric Malle Editions de Parfums Carnal Flower for the first time. You would have seen her eyes roll back in her head, her mouth part just slightly, and heard a quiet murmur of pleasure emitting from her lips. What you couldn't have seen was the imagery going through her head of being in Hawaii in that beautiful turquoise dress with the precious Jade Vine and tuberose flowers enjoying the last island performance by the people that she loved. I truly felt that lei around my neck, smelled the decadent tuberose blooms. I was there again, during that special night full of ceremony and aloha. That I could have that fragrance around me any time seemed to good to be true, and it wasn't long before the big 100 ml bottle had become the crowning jewel of my collection. Every time I apply it, I get to sink into that memory for a few inutes, and ny day is made better for it.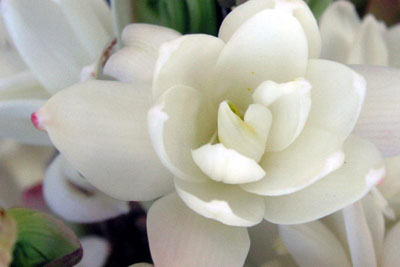 Tuberose Wallpaper
What Dominique Ropion captures in 2005's Carnal Flower (which took 18 months to perfect) is different then any tuberose perfume I have ever smelled. It isn't that strange buttery elegance of Robert Piguet Fracas, nor a beachy coconut laced summer splash, nor the mentholated floral of Serge Lutens Tubereuse Criminelle. It is, aside from the memory of a fresh lei on a balmy Honolulu evening, the essence of the aroma you can only smell at night when you have tuberose in your home. Carnal Flower is a good name for it because its scent is so powerful in the evening that it puts everything else fragrant to shame and sets the mood for Eros. But, for me, it is the essence of my beloved islands, and always will be.
Carnal Flower can be purchased through Barneys in-store and online, and Frederic Malle Boutiques and online.
Tama Blough, Managing Editor