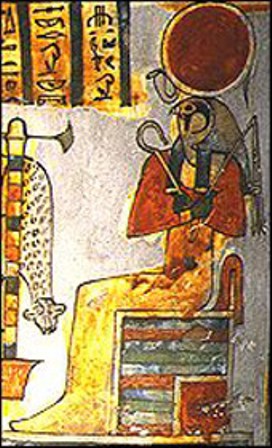 The Egyptian God RA, who cried tears of honey and bees
I have long been attracted to the mythology and history of ancient Egypt. The story of the god Ra is very complex and there are many versions of his life, his deeds, and how he was important as a deity in Egyptian theology. Liz Zorn of Soivohle took inspiration from one of these stories to create her latest perfume, Amun Re the Tears of Ra.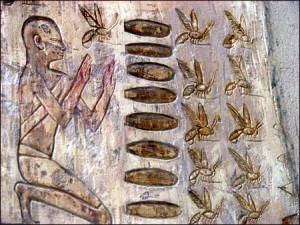 It is said that Ra created humans by weeping tears of honey and sometimes honeybees; each of these tears that fell to earth became a human being. Since this perfume is inspired by such a beautiful story, let's just pretend that the turn of events where Ra finds out the humans are conspiring against him and has Sekhmet kill most of them didn't happen and concentrate on the pretty part.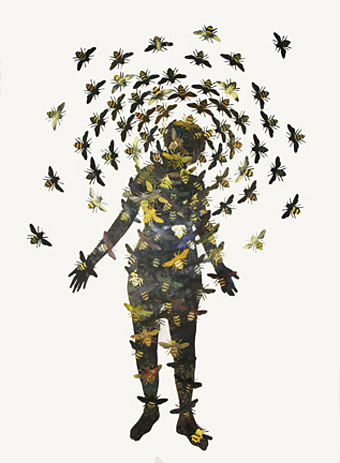 "Apiphobia" by Anonda Bell
Honey can be a polarizing note in perfume, but I can't imagine anyone not liking the sensuous honey aroma that weaves through this fragrance. The opening is very illuminated if that makes sense. There's a sense of light that comes through the perfume, which I can't quite describe properly. One of the notes listed is aldehydes, and I think that rather than bringing a vintage feel to the perfume, it adds a brightness to notes that are generally a bit thicker. Many of the notes in this perfume are aromas that I would consider almost royal; there is opopanax, ylang-ylang. vanilla, amber, botanical musk; all beautiful fragrances that have a really defined richness. There is one note that I had to look on the notes list to define what it was. I used to color my hair with henna. I always loved the dry, green, earthy aroma of it, and it's this smell that adds a dustiness to this fragrance that is surprising and very welcome. This fragrance goes through many changes on skin and it is a delight to keep smelling my wrist to see what's next as it goes from its beautiful bright opening into an earthy, honeyed drydown.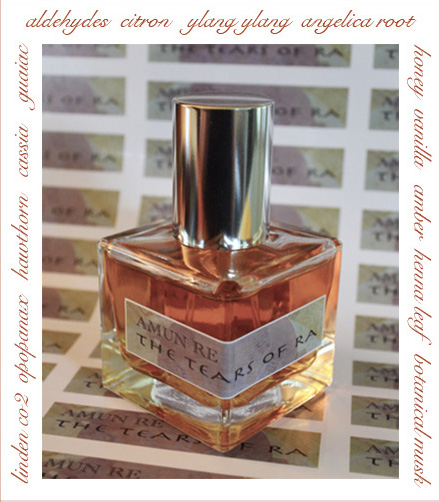 Liz Zorn continues to make inspired perfumes that can push the envelope. She has been focusing on fine art another of her talents, but I hope she continues to compose olfactive art more often. Amun Re the Tears of Ra was a long time in the making, but waiting can make it all the sweeter.
Notes: Linden CO2, opopanax, hawthorn, cassia, guaiac, aldehydes, citron, ylang ylang,, angelica root, honey, vanilla, amber, henna leaf, botanical musk
I received my sample from Liz Zorn of Soivohle. It is available on the Soivohle website in 4ml ($18.50) and 30 ml ($125). It is in Eau Fraiche concentration.
Tama Blough, Managing Editor
With gratitude to Liz Zorn we have a 4ml spray bottle of Amun Re the Tears of Ra to give away to one US reader. Let us know where you live, what excites you about this perfume, and if you have a favorite Soivohle fragrance. Draw ends July 22, 2014.
We announce the winners only on site and on our Facebook page, so Like Cafleurebon and use our RSS option…or your dream prize will be just spilled perfume.