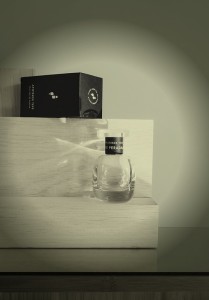 Apoteker is a small artisanal perfume company based in NY. There credo is that fragrance and objects "…are resonant– made with intention, artistry, and irreverence to re-enchant a world where too many things are merely 'things'. Meaning arises from interactions– details, moments, and objects that help weave the web of life and memory. These become our touchstones and talismans, the keys to our experiences. They stop being merely 'things' and become part of us. Fragrance is inevitably bound up in this same process"
Wet, rainy streets and gloomy days are when I need a scent touchstone and Apoteker Tepe's The Peradam is my current choice for those moments. The Peradam, as it turns out, is a type of hard, dense crystal found in France, a kind of curved stone with an air-like light refraction index that makes it extremely difficult to find unless you happen to be looking for it. But the catch is that only people who are looking for it REALLY, REALLY INTENTLY will find it. The Peradam crystal is their olfactory symbol for people who are craving only the rarest of ingredients in their perfumes – in this case, supercritical CO2 extractions of jasmine grandiflorum, Madonna lily, a healthy dollop of real orris butter, and genuine Mysore sandalwood.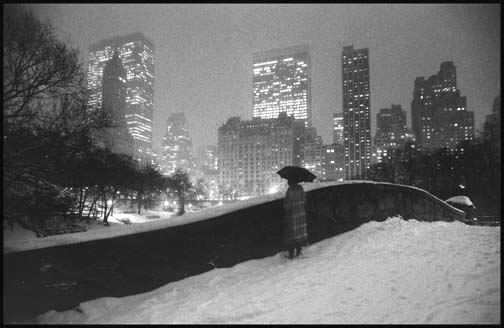 Central Park photogrpaher unknown
The product of all this supercritical this-and-that is a very dry, herbal, and damp perfume that is pretty close to huffing a sidewalk from about three inches away. The orris butter is huge in this scent, and the jasmine kind of hollows it out, and provides some light, airy definition. The sandalwood feels like driftwood here – extremely austere, bone-dry and not at all sweet. In short, The Peradam is perfect for interior moments where you don't necessarily want a big, booming floral or hot-cha-cha spiciness in what you're wearing. Sometimes all you want from the world is a couple city blocks of wet concrete and your memories and a quiet place to cry. And even though I'm an iris and orris-loving, violet huffing, petrichor and peonies kind of gal, The Peradam makes a definite, unique impression that is quite memorable. The downside is that it's incredibly dry and minimal, and fairly linear as well.
But that orris butter note is a stunner – it cuts through the fog of your personal inner space and settles you right down. It's almost like Apoteker Tepe had me in mind when they made this – the sillage is extremely quiet and close to the skin, and it lasts for maybe four hours at best on me.
Photo:Sarah Moon photoicon.com
But the lack of presence in The Peradam isn't a bad thing at all; in fact, it is exactly what you want from this kind of scent. A fragrance that to wear when you are not lonely but alone. Sometimes a great perfume is not about broadcasting itself to everyone around you, maybe for us more fragile people, we're looking for a perfume that will give us our own space back from time to time and just sit with us and not demand anything. After all, the actual Peradam stone hides itself in plain sight according to the people who've seen it up close, waiting until that magic moment when it's ready to reveal its location. So wear Apoteker Tepe's The Peradam on those days when your romantic fantasy world needs to take a breather and you need some "me" time instead. This perfume will keep you in fine company until you're ready for the sound of those huge power chords booming out of that killer chorus and the world is yours again.
Pam Barr, Contributor
Editor's Note: Apoteker is an artisanal company based in Harlem
Thanks to Twisted Lily the exclusive US perfumerie, we have a draw of three The Peradam for a registered CaFleureBon reader in the US. To be eligible please leave a comment with what times in your life you need your own space, if scent comforts you and about Pam's review. Draw closes 6/26/2015
We announce the winners on our site and on our Facebook page, so Like Cafleurebon and use our RSS option…or your dream prize will be just spilled perfume