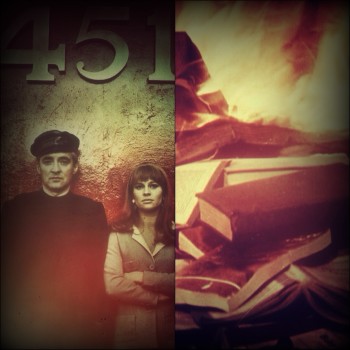 François Truffaut's 1966 film starred Oskar Werner and Julie Christie
In François Truffaut's 1966 film version of Ray Bradbury's sci-fi masterpiece Fahrenheit 451, the image of black uniformed 'fireman' Guy Montag, played by Oskar Werner watching books ignite, blacken, curl and burn is how I perceive this most confrontational and sensational adaptation of patchouli. I often wonder if I actually love or hate this scent, it can have such a polarising effect on my senses. Days are I love its thick medicinal fug and other days it makes me dizzy, tipping my brain into a hollow place, where my eyes flex and the notes beat at my temples. But whatever my take, Annick Ménardo's massive scent for Le Labo is really atmospheric scent telling.
Annick Ménardo is one of my favourite perfumers, responsible for a wide range of designer and niche scents but most importantly for The Silver Fox, three of my all time obsessive skin scents, three bottles that are never out of my collection; Hypnotic Poison by Dior, Bulgari Black and the original Lolita Lempicka Le Parfum, all hugely influential compositions with individuality and seductive iconic status. Add in Bois d'Arménie for Guérlain, the wonderfully anisic Body Kouros for YSL, Bois d'Argent for Dior and the hugely successful Fuel for Life for Diesel, you have an unassuming parfumeuse of eclectic power.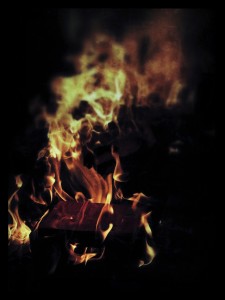 Burning Books by TSF
She also authored this burning wasteland of a scent, Patchouli 24 in 2006 for a new hipster indie house Le Labo. When Le Labo was launched in 2006 by Creative Directors Fabrice Penot and Edouard Roschi, the whole laboratory concept was pretty cool and edgy, on the right side of kitsch. The guys have worked with some the world's leading independent noses including Yann Vasnier, Francoise Caron, Barnabe Fillion, Maurice Roucel, Mark Buxton and Frank Voelkl formulating a collection of highly influential designer art scents with single note names (such as Rose 31, Ambrette 9, Santal 33) being an indication to the dominant compositional ingredients. Over the past six years, the brand has become more accessible in distribution but the formulae themselves, a mixed bag of crowd-pleasing effect and serious perfumery are often subversively beautiful.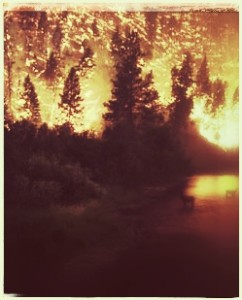 Siberian Winter Forest on Fire by TSF
I adore Daphne Bugey's Lys 41 and Maurice Roucel's powdery Labdanum 18 is a favourite of mine but Annick Ménardo's gutsy celebration of rampant vanillic decay does take quite some beating. On first pungent sniff, it smells of no patchouli at all, just a huge searing blast of birch tar like a Siberian winter forest on fire. I smell the death of books and paper in the dark swirl of styrax and rubbered vanilla, the patchouli seems furtive, loitering in the shadows like a murderer before striking with brutal force.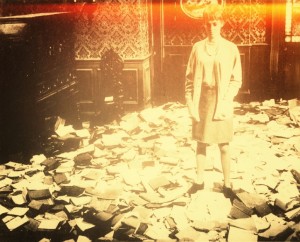 Julie Christie in Farenheit 451 (re-imaged-MC)
Many patchouli scents come across as vaguely sleepy, easy-going types, kinda sexy, warm and fuzzy. Patchouli 24 does not. It attacks air and fetishises skin with a compelling mix of rooty come-hither sex and smoky bruise. You know though, it does pack quite a punch, there are moments in the day as I'm wrapped in its rather tenacious hold, it can make me suddenly dizzy; these moments pass but there are linked to the often sudden waves of birch and styrax that seem to rise off the skin like startled game, rushing my senses and temporarily disorientating me. It is divisive darkness. There are days I almost cannot bear the cured ham & ice cream power of Ménardo's dense elixir.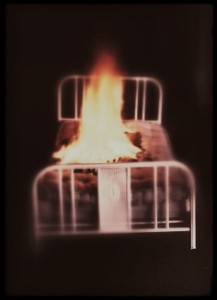 Burning Bed -TSF
Other times I will drench skin and sheets with it and dream the sleep of the damned in a haze of twisted animalics and bleak vanilla. Everyone with an interest in scent should at least try this idiosyncratic and cryptic portrait of the personality of patchouli. There are echoes of smoky, erratic oddity throughout the oeuvre of Annick Ménardo, it is an interesting exercise to sample her fragrances side by side and savour her ability to create pockets of anisic shadow amid fumes and sweetness. Le Labo Patchouli 24 is a challenging wear for some, pure unadulterated pleasure for others. What holds true throughout though is the sheer feral beauty of such brave and confrontational perfumery.
Disclosure – From my own collection
-The Silver Fox, Senior Editor and Author of The Silver Fox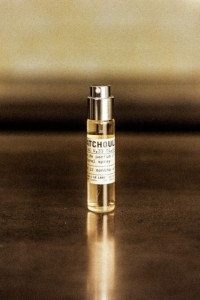 Thanks to our friends at Le Labo Fragrances we have a 10 ml travel spray of Patchouli 24 for any reader in the EU, US or Canada. To be eligible, please leave a comment with what "ignited" you about TSF review, where you live and if you have a favorite Le Labo Fragrance. Draw closes 1/15/15.
We announce the winners only on site and on our Facebook page, so Like Cafleurebon and use our RSS option…or your dream prize will be just spilled perfume