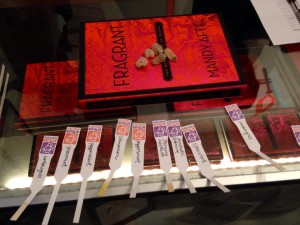 Photo Courtesy of Yosh Han
Los Angeles hosts some of the most well known stars but this time around on October 16th, a constellation of cinnamon, mint, frankincense, ambergris, and jasmine converged in a singular astronomical event, as historically one has always navigated. .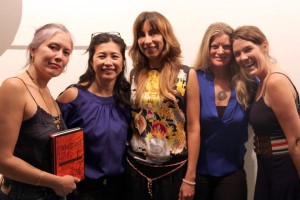 Photo Courtesy of Saskia Wilson Brown:( L) Persephenie Lea, Yosh Han, Irena Kojouharova, Sarah Horowitz-Thran and Saskia Wilson Brown Director of IAO
A slew of perfumers (including Yosh, Miriam Vareldzis, Persephenie Lea, Sarah Horowitz-Thran, Maggie Mahboubian, JoAnne Bassett, Ashley Kessler**), purveyors of aromatics John Steele & Jacqueline Rathner were led to a center of navigation, The Institute for Art & Olfaction in LA for a sit down with Mandy Aftel and her new book, Fragrant: The Secret Life of Scent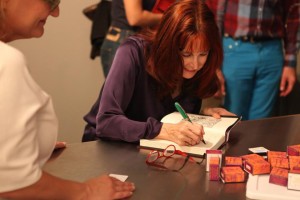 Mandy Aftel Natural Perfumer Extraordinare, Icon and Author
Seemingly Mandy lives in a world where water willingly transforms into wine; for in her book and life interpretation of scent is based on personal perspective; perfumes are created firstly for the perfumer- to elicit their ecstasy and, "…If the people agree, well, it's a miracle."
.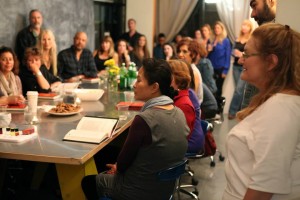 Photo: Saskia Wilson-Brown
Before sitting down at the same table where professionals and neophytes come to learn and hone their craft in a unique, multi-disciplinary approach education space, guests were treated to drinks infused with Aftelier Chef Essences and the night became as effervescent as the jasmine infused prosecco.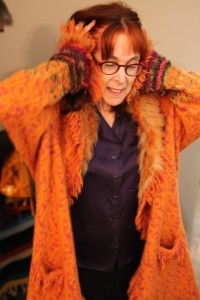 Mandy Aftel wearing Aftelier colors Orange and Purple!!! Photo" Saskia Wilson Brown
"I am a hunter", Mandy describes her researcher self; being surrounded by the spoils of her own personal spice routes she exclaims, "I am not asleep!" And certainly she is not when she begins to transmit a description of aromatic materials, increasingly passionate in exploring emotions and psychology of which natural instinct a raw material triggers on a larger scale than personal memory association, indeed the greater human condition and collective consciousness.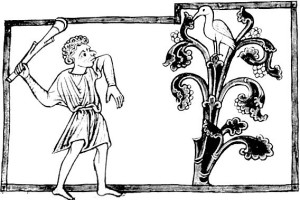 Cinnamon Illustration from Fragrance The Secret Life of Scent
Speaking to the process of researching and aromatically living the the history of five raw materials, Mandy refers to the primal emotions/forces which urge our psyches toward fulfillment. We see the history of aromatics play out from the monetary and geographical conquests of the spice routes, returning to the assuaging comforts of home, inward toward the divine, outward to the obscure (and perhaps even a bit profane), while resting in the sheer beauty of it all. This is a journey of multiple continents, millennia of time, and our own evolution as a human animal- all contained within her newest work, Fragrant: The Secret Life of Scent.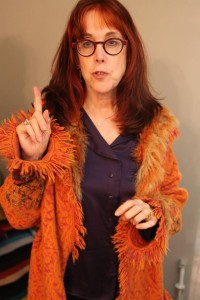 Mandy Aftel Photo" Saskia Wilson Brown
Although she has written the classic Essence & Alchemy, she is quick to point out how "…language and perfume are far apart." When searching for a common vernacular for aroma, we tend to reach for experiences or referential terminology such as, "This reminds me of …" or perhaps one might retell an experience when one first encountered a specific scent or the person in their lives who wore a particular perfume.
After the intimate and enlightening exploration into her new discoveries, IAO founder Saskia Wilson-Brown moderated a Q&A where perfumistas and the public displayed a depth of interest in Mandy's work. Questions ranged from how she herself creates, "Once you add ONE ingredient, the doors are already beginning to close.", the Japanese philosophy of beauty known as 'wabi sabi' and which oils have the most healing potential for the psyche. "Aroma is consciousness.", she succinctly states and encourages you to embrace these five states of consciousness which you will encounter in your personal aromatic journey: adventure, recognition, transcendence and beauty.
- Einsof, Guest Contributor, Botanical Perfumer and CaFleureBon Reader