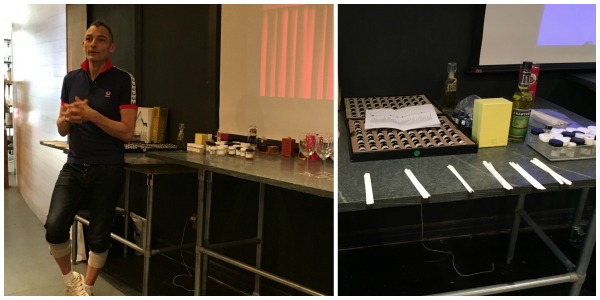 Christophe Laudameil is the Osmocurator in the USA here with vintage ingredients and perfumes
On June 1st, as CaFleureBon's NYC Event Contributor I was invited to attend a special workshop focusing on vintage perfumes entitled Osmotheque: Scent-Traveling Through Time with Master Perfumer and osmocurator, Christophe Laudamiel (Fabio Luisi, and Cecile Zarokian have also participated). This is the third in a series from the newly launched PerfumeSchool New York, a subsidiary of FlowerSchool New York where fragrance aficionados can learn the art of bespoke perfumery offered with distinguished perfumers.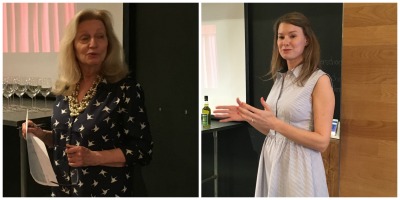 Eileen Johnson Creative Director, FlowerSchool PerfumeSchool and Brittany Bosch
With over a decade of established floral expertise, Eileen Johnson, Creative Director along with Brittany Bosch, Curriculum Coordinator of FlowerSchool New York launched the PerfumeSchool to explore one of the most important senses- smell (Brittany Bosch was a recent guest speaker at Sniffapalooza's 2016 Spring Fling where she introduced The PerfumeSchool New York to the group).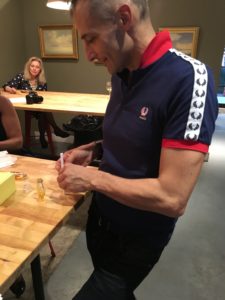 Christophe Laudamiel
For this class, world-renowned Master Perfumer and only osmocurator currently based in the United States, Christophe Laudamiel, presented a Master Class where he shared (and smelled) with us some iconic vintage perfumes from the Osmotheque, the international fragrance archives based in Versailles, France. This is a living collection of existing or no-longer available perfumes whose mission is to protect the world's olfactory heritage.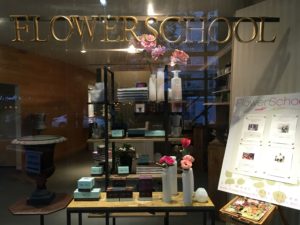 FlowerSchool
The $150 per person registration fee proceeds went in part to the preservation of original scent oils, formulas and historical ingredients as well as promoting more educational activities by the Perfume School New York and the Academy of Perfumery and Aromatics
The two hour course touched on many topics, too numerous to write about here, without this turning this into a two hour read! Here are my highlights:
M. Laudamiel began with an overview of The Academy of Perfumery & Aromatics, his New York City non-profit organization (2002) dedicated to the advancement and education of the art of Perfumery and Aromatics and its connection to The Osmotheque.He asked attendees to introduce themselves, state their professions and reason for attending, as a way for him to tailor the course to suit to the profiles best.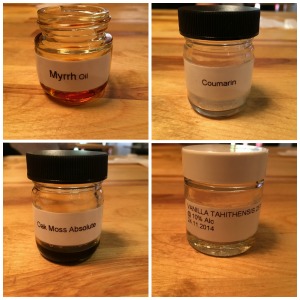 Myrrh-Coumarin- Oakmoss- Vanilla TAHITENSIS
Sample jars of Myrrh oil, Parfum Royal, Oak Moss Absolute, Vanilla Tahithensis and Coumarin were passed around along with a glass of Chartreuse. M. Laudamiel mentioned the role herbs, resins and spices have played in religion since ancient times, noting that where Myrrh is found, one is sure to encounter Frankincense. Not surprising, the Catholic Church is the largest buyer and user of incense in the world today. Coumarin, in addition to its use in baby powder and as a blood thinner is one of the most popular ingredients in perfumes and is included in almost 90% of all perfumes in its synthetic state. Mostly found in tonka beans, it was one of the first molecules used (1884). Two notable fragrances with a strong courmarin molecule are Fougère Royale by Houbigant and Jicky by Guerlain.Oakmoss, one of the commonly used raw materials, especially in chypre and fougère fragrances is used as a fixative, to improves the longevity of a composition. It possesses a delicate forestry, rich and earthy scent to fragrant composition. The name "Chypre" originated from the French word for the Island of Cyprus, however the Osmothèque suggests it was born of an independent etymology referring to "oakmoss".
Vintage Chartreuse perfume
Chartreuse, the French liqueur made by the Carthusian Monks (1737), is composed of over 130 herbs, plants and flowers (which was pretty much all available at that time) when it was distilled. Chartreuse gives its name to the color chartreuse, which was first used as a term of color and is one of the handful of liquors that will continue to age and improve in the bottle. The aroma and flavor of Green Chartreuse is incredibly complex – warmly spicy, herbal and with licorice. M.Laudamiel presented another version, Yellow Chartreuse, which has a slightly low alcohol content and a lighter color from its use of saffron.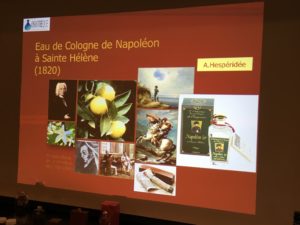 Eau de Cologne de Napoleon
Before opening the vintage bottles, M.Laudamiel touched on regulations in fragrance. Napoleon is credited as one of the first to set regulations at a time when there was no oversight. The ingredients used were susceptible to unstable reactions. The current reason why a number of the classic vintage fragrances are no longer available in their original formulations, having been altered over the years, is due to regulations by IFRA, the organization which regulates and sets the guidelines for safe usage of fragrant chemicals and essential oils in perfumes and skincare. This is a subject onto itself.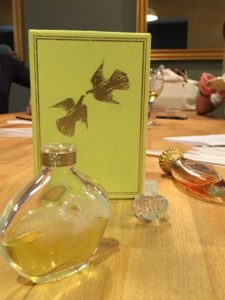 L'Air du Temps Nina Ricci circa 1960's
Last was what everyone anticipated, the vintage fragrance bottles he presented and shared. Chypre by Coty, which he compared to an even older Chypre by Guerlain (brand new addition to the osmotheque). Christophe stated that Guerlain was better at vanillas and Coty better with oakmoss. A 1980's L'Air du Temps still possessed the very feminine qualities that made it a classic.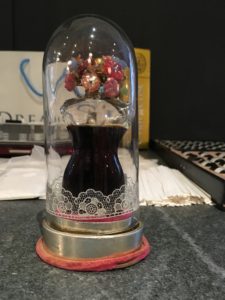 Anoriginal Shocking de Shiaparelli 1937
Housed in a floral motif bottle, Shocking by Schiaparelli was opened for the first time. The nose behind this fragrance was Jean Carles. Notes of civet, rose and jasmine were very much present and it still possessed its very decadent, force of nature quality to it.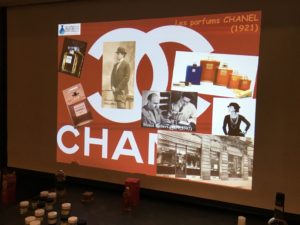 CHANEL No 5 has maintained its quality over the years
Shalimar from the original formula had far less vanilla than current iterations. Chanel No.5 was from the 80's and Christophe compared it to the 1950's version. A classic, same as it ever was.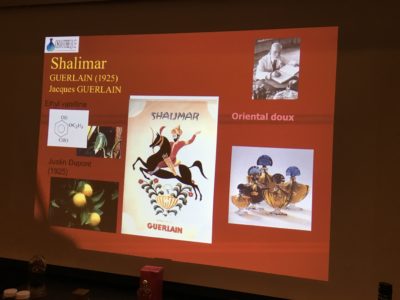 Shalimar Jaques Guerlain
In closing he left us with a little known antidote. Francois Coty and Jacques Guerlain were good friends and fierce competitors. One night Jacques's wife returned home wearing a fragrance that he recognized as one of Francois. He told his wife if she would stop wearing it he would make her something better. Hence, Shalimar was born!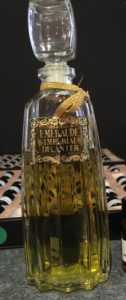 Emeraude Imperial Decanter by Coty
A short Q&A followed. Asked what fragrance(s) he would like to see returned to its former glory, he did not hesitate, Apres l'Ondee and Mitsouko, both by Guerlain. The current Mitsouko he declared a "mystery" and no longer recognizable
Hernando Courtright, New York Event Contributor and CaFleureBon Ambassador
We would love to know what you learned from Hernando's recap. All photos by Hernando and disclosure the class was complimentary. Thank you to ThePerfumeSchool