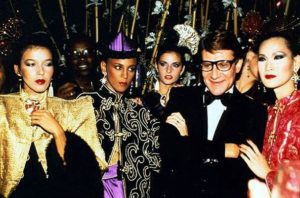 Yves Saint Laurent and friends at the launch of Opium in New York, 1978
"I … love to love you baby … I …love to love you baby…"
Donna Summer breathes wantonly over the dance floor. A spaceman grooves back to back with a blonde in a white Fiorucci jumpsuit. Hundreds of hips gyrate, heads sway and sweat glistens like teardrops under the fractured glitter of the mirror ball in the center of the high ceiling from where, any moment now; multicolored feathers will fall in fluffy showers. Above of it all, a man with heavy-rimmed glasses smokes and observes gleefully from the balcony his very own Sodom and Gomorrah below. At Studio 54 in 1978, the after-party of the most infamous perfume launch in history is in full swing, and the sumptuous, fruit and spice-soaked smell of Yves Saint Laurent Opium floats through the air like velvet smoke.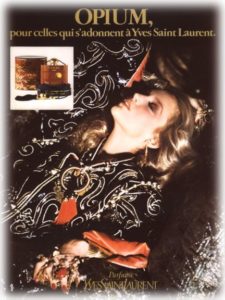 Yves Saint Laurent Opium ad featuring Jerry Hall, photo by Helmut Newton, 1977
Perfume as drug. Now after decades of perfumes with names such as Poison, Purple Haze, Venom, little seems shocking about this concept. But 40 years ago, Saint Laurent was the first to grasp the narcotic thrall of fragrance, its ability to alter mood. In 1977, the year Opium was produced, it was shocking to suggest such a thing let alone market it. Opium was boycotted around the world, editorials damned it, my own father forbade me wear it. But rather than run with his le smoking between his legs, Saint Laurent played up the controversy, throwing a party in New York harbor the following September that was so lavish it gorgeously skirted bad taste. And the after-party? Where else but the place known for breaking every code in New York, the chicest opium den of the time, Studio 54. Saint Laurent's transgressive perfume and club were made for each other.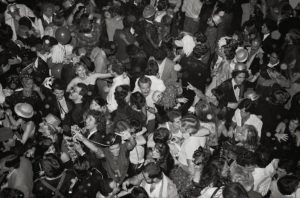 Studio 54, photo by Tod Papageorge, 1978-1980
Saint Laurent understood that dressing was role-playing and that fragrance was part of the costume. His perfume for the disco era was created to be the ultimate in opulence, the perfume of an "oriental empress." Saint Laurent once shrugged, "I prefer to shock rather than to bore through repetition." And sure enough, when I first smelled Opium, I remember feeling startled. It was one of the most gorgeous things I'd ever come across, but it was far too glamourous for ordinary mortals. No other perfume smelled like Opium in the 1970s. Popular women's perfumes were green, crisp and angular like Anne Klein Blazer and Chanel Cristalle. Or they were Upper East Side flower children, like Diane Von Furstenberg Tatiana and Cacharel Anais Anais. Not Yves Saint Laurent Opium. It was so many things all at once, each note composed in perfect, sweeping orchestration: ambery richness swung on a trapeze of iridescent aldehydes; lush rose and jasmine volleying with spices, citrus and resins. It was a decadent, glorious bird of paradise, made for nighttime. In its oriental richness, it had a touch of vintage but was entirely its own, old, modern beauty. Opium was Studio 54 in a bottle.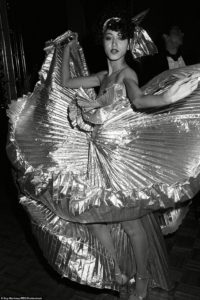 Pat Cleveland on the dance floor, 1977
The original Opium of 1977, composed by Jean Amic and Jean-Louis Sieuzac, is symphonic, textural, yet possessed of brilliant buoyancy that keeps it from ever feeling like a vintage throwback. It possessed one of the most exquisite openings in perfumery: the honeyed amber poised against the ballerina lightness of aldehyhdes that bubble up through a spill of plummy fruit, a tumble of cloves, cinnamon and coriander, narcotic jasmine and rose. They rush in almost all at once, and yet each whirls you around for a moment before passing you to your next partner in the dance. In the parfum strength, the resins are richer, the florals, especially carnation and rose, are heady, articulated, and every note is interwoven with the shimmering complexity of a French tapestry. In the eau de toilette, the citrus is punchier in the opening, the middle more floral and peachy. But that shimmering damask quality, the fragrant chiaroscuro of heavy and sparkly notes, is fully there.
Yves Saint Laurent, Loulou de la Falaise and Nan Kempner at the Opium launch, Studio 54
In these 40 years since her rakish debut, Opium has led the way to a host of imitatators and homages. She opened the door that led to the heady, unafraid fragrnaces of the 80s, and even took Yves Saint Laurent perfumes in an Eastern direction that later included the gorgeous cardamom and incense Nu and the smoldering La Nuit de L'Homme. Opium, that lush provacateuse of the late 70s, has with time, like many ground-breaking perfumes before it, become welcome in polite society.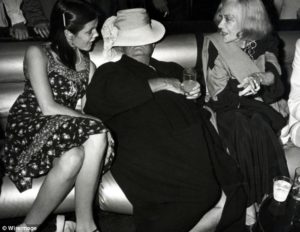 Kate Harrington and Gloria Swanson chat over a sleeping Truman Capote in the balcony, photo by Ron Galella, 1978
Studio 54 swung shut its doors in 1983, eventually returning to its former life as a legitimate theatre. Opium is no longer seen as transgressive – that bold persona belonged to an era when no one named perfumes for drugs that were the toys of Studio 54 denizens. But in the lens of my memory, Donna Summer is still crooning, the dancers in their crazy costumes are hustling and heaving, rainbow confetti flutters from the heavens as deadly sins are transgressed every Saturday night. And gorgeous, decadent Opium is queen of the night, two dozen perfectly balanced golden ingredients glinting like a topaz tiara under the spotlights. Get hold of a vintage bottle, breathe in and let its magic take you. It still can.
Love to love you, baby.
~Lauryn Beer, Senior Editor