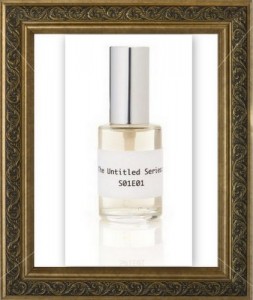 Chandler Burr has been imploring perfume lovers to treat perfume as a whole instead of the sum of its parts. In his post as Curator of the Department of Olfactory Art at the Museum of Art and Design in NYC he is doing a lot to create the environment to allow for perfume to be appreciated as art. But how can we do this when people like me exist who love to pull apart a fragrance into its components and look analytically as opposed to qualitatively. Mr. Burr in conjunction with e-commerce site Open Sky has begun an effort to allow us to do this as a community. The details, in a nutshell, are on the first of every month a perfume selected by Mr. Burr will be placed in a plain 50mL laboratory sprayer and labeled with a number. Mr. Burr will provide a bit of an introduction (see below) and talk about it on the Open Sky blog; at the end of the month he will reveal the perfume and perfumer. That gives us two or three weeks to experience the perfume purely through its aesthetics.
I love this idea and I was fascinated to see how the writers at CaFleureBon would see this first release. So I asked/twisted the arms of Sr. Editor Tama Blough, Editor John Reasinger, and Contributors Valerie Vitale of Soliflore Notes and Neil Sternberg of Cologniac. I asked them to write a description of the first Open Sky Untitled S01E01, which stands for Season1 Episode 1, without using notes. Speaking for myself I found this to be challenging as I had to ask the analytical portion of my brain to be quiet so as to allow the aesthetic portion to be dominant; which is not easy for a scientist. The way I finally approached it was to realize when I love a piece of visual art I don't immediately start talking about brushstrokes or cinematography; I talk about how it makes me feel. Here are five very different versions of how Open Sky Untitled S01E01 made five perfume lovers feel.

S01E01 felt like a sheer silk veil shot through with colors of pale green and purple. S01E01 has a limpid transparency which also contains a palpable lucidity. I thought of soft watercolors which combined to create an emotional response in the delicacy of the interactions. This is a soothing perfume which wraps you in its arms and comforts you. This is an example of the power of subtlety. –Mark Behnke

My sample of S01E01 arrived just as I was getting ready for my day, so I decided to just throw caution to the winds and apply it after my shower. It smells of a translucent green, and slightly earthy. The vision that came into my head is of myself as a child lying on the grass on my belly, carefully extracting the center shoots of grass so I could eat the pale, soft end of each blade. I applied the scent liberally, and it seemed to fade rather abruptly, only to re-emerge a few minutes later in a veil of shimmering powder. This is the kind of perfume I find enjoyable, when the cloud of sillage is not the same as the more tangy smell on my skin. This fragrance was my dreamy companion for several hours, and has settled into a soft, pastel purple buzz. –Tama Blough

The mist is still rising in the wood. It is almost daylight, yet the sun has not crested the horizon. Shy blossoms throw off the shimmering drops of morning, as herbs and greens stretch and yawn. A slow gentle wind passes, blowing the moonlit memories of last night's sylvan adventures away. Tall and regal flowers exude their aromas in the cool shade of ancient trees. Birds are beginning to sing and take flight above me. The scent of earth and desiccated wood, decaying and returning to the ground, blends with hints of musk.
I emerge anew from a waterfall, washed clean by the rushing torrent of icy water and am greeted by warn sunlight on my skin. I lay languidly in the meadow, as lavender and narcissus dance in the breeze, and all is right with the world. I listen to the whispers of the leaves on the trees and think: what else do I really need? -John Reasinger


The morning is crisp, and brings a halo and a smile. Pulling back the curtain reveals sunshine and a tender green, the smell and color of spring. Near the window is a door that leads to an acre and sky. A young girl-me walks through the crystalline air that leads her to a maple tree. Early maple seeds look like delicate lemony-lime insect wings; they gently fan from above. Perfectly placed Muguet surround the base of the tree like a necklace; the six tiny bells remind me of my sister. The mix of floral and crystalline air remains. Slowly wild grass and sand dunes surround me. The warmth of the air relaxes me, and the sun bakes the grass and its roots dry. I snap a tall blade and place it in my mouth to taste and smell it even more. –Valerie Vitale


The Most Interesting Person In The Room…was the one that all of us noticed. She was, however, also the one to whom none of us spoke.
Which is not to say that we didn't talk ABOUT her. Before the night was over, we all did. Funny, I suppose, that none of us talked TO her.
Somebody said she was earthy. I suppose so, though I couldn't really see it. She seemed – well – simple. Uncomplicated. Another said she looked like an angel, though I'm not sure it was a compliment. She had this very straight, light golden hair, and a perfectly unblemished complexion. She was like some kind of angel from a painting, come to life. It did make it rather hard to take one's eyes off her. This despite the fact that she was – well, she was still a bit mousy. Not in a bad way, mind you.
You see, she reminded me of somebody else. There's a woman I know – a designer. Not the kind you think – the kind who gets her hands poked and scraped by actually designing. No, no, no. I mean she owns a fashion empire. She wears off-white outfits – always with a sleek, wide-brimmed hat. She's cool and powerful. Her heels go clack-clack-clack on the glass ceiling, and the men jump to attention.
But that was not the woman at the party. The woman at the party was… Well, it was as if the empress had sold it all and become the happiest seamstress in the world. Coco in reverse – Italian style. She was nobody, and she was perfectly fine with it.
She contented herself to walk around all evening and look at the artwork. She talked to the cook. They said there was a poet working in the kitchen – perhaps she found him.
Alas, we were all too busy. We toasted the world's premier jeweler. We regaled the richest man in Europe, beloved by all. We tapped our feet with the renowned jazz saxophonist. We wept over the beautiful painting of the Arabian Desert, the masterpiece of the dearly departed artist, a friend of our hosts. We discussed weighty subjects – perhaps even thinking we had resolved some of them.
Funny. I just can't stop thinking about that woman. There was something about her, and she never said a word. –Neil Sternberg
Based on the fact that S01E01 sold out in four days I think this is going to be a successful initiative. So that one reader can also have the chance to participate in the fun we all had I am offering a 2.5mL sample from my bottle. So that the winner can have the opportunity to try S01E01 before the identity of it is revealed this draw will be a little different. First it will have to be US readers only so it can get there in time. Second the draw will take place on Sunday June 24, 2012 via random.org at 5PM EST. Third the winner will be announced at 5:01 PM EST on Sunday June 24, 2012. That way I will be able to get it in the mail on Monday via Priority Mail so the winner will have it by Wednesday before Friday's unveiling. To enter all that is required is for you to copy and paste "I live in the US, I will participate, and I will check the site between 5PM and midnight EST on Sunday June 24, 2012 to see if I've won" into a comment. There will be no spilled perfume for this one.
–Mark Behnke, Managing Editor