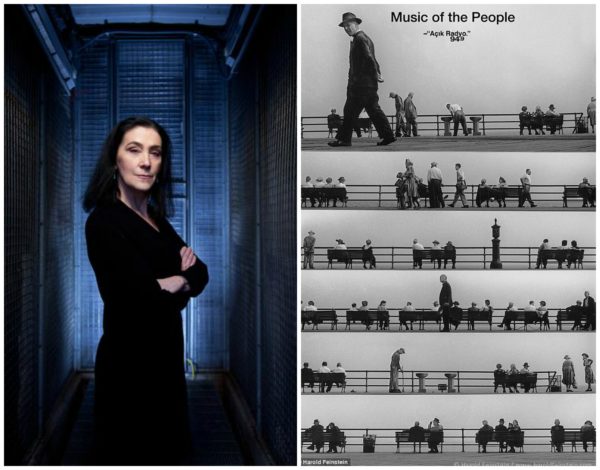 Perfumer Ellen Covey (photo by Lucien Knutesen and 1952, Music of the People montage by Harold Feinstein
It was really hard to choose among all of the entries – I wish I could make a perfume for each one. In the end, given that I was forced to come up. with a winner. I have a winner and 3 runners up
Dixie is the grand prize winner with Grateful Dead Cryptical Envelopment. This is a wonderful name for a perfume. The piece of music itself is very complex, with a rambling theme in the beginning and end and some evocative lyrics in between, with imagery of exploding roses and hallucinatory transformations. This would be a challenging perfume to make, but really fun. It will take about 6 months to create
Runner Up: Aire for Nina Simone Lilac Wine. Another good name for a perfume, although more down-to-earth. I like Nina Simone's version, and there is some great imagery in the lyrics.
Runner Up: Richard Potter for Alec Wilder Blackberry Winter (Good name, no explicit blackberry fruit, so no overlap with any of my existing perfumes, inspiring imagery, and I sang this song in vocal jazz ensemble
Runner Up: Sandi L Simon &Garfunkel Scarborough Fair is begging to be made into a perfume with some of the notes already listed, but the challenge would be to make it into something that transcends the obvious herbal cologne.
"I Took a Pill in Ibiza" is one of my favorites because the name is great, and the imagery in the song suggests so many possibilities therefore I am going to collaborate with Michelyn on a project for the future in the manner we did for Sonnet XVII with something in this theme
Thank you to everyone who submitted song titles! I chose the songs based on my own judgement –Ellen Covey, Olympic Orchids
Dixie, Aire, Richard Potter and Sandi L please contact michelyn at cafleurebon dawt com. For Richard Potter Aire and Sandi L Ellen will be sending you 15 ml of the Olympic Orchids of your choice, so please use that as your subject line, your mailing and phone details and choose from here. You will receive your choice in Dixie Please email as well with Cryptical Envelopment as your subject and you will be receiving your namesake perfume when it is completed and please choose 6 fragrances for your custom discovery kit in the body of your email by August 3,2016