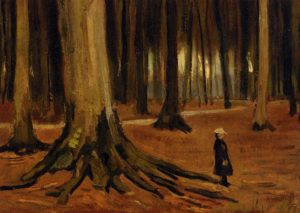 Girl in the Woods,Vincent Van Gogh,1882
Art is an act of translation, transmuting emotion, objects, scenes, even the incorporeality of dreams, into mediums that communicate across languages. When art is inspired by itself – think of Verdi's Macbeth, Rodin's sculpture of Dante's Gates of Hell – it transforms again. In the hands of a master, that translation may even exceed the beauty of the original. Such is the case with Woody Mood from Olfactive Studio.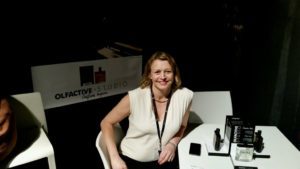 Celine Verleure at Esxence 2017 (Photo Michelyn)
Woody Mood, introduced at Esxence in March, was inspired by a photo that caught Creative Director Celine Verleure's attention at a Paris art exhibition.
Redwood Alien, Roger Steffens 1973
Titled Redwood Alien, the picture was taken by journalist, actor and photographer Roger Steffens in 1973. Steffen's photo shows a solitary female figure, dwarfed by the surrounding redwoods, as she walks off her path and towards the splintered haze filtering through the sequoias. Behind her, an overexposure of sunlight imposes an object that resembles a halo or flying saucer. Master perfumer Bertrand Duchaufour, the nose behind Woody Mood, and Mme. Verleure were not merely inspired by Redwood Alien: they rendered it in scent. It is a sumptuous perfume of many layers, with deep aromas of woods, smoke, resins and roots, shot through with a brilliant shaft of citrus. And it is, to my mind, Olfactive Studio's best work to date.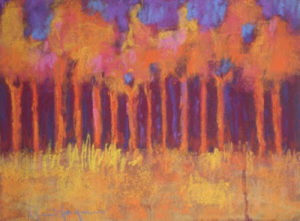 Orange Woods, Lynn Morgan, 2010©
The light, the trees, the color and shape of the halo, even its touch of strangeness – all find their way into Woody Mood. The first notes are a whoosh of deep forest: cut wood, bark, the damp, vegetal smell of tree vine. But within a few seconds, these dense, foggy notes are cut through with a brilliant shaft of olfactory light: a piercingly bright bergamot, heightened by the sharpness of young ginger. The perfume turns golden orange in seeming replication of the halo's color.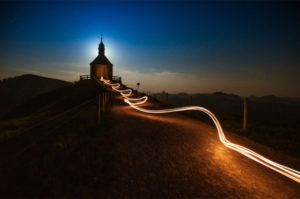 Transmigration of Souls, photo by Stefan Thaler©
Next, smoky aromas come in – black tea and incense – and the composition shifts into fumy dusk. Where the opening was the introduction to the dominant images – trees and halo — this stage is about the light, the way it seemingly absorbs into the shadows around its many beams. The smokiness is never tarry or tobacco-inflected, but more like a distant aroma of a recently burnt leaf pile. It quiets the bergamot and ginger as incense brings in a more contemplative feeling. Somehow, the aroma of the tea gives a sense of moisture, like the damp forest floor. That vinous smell I picked up in the opening returns, a bit more herbal than vegetal now, and I can detect the presence of sage.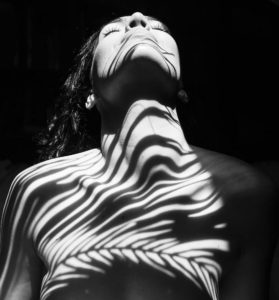 From Women Dressed in the Shadows of Nature series, photo by Emilio Jimenez
As Woody Mood matures, incense merges with the different wood notes that begin to come forward then fall back, the way foliage shadows do when the wind shakes them. An idiosyncratic aroma creeps in here that is partly sweet, partly astringent, which I take to be a paring of cocoa powder layering on top of the bergamot. In the dry-down, the burnished and vibrant notes splash off each other like wet light. The bergamot-ginger never entirely recedes, but balances against the woods, resin and smoke. In its final stages, Woody Mood is the lovely sum of everything that came before: smoky, woody, with aspects of green leaves, sharp fruit, roots and resins, but all in equilibrium. This may be my favourite wood perfume since CDG/Monocle Hinoki.
Steffens' image conveys the singularity of the natural world, hinting at unknowable possibilities as its sole human wanders into one mystery with another behind her. If she breathed in deeply as she stepped off her path, she might recognize Woody Mood as the scent surrounding her, forever suspended in that strange light.
Notes: Bergamot, Ginger, Clary Sage, Safran, Accord Sequoïa, Jatamansi, Black tea, Incense Patchouli, Styrax, Accord Leather, Cocoa powder
Disclaimer: I received my sample from Olfactive Studio – many thanks. My opinions are my own.
— Lauryn Beer, Senior Editor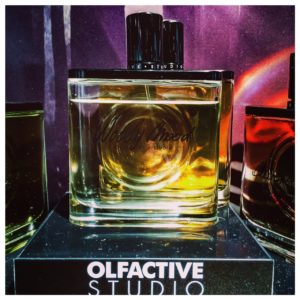 Woody Mood Photo by Ermano Picco
Thanks to the generosity of Celine and Olfactive Studio, we have an avant premier 100 ml bottle of Woody Mood for 1 registered reader in the U.S., Europe or Canada (valued at $195). It will be available for sale September 2017. Please be sure to register or your comment will not count. To be eligible, leave a comment on what appealed to you about Woody Mood based on Lauryn's review, where you live and whether you have a favourite Olfactive Studio perfume. Draw closes 7/23/17.
We announce the winners only on site and on our Facebook page, so like Cafleurebon and use our RSS Feed… or your dream prize will be just spilled perfume.