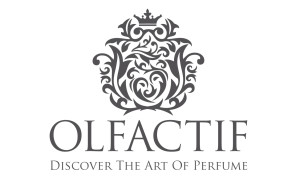 If you are a reader of CaFleureBon, chances are you are passionate about niche, natural and artisan perfumery and want to explore exceptional fragrances you don't find at the Mall. Based on our readers' comments, trying to find artistic and hard to find fragrances can be daunting if you don't live in a big city and chancey if you buy samples on line-(there are literally thousands to choose from). Welcome to Olfactif, the brainchild of Tara Swords, a Chicago based entrepeneur and a CaFleureBon reader who started the first niche fragrance monthly subscription service.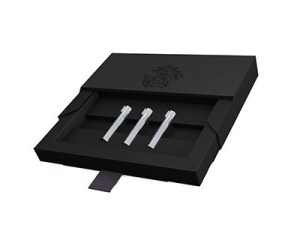 Think of Olfactif as "Niche Perfumes of The Month Club", where for $18.00 a month (less than you would pay for a restaurant lunch and who needs to eat when you can sniff), a carefully curated collection of three niche fragrances housed in a beautiful black case arrives in the mail. Fall in love with a scent ? Each month as a subscriber, you receive an automatic credit of $18.00 towards the purchase of any full bottle of that month's featured fragrance. Let me sum it up… buy a bottle, your subscription just payed for itself.
Olfactif has been the media darling of late with shout outs from major online magazines such as Self.com, Glamour.com, Allure.com, Refinery 29… the gateway to niche fragrances for those who are in the know or want to know more about artistic perfumery.
Tara took time from her busy schedule for a Q & A and to discuss FAQs.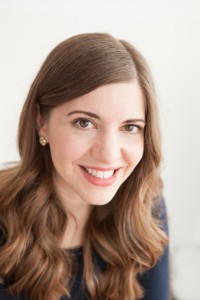 Tara Swords
Tara, the idea of Olfactif is so good, I am kicking myself for not thinking of it first. Tell us about your perfumed past and the launch of Olfactif
Tara Swords: I remember thinking, as a kid, that nobody else seemed to feel as strongly about scent as I did. If they did, they didn't talk about it. But I thought about it all the time. I was naturally drawn to perfume. My mother wore several different perfumes—Rochas Mystere to Faberge Babe—and I loved them all because they smelled like her. But if you had asked me about my other favorite smells, they would have been things like sawdust and pipe tobacco and grass and cinnamon. And so the world of perfume that I saw on department store counters felt totally disconnected from real life. Shopping for perfume was like being in love with jazz and samba and baroque music but being allowed to listen only to songs in the Top 40 countdown. Perfume seemed to have none of the complexity and weirdness and creativity that I loved in other sensory experiences, like music and writing and food.
Then one day a few years ago, after living in Africa and discovering a few unusual perfume lines, I stumbled onto some discussion board and found people who were talking about perfume the way that I always thought about scent—like something that brought them joy. Today, it sounds totally unremarkable, but back then it was a revelation to me. I felt an instant connection to this group, but they were also talking about perfumes and notes and brands I had never heard of. So I dove in.
Eventually, I decided to start Olfactif because most of the people who wear perfume are like the me of a few years ago: bored with the trendy, focus-grouped perfumes they smell everywhere but totally unaware that this world of niche exists. I also think people crave a connection to things they invest their money in, and they want to know who dreamed up a product, whose hands created it, and how that process unfolded. Mainstream perfumery tends to sanitize all of that humanity from its products and replaces it with a stock message that says, "this will make you more attractive to potential mates." Niche perfumers work harder to engage the intellect and explore what lives on the margins of beauty. They take risks and create things that feel more connected to the actual experience of being alive.
I noticed that your "discovery kits" have mini vials. Are you planning to stop the vial-ence!
TS: Michelyn, you are too funny but it is uncanny because we are. We launched with 1 ml daubers, and are switching to 2.25 ml sprays in June.
Dedicated pefumistas are always looking for a deal. Are you offering different rates if someone commits to more than one month? What if someone wants to cancel?
TS: The subscription options are $18/month to cancel anytime, six months for $96 (equivalent to $16/month), and twelve months for $180 (equivalent to $15/month).
As our readers know, I never recommend giving a fragance for a gift; it is too personal. Thoughts?
TS: Buying a full bottle of fragrance for someone unless they ask for it is indeed risky. But gifting a subscription to Olfactif offers the recipient an opportunity to experience many scents. I had this in mind when creating this month's curation of a "fragrant bouquet" – perfect for Mother's Day.
The May 2013 collection is "Fleurs de Mai," and its perfumes are by three strong, creative women: After My Own Heart by Ineke (someone I discovered on Cafleurebon), Début from Parfums DelRae, and Cinabre by Maitre Parfumeur Maria Candida Gentile

– Ineke Rühland's After My Own Heart is a fresh lilac soliflore that will resonate with anyone who has ever smelled a lilac bush, especially in the month of May when the lilac is at its peak.
– Parfums DelRae Début is co-created by DelRae Roth and Perfumer Michel Roudnitska. Debut is a sophisticated but joyful scent centered around lily of the valley,muguet, which is a flower traditionally given on May Day in France as a sign of friendship and luck.
– Maria Candide Gentile Cinabre (Maria Candida is the only Italian and one of the few women to obtain the title of Maitre Parfumeur) uses natural Rose de Mai absolute, and is a departure from the same old rose perfumes, with a surprising spicy opening that shape-shifts into powdery pink air before drying down into basenotes that are sweetened with vanilla and smoky myrrh ;
This trio has beautiful diversity in technical makeup and in the different emotions that it evokes. I'm excited to hear what your subscribers and our readers feel when they explore these perfumes and get to know the remarkable women who created them.
TS:
So am I and we will have exclusive interviews with each "Rose" this month.
Thanks to Tara and Olfactif we are offering a full bottle of Parfums DelRae Debut, Maria Candida Gentile Cinabre or INeKE After My Own Heart to one US reader. YOU MUST LIVE IN THE US
OR
A free three-month subscription, which also includes an $18 FB credit for each of those three months.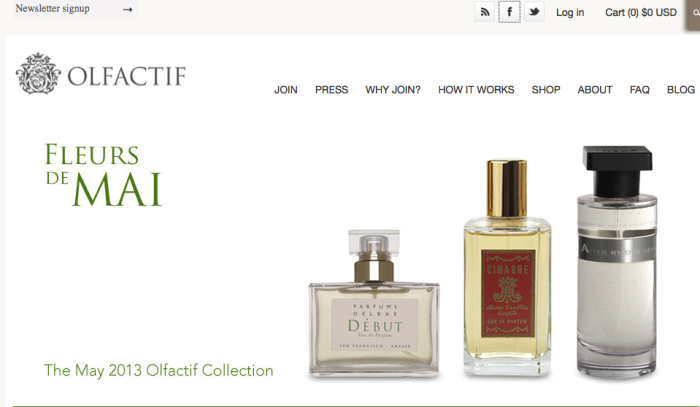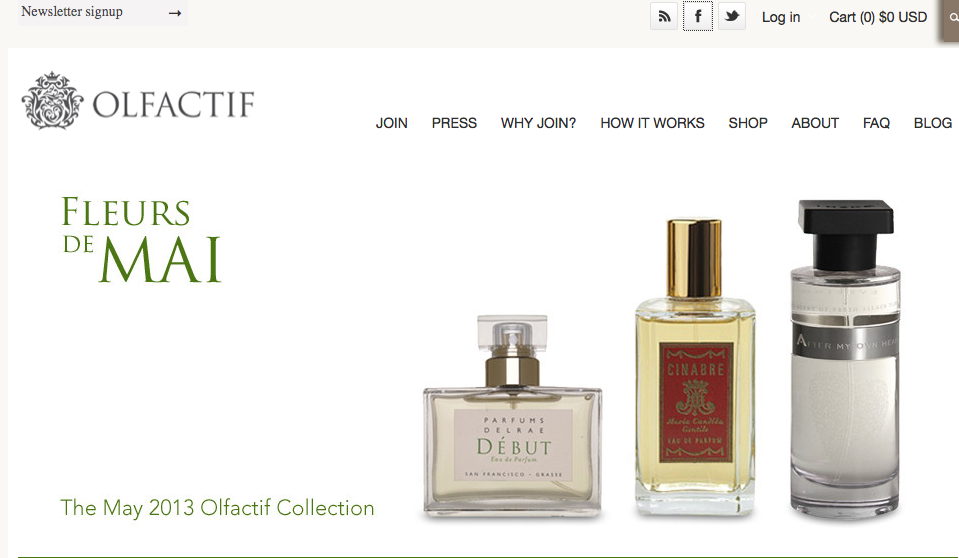 Here is what you need to do to be eligible.
1.Sign up for the Olfactif Newsletter first (upper left hand side) on www.olfactif.com
2. Leave a comment on CaFleureBon with a note to Tara, the fragrance you would like to win (or if you would like to win the free 3 month subscription).
3. Be sure your email used for your comment on CaFleureBon matches the one you use to sign up for Olfactif's newsletter (if you use a smartphone, the easiest way to sign up for the newsletter is to go to the home page and scroll down;you will see a sign up box).
Draw ends May 7, 2013.

–Michelyn Camen, Editor-in-Chief
We announce the winners only on site and on our Facebook page, so Like Cafleurebon and use our RSS option…or your dream prize will be just spilled perfume