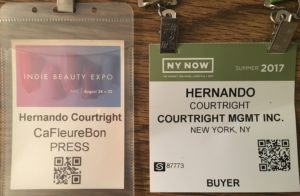 Two trade shows, NY NOW and Indie Beauty Expo arrived in town simultaneously. I spent two days scouting new discoveries and renewing old acquaintances. Running back and forth between the two exhibitions was exhausting but exciting.
NY NOW: AUGUST 19 – 22
NY NOW, the Market for Home, Lifestyle + Gift, is held twice a year at the Javits Center, the "unglamorous glass fortress" as the NY Times referred to it, over three days. Exhibitors showcasing their design-driven wares across diverse categories gave a preview of product trends available for the upcoming holiday season. Navigating thousands of buyers and the 2,400 exhibitors (over two hundred listed under candles) was a challenge. This is why it is a three-day event!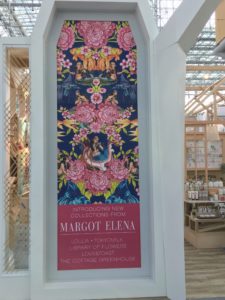 Margot Elena brands
Highlights:
Colorado-based Margot Elena Brands featured her lines: The Cottage Green House, Library of Flowers, Love & Toast, Tokyo Milk, and Lollia. Each line has a separate identity and all are handcrafted and well-priced .
St. Johns Fragrance Company's (Virgin Islands) storied history goes back 70 years. The Cologne bottles are hand woven and uniquely masculine. The soap collection is all triple milled.
BEE & YOU from Illinois is a new skincare line that uses beeswax, honey, and pollen, collected from their own hives, and utilize a proprietary blend of essential oils and other natural ingredients.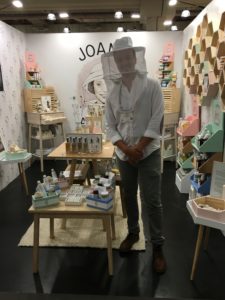 Joan's A Keeper
Another bee-centric line is Joan's A Keeper. Started by Joan Troyer whose love for bees turned into a honey business which turned into a soap business. Joan based her homemade recipes on her love of lilies, apple blossoms, and lavender, the scents that bees find most attractive. Now retired her children operate the business and a fragrance line launches soon.
RITUALS is a Netherlands company inspired by various Asian cultures. The bath and beauty collection is organic and paraben free.The fragrance line consists of 24 scents created by such notable perfumers Jeanne-Pierre Bethouart, Fabrice Pellegrin, Elise Benat to name a few. Oasis de Fleurs and Oasis Verte are current releases for the Holidays.
LUCID has been in business for over thirty years, the Maine based company's candles are mostly found in churches. They are refillable using "Lucid Liquid" and don't burn down or drip. And, they look and feel just like wax candles. The Lucid Candle comes in different sizes, shapes, and patterns and is only sold online and select gift stores. I'm a believer.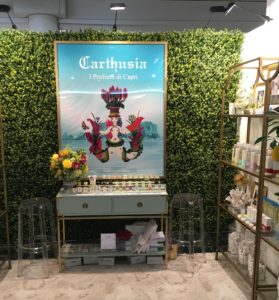 Carthusia Perfumes
CARTHUSIA is a storied house which dates back to the late 1940's. Terra Mia is their latest release by Luca Maffei.
World traveler, Tamara Jones Bali, Brooklyn, Barcelona (MBA), founded YOKE while living in Australia. A former digital executive, daughter of vegan hippies, she is a yoga, meditation and pranayama instructor and, is classically-trained in Ayurveda. Tamara is now based in Venice Beach, CA running her Yoke Intuitive Wellness Centers. Yoke is the classical definition of yoga meaning to unite, join, or merge. The Ayurveda Apothecary line carries perfume oils, cleansing bars, and body oils.
SFUMATO, Italian for "turned to smoke, or vapor," is a husband and wife collaboration who hail from Detroit. Kevin "the nose" and Jane "the eyes" create their scents from trees, flowers, herbs, and spices. All plant based and the key word here is natural. Custom scent creation is done at their brick and mortar store in downtown Detroit. Cocktail and culinary pairings are offered as part of their growing consulting business.
SPITFIRE GIRL created by the "perfect housewife" who after divorce found her inner spitfire. Kristen, a BIG Texas girl, BIG Daddy's girl now lives in Austin (just left LA) is attracted to vintage artwork and design. Her creations range from perfume, candles, bath salts, stationery, dolls, pillows, and well you name it.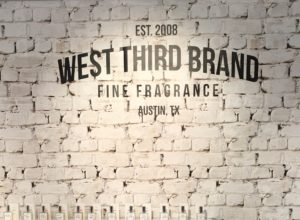 Another Austin brand is WEST THIRD BRAND. Launched in 2008, founder and perfumer Michael Loring creates handcrafted limited batch, made to order scents with over fifty releases to date. There is also an all natural, cruelty-free skincare line which includes facial wash, serums, shaving creams, and soap round out the line.
A floral shop in Saratoga, which was launched over a century ago has morphed into GIBSON & DEHN and are now traditional candle makers. Celebrating 125 years of uninterrupted years in business now with a fifth-generation Dehn at the helm. For the holidays season their latest collection, NAMESAKE draws inspiration from their Saratoga roots. Diffusers available soon.
POO-POURRI helps you cover your uh hem tracks. With creator Suzy Batiz's knowledge of essential oils, she formulated Poo-Pourri as the first natural and effective solution to a universal problem: "poop happens". NO synthetic fragrance NO alcohol NO aerosol NO parabens NO phthalates NO formaldehyde. Get it? Suzy takes natural very seriously. With twelve different scents, she has your butt covered! YouTube video is a must watch.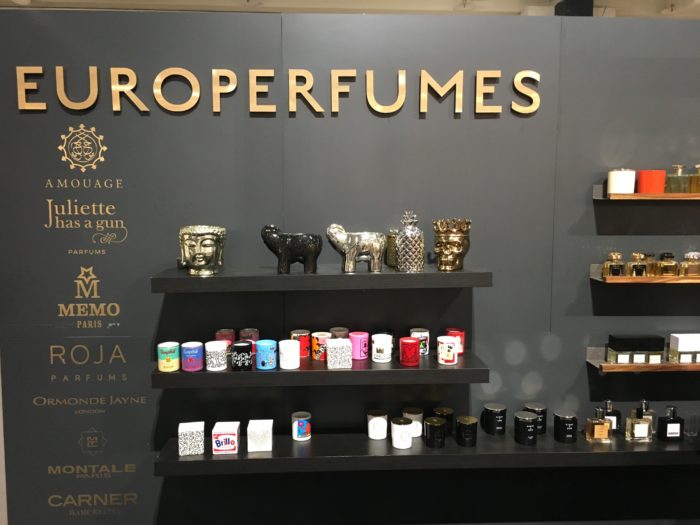 Perfume Brand Distributors:
EUROPERFUMES is the premier USA niche fragrance distributor and best known for their wide range of covetable fragrance brands including Amouage, the ceramic candle and home fragrance brand Fornasetti, Montale, Juliette Has A Gun, CoSTUME National, Eight & Bob, Carner Barcelona, Etat Libre D'Orange, Molinard, and Maison Francis Kurkdjian.Two brands that we know our readers love are Ormonde Jayne and Roja Parfums, with Ormonde Jayne's collection just launched in the US and selling out as fast as they hit the shelves.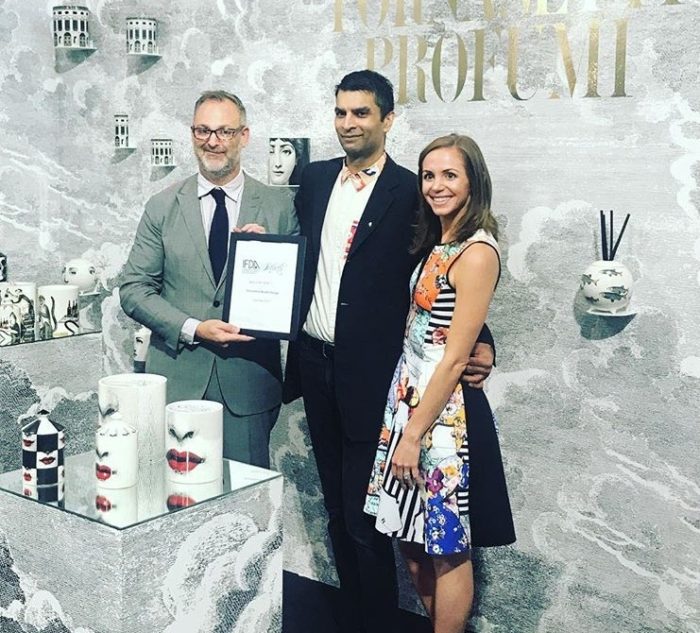 Photo: @official_europerfumes Instagram
Europerfumes was awarded NY NOW's Best Booth 2017.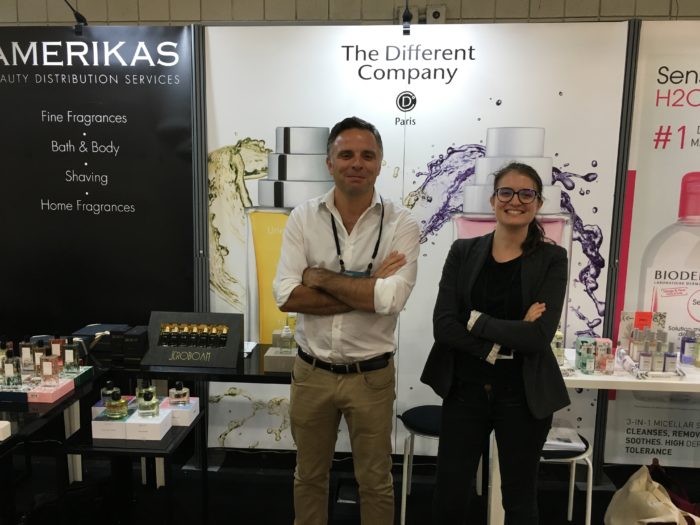 Amerikas CEO Jose Penalba and Marketing Manager Lauriane Dietrichs
AMERIKAS is the USA exclusive distributor of fine European brands such as Bioderma, Berdoues, Bois 1920, Jovoy, Jeroboam, Moliabal, Floris London, and The Different Company. CEO, Jose Penalba, and Marketing Manager, Lauriane Dietrichs were available to present latest releases. FLORIS, is a personal favorite since I discovered this house on a business trip in London Noteworthy is the collaboration with British shirtmakers Turnbull & Asher named 71/72, a crisp citrus with a woody base men's scent. JEROBOAM's new oriental woody Ambra and Vespero, a new men's Fougere are both signed by Vanina Muracciole. The scent collection from ROOM 1015 speaks to my Hollywood rocker days. Yesterday tribute to the Beatles was composed by Amélie Bourgeois and Ann-Sophie Behaghel.
FRAGRANCE GROUP: SO AVANT GARDE is their new e-commerce site that feature theirbrands (over thirty). Educational content, a fragrance-finder tool, a personalized recommendation system along with a video series featuring product reviews are forward thinking. Current releases presented were Parfum de Marly's Delina, Tiziana Terenzi's Luna Orion, Orlov Paris's Flame of Gold, and Dear Rose's Mentha Religiosa.
NY NOW returns to the Javits Center in February of 2018.
INDIE BEAUTY EXPO, August 22nd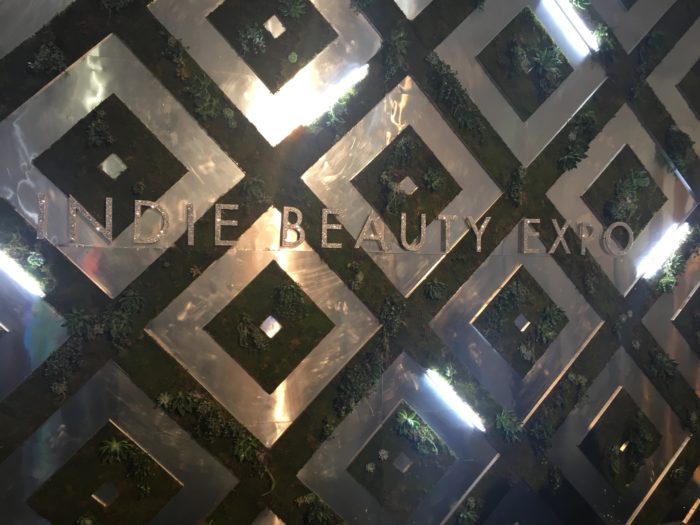 Launched in New York two years ago as a one-day exhibition, Indie Beauty Expo has morphed into a three-day event in three U.S. cities, Los Angeles, Dallas, and New York; next year debuting in London. This year's event held at the Skylight Clarkson Square a new venue, with twice as many brands (227) as 2016; Skincare, hair, nail, fragrance, and lifestyle categories were exhibited in three separate rooms. Due to time constraints, I focused on the fragrance and body/ skin care brands. But you can read Michelyn and Maggie's very extensive report which included beauty and haircare from last year here.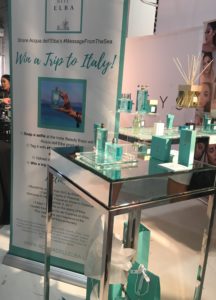 Best Coming to America Brand:
First stop was ACQUA DELL' ELBA, an impressive line from Italy now sold in the USA (familiar to many of our European readers). I met Brett and Kelly Schetzsle of ADE Imports Acqua Dell' Elba's US distributors and they introduced me to the brand and its history. From the northern coast of Elba – an island in the Tuscan Archipelago the line was created in the late 1990's by three family members. First introduced in 2001 were the cult fragrance Classica and Mare. The colors of their fragrances are designed to mirror the brilliant colors of the sun, sea, and surroundings. The heart of Acqua dell'Elba is their laboratory in Marciana Marina. The fragrances are a tribute to the island's indigenous ingredients and the beauty and the scent of the sea. A wide variety of fragrant products in addition to perfume include: Fragrance Diffusers, Room Sprays, Scented Candles, and Home Fragrances for Children.
Sue Phillips of Scenterprises photo courtesy of Sue
Best "Friend" in Fragrance:
HOUSE OF FRAGRANCE President & Founder Sue Phillips of Scenterprises and The Scentarium is a pioneer in the custom scent trend. Sue is launching two new Fragrance Kits, Sparkling Citrus and Glamorous Floral, each with 3 new Perfume Enhancers, Ménage à Trois, Sparkling Citrus, and Glamorous Floral. The new fragrance kits will be released for the 2017 Holiday season.
Best Presentation:
Brooklyn's VILLA OF THE MYSTERIES, launched by Paula Polvino in 2015 is inspired by her grandmother. She procures handmade and locally produced fragrances using only organic or natural ingredients which include no testing on animals, no using animal-based ingredients and sourced as much as she can from local vendors. Five fragrances releases to date. Delfina connected with me. Hand and body lotions, liquid soap, and two concrete perfumes round out the line. All of our fragrances are made in our turn-of-the-century studio.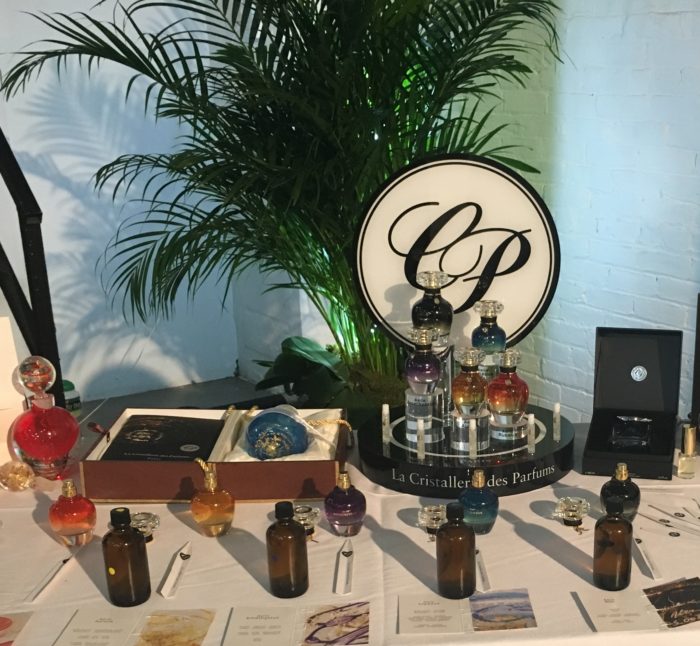 Best Flacons:
LA CRISTALLERIE DES PARFUMS, is quite unusual. Creator Héléna, inspired by her grandmother's perfume collections as a child created the collection of bottles to be hand-blown and then cut and carved by hand. The perfumes are all made from natural products. Two lines, The Prestige and Luxury, make up the AERIA (divinity) collection.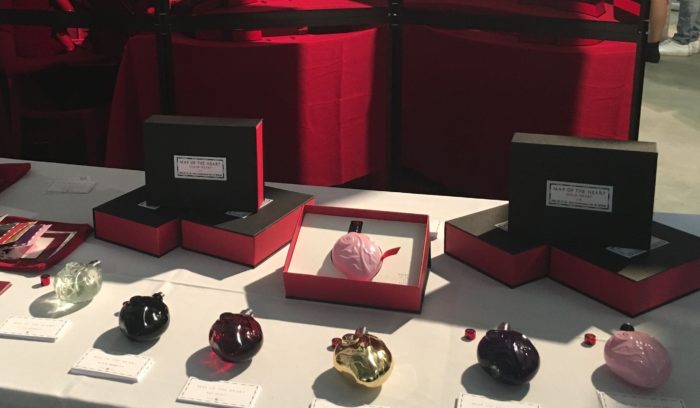 MAP OF THE HEART Australian fragrance house's co-founder Sarah Blair was on hand to speak to me about the concept, which Michelyn first discovered at Esxence 2016. The bottles are shaped like an anatomical heart and designed by the world famous Pierre Dinand. The latest release, the floral Pink Heart v.6, is the sixth in the line and the most feminine and features narcissus; Pink Heart was created by Givaudan perfumer Jacques Huclier and Nisrine Bouazzaoui Grillie.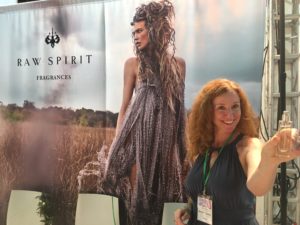 Best Brands With a Mission:
RAW SPIRIT has been a favorite of mine for their fragrances and social mission. I was glad to meet Joyce Lanigan, CEO. Joyce gave me preview of the new scent, Midnight Pearl which will be launching in November exclusively at Bloomingdales. It's the darker, moodier sister to Mystic Pearl and captures the still, intense fragrant heat of a night on the tropical island of Bali. Harry Fremont of Firmenich, who recently won the Fragrance Foundation Lifetime Achievement Award, is the perfumer.
Neha Chokshi, founder of Jade Lily Skincare found a lump in her breast which changed her outlook on life. She learned all she could about natural ingredients and founded her company as an eco-friendly and ethically conscious skincare line which focuses on simple, natural, and vegan whole plant ingredients. Good for you, good for the earth. For every web order, a tree is planted. Also, a percentage of the profits is donated to a portfolio of charities that support their values and mission.
Best Natural Perfume and Beauty: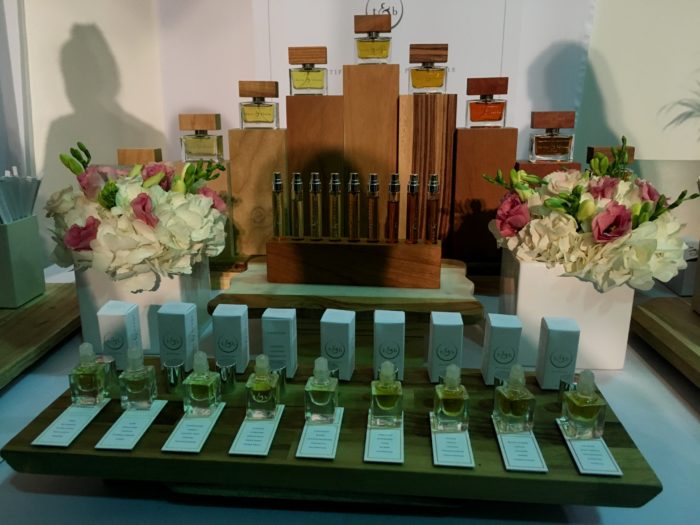 THORN + BLOOM, founded by perfumer Jennifer Botto, is an artisanal perfumery brand and won last year's Best of Indie Beauty 2016 Award for Best Fragrance.
The fragrances are comprised of 100% botanical aromatics and each small batch is blended by hand in Charlestown, MA.. She began her business in 2015, and already, Jennifer Botto is a 2x Art and Olfaction Finalist as well.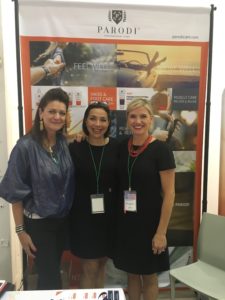 Team Parodi
The next three brands were introduced to through BeautyPress
CōTZ® The Healthier Sunscreen, launched in 1989, provides a sunscreen that feels great to wear and is 100% free of chemical sunscreens, oils, fragrances, and is three free. You only have one face, take care of it.
Launched in 2015, by Kristen O'Connell, Flora•py Beauty is a collection of eight flower therapy one-time-use hydrating facial sheet masks. The masks are inspired by the healing powers that blossom in nature. The sheet masks are soaked in highly nutritious flower ingredients and powerful aromatherapy essential oils. No animal testing, vegan-friendly, paraben-free formula is safe for sensitive skin.
PARODI Professional Care (photo featured above) created by beauty industry professional, Linda Gillette. has over 20 years' experience. Originally created to bring comfort and relief to her colleagues in the salon industry now available to the public. NO parabens, NO Phthalates. In Italian, the word "parodi" means brave, valiant, bold and undaunted protector. Hand and foot creams are excellent.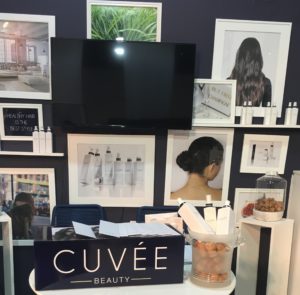 Best of Show Award for Product Innovation
Cuvée Beauty's founder Rachel Katzman had a happy accident in Las Vegas (champagne was involved!) and knew she was onto something new in skincare. Cuvee is a champagne term for the best of the batch, the first-pressed grapes for the finest bubbly. Cuvée Complex features Champagne Extracts and ultra-pure, skincare-grade ingredients.
Best Pet and Pet Lover Brands:
Olio Skin & Beard Co. is based out of Salt Lake City, Utah and offers nature-based, vegan products that are handcrafted in small batches. the company touts the therapeutic properties and products can be used daily without worry of buildup, drying or discoloration. They also have a pet care line (dog and cat)!
The Fanciful Fox is a mother and daughter owned brand out of Brooklyn, N.Y., features all natural and vegan body and bath products are all handcrafted in micro batches. With products for humans and animals, they have your face, house, baby, and dog covered.
Allocating four hours per event was clearly not enough time visit every booth but I hope you get a sense of how special both shows were to wander..
TRENDS:
There was a real focus on natural, vegan, and organic ingredients.
Owners of dogs and cats are an important target audience and they want their pets to use products that are synthetic free..
"Indie" beauty and perfume has gone global.
Micro is the new Macro.
–Hernando Courtright, Sr. Contributor and Brand Ambassador with Contributions from Michelyn Camen, Editor in Chief
all photos by Hernando unless otherwise specified
Thanks to the generosity of AMERIKAS, RITUALS, POO-POURRI, AQUA DELL' ELBA, RAW SPIRIT, EUROPERFUMES, PARODI, CōTZ and the many other exhibitors I visited, we have a very generous swag bag of samples and some full-size products for one registered reader in the Con USA. Please be sure to register. To be eligible please let us know what you enjoyed about Hernando's two event report, which brands/ and/ or perfumes you are eager to try. Draw closes October 4, 2017
We announce the winners only on our site and on our Facebook page, so like Cafleurebon and use our RSS feed…or your dream prize will be just spilled perfume