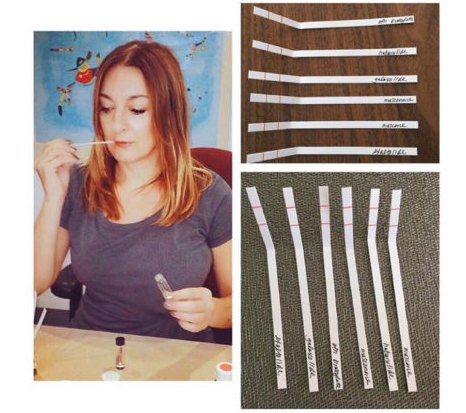 Sherri Sebastian discusses Fragrance Ingredients
What's inside my perfume? People seem to have an insatiable appetite for discussing fragrance ingredients, but I've always maintained that it's the subtle interplay between these fragrance ingredients that matters most when discussing a fragrance's character. In the coming months, the focus of my "Notes from the Lab" articles will be on individual fragrance ingredients and how they affect the overall profile of a fragrance. To begin this series, I'd like to offer some personal insight on my experience behind the scenes.
Today, as a professional perfumer, over 80% of my work involves writing formulas, but it wasn't always this way. Like any craftsman, one must first know their materials inside and out before embarking on a meaningful creative journey. When I started working as an apprentice in the industry—first flavors then fragrances—the process was similar to that of a medieval guild, with information passed on through generations, learned by diligently working under the tutelage of a master.
My first instructions came from my first boss and mentor in the flavor industry, Elizabeth Burnett. A true New Yorker and talented flavor chemist, Betty gave me some of the most lasting and meaningful advice to date. She suggested I begin to keep journals to solidify my understanding of aromatic ingredients. My days started by dipping scent strips or blotters, into bottles containing liquids with names ranging from the more familiar sounding cinnamon bark to more obscure chemical names like phenyl ethyl alcohol and ethyl methyl butyrate.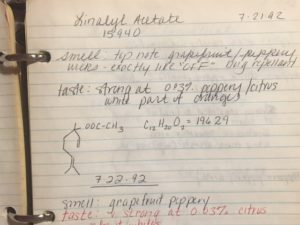 Linalyl Acetate
I documented my impressions of these notes, following their projections and progression throughout the day, all the while documenting my observations (I also tasted these ingredients in dilution under the guidance of a professional flavor chemist; please don't try this at home!).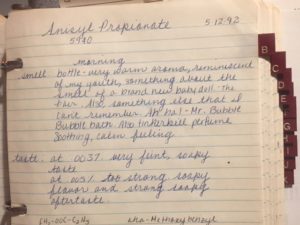 Anisyl Propionate
I recently pulled out my old journals dating back to 1992 and realized how these early observations inform my work to this day. From the 'youthful' 'Mr. Bubble Bath' note of Anisyl Propionate to the 'strange, burning wire' scent I detected from styrallyl acetate, these journals are further proof to me that in the end it's all about perception when talking about scent profiles.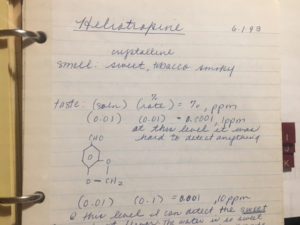 Heliotripine
Although there are over a thousand ingredients in a perfumer's palette, the majority of fragrances on the market today are composed from a pared down selection of 100-200 fragrance ingredients. These include natural fragrance ingredients, naturally derived ingredients, and synthetic ingredients (for more details see my Notes from the Lab Article on Fragrance Descriptors). Sometimes I wish I could go back and smell fragrance ingredients again for the first time. Like hedione, for instance, with its sexy, floral metallic profile that is both delicate and tenacious. It's the longing for this experience that drives me to conceptualize and formulate new scents from the fragrance ingredients I've known and loved all these years.
Next month, we'll take a deeper look at individual fragrance ingredients starting with aldehydes and working our way through the "fragrance ingredient alphabet'.
–Sherri Sebastian, Monthly Contributor
Check out our new FaceBook Page CaFleureBon Notes from The Lab.
Sherri Sebastian is a professional and independent perfumer working in Los Angeles. Her new line of apothecary and fine fragrances, Provision, is the result of her never-ending quest to provide the ultimate fragrance experience.