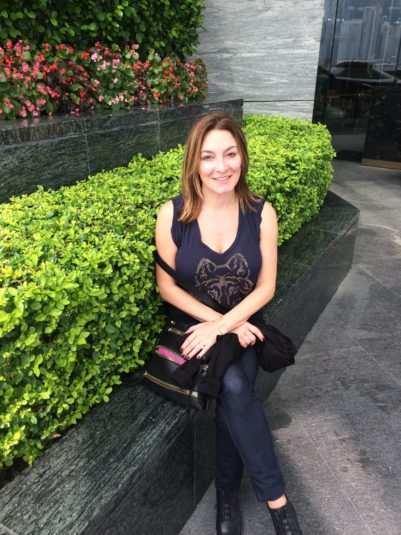 SherrI Sebastian
Last month I shared some notes from my early journals and this month I'd like to explore commonly used perfume ingredients in more details. I began my ingredient studies as an apprentice flavor chemist, smelling and tasting ingredients in dilutions recommended by my mentor. The photos you see in this article are from my actual journals dating back to 1992.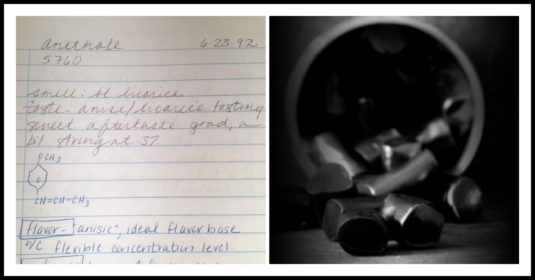 My initial approach was to simply go through the alphabet so one of the first perfume ingredients I studied was Anethole. If you've ever tasted 'Good and Plenty' candies then you've experienced the distinct essence of black licorice, which contains anethole, a naturally occurring aromachemical. Lolita Lempicka is a great example of a fragrance featuring these notes in the most delicious way.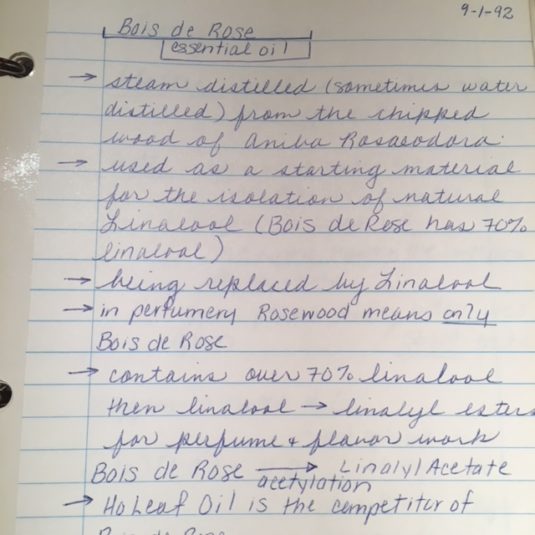 Bois de Rose: This essential oil is not widely available today, but as you can see from my notes its main component is linalool, which is one of the most ubiquitous aroma chemicals found in nature. The taste always reminded me of Trix cereal. Because of its versatility, linalool is found in many fragrances on the market today from rose to freesia to mango, to clean linen as well as fruit flavors.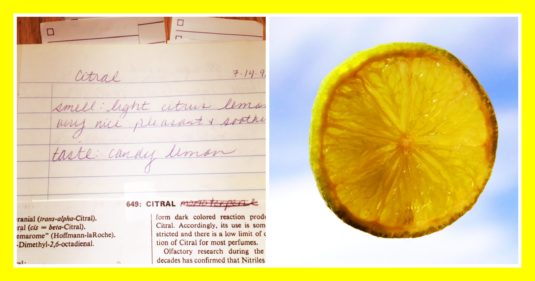 Citral: This is one of the key perfume ingredients that makes a lemon smell like a lemon. It's very powerful and can be found in many personal care and home care products and trace amounts occasionally appear in fine fragrances to give the top notes a little 'push'.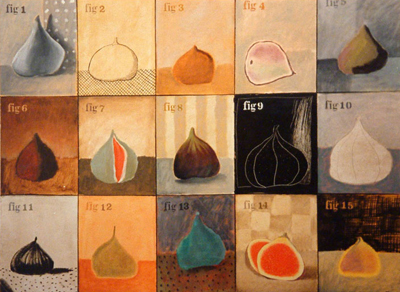 Figs by Charlie Baird
Dimethyl Benzyl Carbinyl Acetate: This aroma chemical has a floral fruity profile, leaning towards a dried fig effect. With fig notes trending, you can be sure this is one of the perfume ingredients that is included in many products on the market today from candles to lotions to fine fragrances.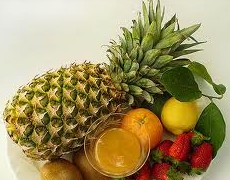 Fruit salad stock photo
Ethyl Methyl Butryrate: "Who opened the bottle of Ethyl Methyl Butyrate?! ". I can't think of this ingredient without remembering my early years in the industry. Back then my curiosity was stronger than my knowledge of ingredient strength and lab etiquette, often to the dismay of the senior flavor chemist next to me. Its smell is like over ripe fruit in a bottle. Because of its 'airy' nature it dissipates quickly but the impact is unmistakable.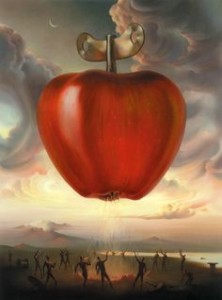 Clockwork Apple Vladmir Kush©
Fructone: This note is sweet, fruity and all-around pleasant. It easily adapts to a variety of fruity compositions, but I associate it most with the scent of an apple.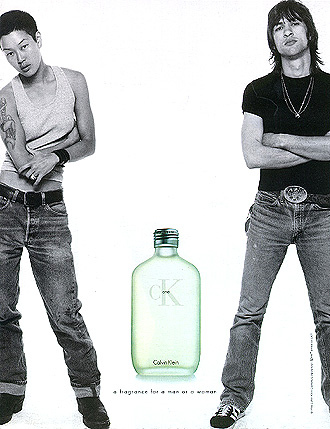 Galaxolide: This ingredient is not in my early journals because it's used only in fragrances. I included it here because of its huge impact in fragrances as an alternative to animal-derived musk. Although there are many synthetic musks today, galaxolide's impact as one of the most versatile, tenacious and popular musks for several decades is unmistakeable. CK one which debuted in 1994 is a good example of a fragrance prominently featuring galaxolide during the peak of its popularity in fine fragrance.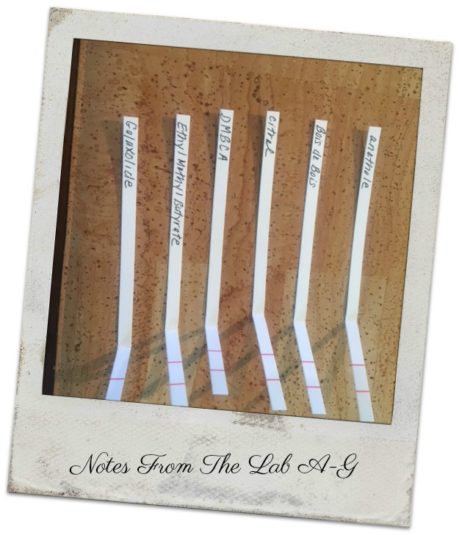 Reviewing these notes reminds me of my early inspirations and lifelong relationship with scents and perfume ingredients. I hope you will feel inspired to connect with your own relationship with the ingredients in your fragrances.
-Sherri Sebastian, Monthly Contributor
Art Direction: Michelyn Camen, Editor-in-Chief
Sherri Sebastian is a professional and independent perfumer working in Los Angeles. She also holds a seat on the board of directors for the American Society of Perfumers and is the founder and perfumer of Provision Scents.