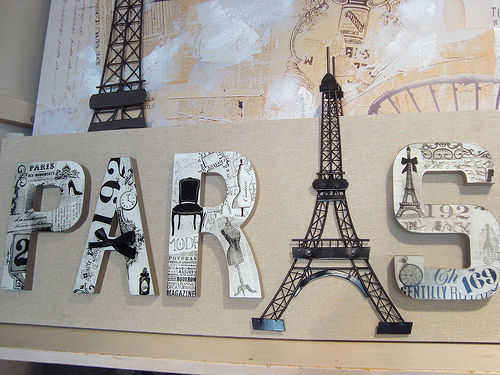 Paris gets under your skin; it's the city of lights, the city of love and the city of fragrance. Whenever I return home from this wonderful city, I feel like I left a part of me there, so that all it takes is me closing my eyes, and I'm transported back. I see sandstone facades with bright coloured doors, broad boulevards with manicured square shaped trees and enough view of sky, to feel that there's space enough for everyone. The city and its residents ooze charm everywhere you turn….
Photo: Ines, Suzanne and Jasia -courtesy of alliam-aredhead.blogspot.com
One of the most wonderful things about the perfume community is the many people you get to know. They are kind, generous, and helpful. I've met great people who have turned into great friends. I met Ines (from All I am-A redhead blog) for the first time in person in Paris in December last year. Writing about our adventures, encouraged another blogger, Suzanne's (from Suzanne's Perfume Journal) comment on wanting to go too and before we knew it, we were already planning ahead; something that seemed way out in the future grew nearer by the moment. In the end we were four. Suzanne brought her lovely husband Mark, who took as much pleasure in sniffing and helping us deciding on perfume purchases and also happily provided that highly valuable and much needed extra skin"real estate" space. Reaching the destination, a small hotel in the Marais quarter of town, my perfume friends had already arrived and were waiting in the lobby.
Wasting no time we started at the Palais Royal, build for the Cardinal Richelieu in 1629, the historic galleries host what Denyse Beaulieu, from Grain de Musc and author of 'The Perfume Lover', refers to as the world's oldest shopping mall. The little arcades with alluring window embellishments and a vibe of time long past, is more than worth a visit in its own right, but on this occasion we were heading for Les Salons du Palais Royal Shiseido, also known as Serge Lutens. Upon entering you immediately sense the oriental inspiration as well as baroque opulence suitable to the scent universe created by M. Lutens. The boutique is decorated in purple with wall paintings reminiscent of Pompeii, while not denying the Moroccan inspiration in the deep colours and marble flooring. Also catching my attention were the numerous limited edition engraved bottles; just too beautiful… It was an easy trip for us, since we are all very well acquainted with the Lutensian oeuvre. Only a few had not yet been skin tested, and so we were helped by a nice SA, to try a little, and purchase what had already been decided on from home.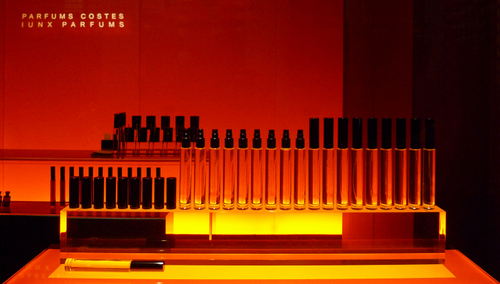 Iunx at the Hotel Costes
We also stopped at IUNX, (in ancient Greek, Iunx means the fascination and seduction of aromas) had a quick look in the little Penhaligon's shop which was all decorated for QE2's diamond jubilee, and had a look at the fashionable Colette (store), and last but absolutely not least the very friendly Monsieur at JAR, gave us a great introduction to the exclusive range of perfumes although actually past the opening hours. This finished the perfume part of a first very successful day in Paris.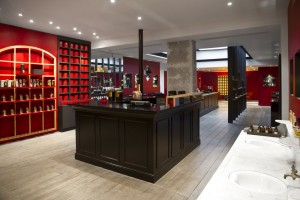 Jovoy Paris
On my previous visits to Paris, I had made the grave mistake to leave an absolute favourite shop of mine, to the last day. Not so this time, it got the prime spot.
The shop I'm talking about is Jovoy. We visited the only recently opened second shop at the prime spot under the arcades on the Rue de Castiglione, a street situated between the Tuillerie Gardens and the Place Vendome. You smell the shop already turning the corner from the Rue de Rivoli. This, the incredibly charming, quick-witted and larger than life François Hénin, president of Jovoy, revealed, was the deliberate work of a parfum concentrate, cleverly distributed in the mornings. In sparkling form, he didn't hesitate to demonstrate (in a sort of pantomime) what would happen if they used alcoholic based liquid for this purpose, and the unlucky effect that would have, should somebody smoking a cigarette happen to pass by. Anyway, on this occasion the fumes would have been sure to draw me in, since the perfume was the mesmerising Lubin Idole, by fragrance magician Olivia Giacobetti, (this was also their window display).
Undergreen Black and White
M Hénin gave us the tour of his new location, showed us what was fantastic including the incredible Undergreen Black and White, all-natural ultra luxe, ultra hip scents (which according to EIC Michelyn Camen will be available in the USA soon along with two new 'colors' Pink and Gold), Chypre Palatin from MDCI by Bertrand Duchaufour who also is the nose for the new Aedes de Venustas scent with its green rhubarb top, and the Xerjoff Oud stars collection- rich and mischievous fragrances which captured our attention- and the hardest currency- skin space. M. Hénin at this stage burned real agarwood for us to sniff.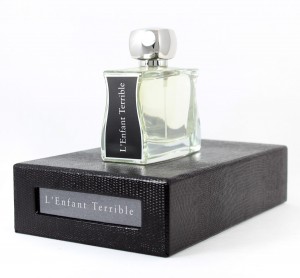 I should also mention Jovoy's own line of fragrances, one of which, L'Enfant Terrible, just ran away with the 1st Prix de Parfum Artistique in Düsseldorf, and the gutsy incense fragrance Lithurgie des Heures, absolutely worth seeking out (both by Jaques Flori of Robertet). When we needed a rest, the sofas at the back of the shop gave time for contemplating and further discussions of what was on our fragrant minds. While we were there parcels kept arriving with new goods, giving off a relaxed atmosphere of a shop being lived in. I nearly forgot to mention the exceptional sample service. Basically, you pick the ones you want to try, which is fantastic if you, like me, need much time in deciding which perfume is right for you- or rather the most right out of all the stunning creations at display. Needless to say; no one left without a big smile on their face, drunk with fragrant sensory happiness and a black Jovoy bag in hand.
Out of the shopping malls my preferred visit is definitely La Salon de la Beauté at Printemps. We were there on a Saturday, normally the busiest day of the week, and yet there is enough space in the aisles and enough SA's to help you at any time. They carry so many niche and designer brands, too many to mention, and have separate in shops of Malle and Lutens, as well as the designer exclusives; Dior, Armani etc. Again we had wonderful help from the softly mannered and unconventional SA at the stand which carries SoOud, Nasomatto, Boadicea and Nez a Nez. With quiet charm he guided us through the different lines and helped us sniffing, experiencing and deciding in what felt like a deeply personal approach. He talked in pictures and sensations and put a lot of thought into finding a perfume-profile to fit, or to challenge in equal measure. In him we found yet another SA who clearly loves his job, and yet another place to be happy to go perfume shopping.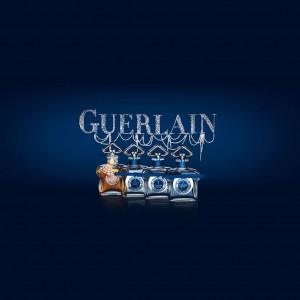 100th anniversary L'Heure Bleu: The new interpretations are meant to symbolize morning, midday and midnight. Respectively named L'Aurore (EdT), Le Zénith (EdP) and Le Crépuscule (Parfum)
On my last day, I was intent on re-smelling the new Oriental line from Guerlain (first sniff had already happened at the main store). If you have never been to Paris, the Maison Guerlain at 68 Champs Elysée is very beautiful, and it has always been a pleasurable experience going there, however, I have never had better customer service or a more interesting and knowledgeable conversation with a Guerlain personnel, than I had this time at the Place Vendome Guerlain shop, with the absolutely wonderful Patricia. To give you an idea; she regretted that IFRA had made impossible to re-launch certain discontinued and long gone fragrances remembered by chic elderly ladies. She showed me the pictures of the bottles which will launch for the L'Heure Bleue flankers for its centenary celebration, and lamented the fact that (perhaps) due to the circumstances of the sale of Guerlain at the time of Jicky's anniversary, no such fuss had been made about this other iconic Guerlain classic. Of course she was also an expert perfume adviser; the Place Vendome shop will be my future Guerlain stop.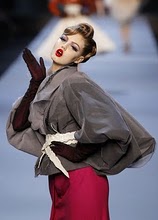 And with this, my stay had reached its end. Paris was once again under my skin, but I am happy to say that in shape of fragrant souvenirs it is also on it. It was a fantastic trip with the most wonderful company, and as sad as I was to leave my friends and Paris behind, I know it's not Goodbye it's 'Au Revoir'.
–Jasia Julia Nielson, Contributor
Editor's Note: It is somewhat of a belated postcard, but we hope you felt like you were there. Read Ines' travelogue here and Suzanne's here