Karl Bradl (L) Nomenclature Perfumes and Carlos Quintero (R)
Whoever believes that science cannot be sexy or that art and science are at odds has yet to explore the work of Nomenclature. Co-founders and creative directors Karl Bradl and Carlos Quintero (CaFleurebon Best Creative Directors 2015) new Nomenclature Holy_wood, perfumei s a "neo-stalgic" tribute to Hollywood glamour, brought to us by perfumer Frank Voelkl. The soft, transparent patchouli of the Clearwood® molecule, created by Firmenich in 2014, takes center stage in the new Nomenclature Holy_wood perfume.
Photo: Firmenich
As we all know, Patchouli oil is an indispensable ingredient in perfumery. Supplies of quality oil have always been spotty, but in 2010 the availability of Indonesian patchouli became even more unreliable. Soggy weather conditions and labor shortages resulted in poor harvests. Disastrous volcanic eruptions and earthquakes disrupted supply lines. In 2014 Firmenich came to the rescue with its award winning, seminal work on "patchoulol synthase". The resulting Clearwood® is the first fragrance ingredient created through "white biotechnology", sustainable and eco-friendly methods that use living cells—yeasts, bacteria, enzymes, etc – to synthesize, via fermentation, new fragrance molecules. While Clearwood® was never intended to replace the complete scent profile of natural patchouli oil, this new raw material plays an essential supporting role in many contemporary fragrances. In Nomenclature Holy_wood, Clearwood® is the undisputed star of the show.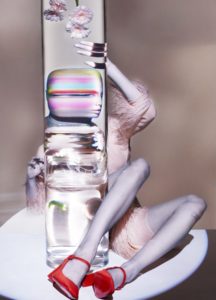 Nick Knight for Stern Magazine February 2017
Nomenclature Holy_wood perfume debuts as modern, youthful, intense and bright, bursting with effervescent promise. The Clearwood® note is evident with the first breath – airy, blue, clean and woody. After about five minutes I detect a slight dampness and a suggestion of phenol that creates a fleeting impression of Sumbawa oud. This effect, dark but at once very sheer, is soon replaced with the sparking fizz of pink pepper.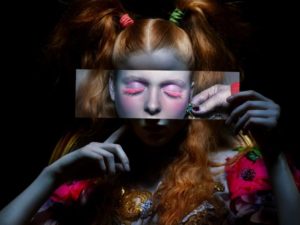 Nick Knight for Stern Magazine February 2017
As the youthful Nomenclature Holy_wood perfume starlet matures, rich voluptuous notes of velvety Bulgarian rose and sensuous jasmine sambac add depth and fire to the performance. This floral heart of the fragrance creates an impression of the golden age of Hollywood glamour, a neo-vintage vibe that lingers for at least five hours. The initial energy of youth and the heart of maturity are superimposed over a luxurious, sueded, satiny sandalwood that becomes stronger as the fragrance dries down. The Clearwood® note, like the perfume itself, evolves with the life of the scent. The morning after my first experience of Nomenclature Holy_wood, I awaken to a dream of my ideal patchouli. Forty-eight hours later I am still enjoying (on clothing) a contemporary suggestion of 1970s California and the budding new age culture, free of the dusty and the musty, a perfect marriage of earth, wind and fire.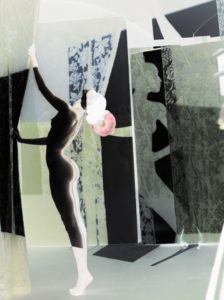 Nick Knight for Stern Magazine February 2017
Firmenich describes Clearwood® as a clean version of patchouli, minus the leathery and rubbery notes found in the natural oil. I can't agree more! Clearwood® is a polished and finely finished rendition of patchouli. The dark head shop and the rough edges of the natural oil have been recast as a transparent, ethereal stand-in for the original With the Clearwood® molecule, roses and jasmine, Nomenclature's newest fragrance relocates the science lab to the glamorous world of new and old Holy_wood.
Notes: Clearwood®, Pink Pepper SFE, Bulgarian Rose, Jasmin Sambac, Suede and Sandalwood.
Disclaimer: I would like to thank Nomenclature for the generous samples of Holy–wood. My opinions are my own.
Gail Gross – Senior Editor
Art Director – Michelyn Camen, Editor in Chief. Nomenclature is sold on their site, Saks.com, Aedes de Venustas and Twisted Lily among other stockists worldwide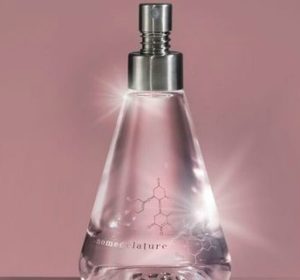 Thanks to the generosity of Nomenclature we have one 50 ml bottle of Nomenclature Holy_wood Perfume for one registered reader in the US, Canada or Europe (be sure to register or your comment will not count). To be eligible, tell us what appeals to you about Nomenclature Holy_wood, based on Gail's review of Nomenclature Holy_Wood Perfume, where you live and if you like your patchouli – light and bright or dark and earthy. What do you think of neo-synthetics? Draw closes December 18, 2017
We announce the winners only on site and on our Facebook page, so Like Cafleurebon and use our RSS feed…or your dream prize will be just spilled perfume.