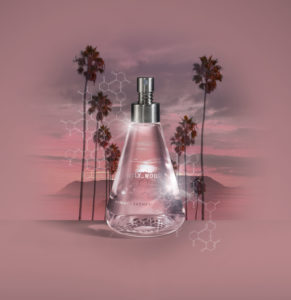 In 2015, Karl Bradl and Carlos Quintero launched Nomenclature, a brand that explores the complexity of neo-synthetics. Nomenclature's newest release holy_wood is a tribute to 1970s California, celebrating both the New Age spiritual awakening of the era and the creative explosion of the New Hollywood cinema movement. Just as technical innovations allowed young directors like Scorsese or Altman to reinvent American cinematography, master perfumer Frank Voelkl uses cutting-edge materials to create a luminous modern version of the signature accord of that decade: rose and patchouli.
The star of holy_wood is Clearwood®, the very first fragrance ingredient designed through White Biotechnology; Clearwood® is the 21st century's answer to patchouli. Developed in California for Firmenich, this sustainable, eco-friendly material is derived from the fermentation of sugar cane. Blurring the boundary between the natural and the man-made, Shorn of its musty facets, the latter reincarnates as the ethereal Clearwood®. Rose Petal Nature Print®, an airy "capture" of flower's scent, breathes life into the classic note, sprinkled with sparkling pink pepper SFE*. Two floral divas, Bulgarian rose and jasmine sambac, add a touch of Golden-Age Hollywood glamour to the streamlined blend, on a bed of mystical sandalwood and luxurious suede. Turn on, tune in, waft out!
*Supercritical Fluid Extraction: an advanced, sustainable extraction technology using liquid CO2 as a solvent, SFE preserves the natural olfactive profile of the extracted biomass.
holy_wood will debut at Pitti Fragranze September 8, 2017 in Florence
via Nomenclature and my own synopsis
-Michelyn Camen, Editor-in-Chief