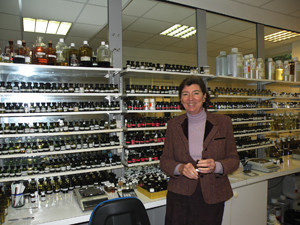 Patricia de Nicolaï has been an independent perfumer and founded her own brand since 1989…here in her lab in Paris (Photo Credit: Madame de Nicolaï)
I've been the biggest fan of Madame Patricia de Nicolaï for almost 20 years; it started with Number One in the mid 90s, and has carried on through several bottles of Sacrebleu, Odalisque and Week-end in Deauville.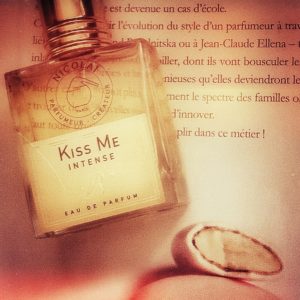 Photo of Michelyn's Bottle of Kiss Me Intense (formerly Kiss Me Tender) and her copy of Nicolaï parfumeur-createur, un metier d'artiste©
I went on to fall for L'Temps d' une Fete, Juste une Reve, and Kiss Me Tender and…you get the idea! Madame de Nicolaï is the "First Lady of Niche Perfumery" (as our Editor in Chief has called her); I believe she is a perfumer of rare talent, who shattered the glass ceiling of the "boys perfumer club" which ruled the fragrance industry 30 years ago.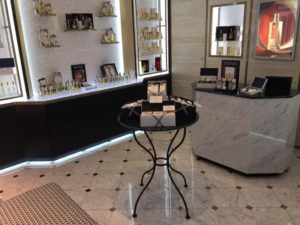 Parfums de Nicolai boutique Neuilly sur Seine, au 31 rue de Chartres opened in 2017©
Earlier this summer I spent several hours happily sampling the entire line in their charming Paris boutique; there was not a single fragrance I did not enjoy. I can think of no other house, with as many offerings, that I would make this claim. After much back and forth, here are the three Nicolaï perfumes I think you should be wearing now, in the early golden days of Autumn.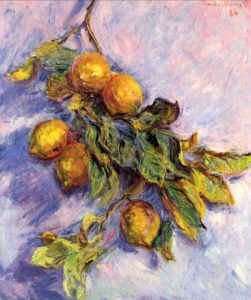 Lemons on a Branch – Claude Monet 1884
Here in my corner of the world, the worst of summer is behind us, and we probably won't see 100 degrees again, but it's still way too warm to put away lighter scents. L' Eau Mixte (2010), a sparkling beauty is a summer staple of mine, and its herbally goodness is refreshing and intoxicating. It is a testament to Madame's genius that I wear it almost constantly, despite my bias against eau fraiches. L' Eau Mixte starts out with a burst of lemon, that smells of the rind, pith and fruit at the opening.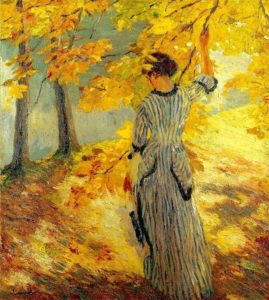 Autumn Sun, Edward Cucuel
Mint and black-currant bud enhance the refreshing aspect of the lemon citruses, while jasmine and rose add a beauty that lifts the fragrance out of mere cologne territory. But it's the cinnamon and oakmoss in the drydown that make L' Eau Mixte an early autumn must have for me, and it wears especially well as the evening start to cool down.NOTES: Blackcurrant-buds, peppermint, lemon from Italy, cinnamon, Rose from Damask, Jasmine, vetiver, oakmoss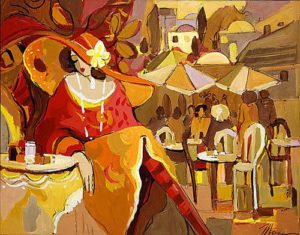 Sunset Thoughts Isaac Maimon©
If I am on the go from dawn to dusk and had to choose one perfume to waft when the weather is so fickle it could be both frightful and delightful in the same day, I look no further than Fig Tea (2007). This is fruity floral perfection; softly sophisticated in the heat of the day, or warm and polished on a cool evening. I can never get enough osmanthus, and Mme. blends it beautifully with ripe fig and smoky tea. NOTES: Figs, osmanthus, davana, tea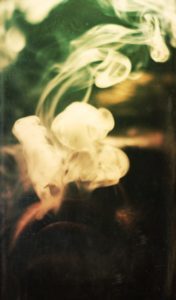 Oud smoke flower digital art by MC
If you think you know oud….please allow us to introduce you to Incense Oud (2016). We see you rolling your eyes, and we get it; we are all pretty much "ouded" out. Tammy confesses she almost didn't even try this one on, but she was standing in the Boutique, reminding herself that Mme de Nicolai is the creator of one of her favorite perfume houses and is the the closest we have to perfume royalty(Pierre Guerlain's great granddaughter, Jean-Pierre Guerlain's niece, a Chevalier de la Légion d'Honneur, and the President of the Osmothèque.) Of course, she tried everything, even the oud. And now she is pretty sure that she wants to be buried with a bottle of it.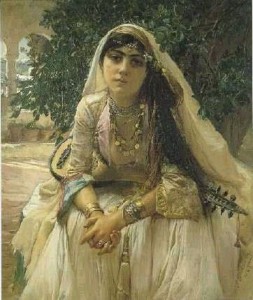 Algerian Girl 1888, Frederick Arthur, Bridgman
Incense Oud surprised us. We had always thought of oud as harsh, dark, and sometimes rather coarse; here it is graceful and elegant. The incense and the oud are exquisitely blended by Mme Nicolaï expert hand, teasing out facets of oud Tammy had never experienced before. The beautiful floral notes in particular and the boozy, liqueur-like effect of the davana made Tammy dizzy with delight. It smells magnificent in any season, at any time of day, on any occasion. It is an olfactive jewel. NOTES: Davana, ambrette, artemisia, oud, cypriol cedar, patchouli, rose, coriander, cumin, castoreum, amber, musk, incense
Disclosure: Some samples generously provided by Parfums de Nicolai, some are from our own collections
~Tammy Schuster, Senior Contributor and Michelyn Camen, Editor-in-Chief

Thanks to the generosity Patricia de Nicolaï of Parfums de Nicolaï, we have a reader's choice for a 30 ml bottle of Incense Oud or L' Eau Mixte or Fig Tea for one registered reader worldwide (be sure to register or your comment will not count). To be eligible, please leave a comment with what appeals to you about the reviews, which of the three you would you like to win, where you live and if you have a favorite Parfums de Nicolaï fragrance. Draw closes September 28, 2017.
We announce the winners only on site and on our Facebook page, so Like Cafleurebon and use our RSS feed…or your dream prize will be just spilled perfume.