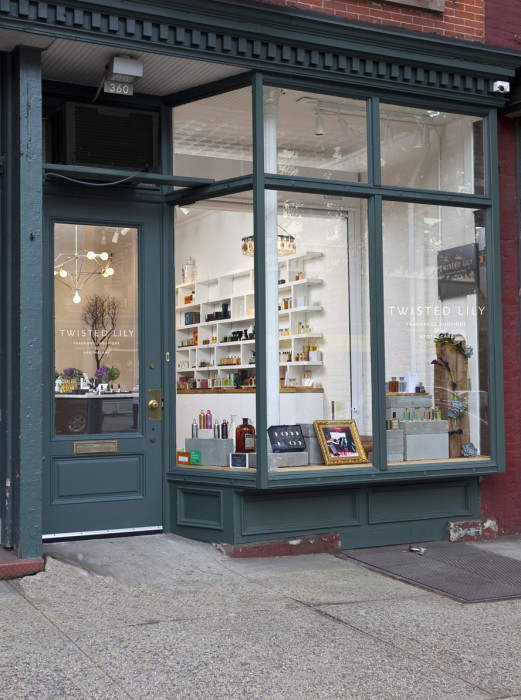 Twisted Lily Fragrance Boutique and Apothecary, 360 Atlantic Avenue, Brooklyn, NY
Not too long ago, the Boerum Hill section of Brooklyn was known as merely a quiet bedroom community of brownstones and redbrick houses where a diverse population enjoyed a humble life in the shadows—quite literally—of Manhattan's gleaming skyscrapers. Needless to say, this was a time when the hardcore Barney's, Bendel, and Bergdorf crowd wouldn't dare travel farther south than SoHo when they had the urge to max their MasterCards. However, like the rest of Gotham, Boerum Hill has witnessed a Times Square-level renaissance. Bringing their unique backgrounds and perspectives, the populace of Boerum Hill has opened doors to new restaurants, boutiques and shops.
With the recently-unveiled Barclays Center Stadium, this area is thriving. Know your Bs… it's now Barclays, Brooklyn, and Boerum which have become as trendy as Barney's, Bendel's and Bergdorf's. Where once a lucky, learned fragrance lover might have scored some imported Arabic attars, African oils, or essential oils from sidewalk vendors, perfumistas now have an opportunity to explore a whole new level of olfactory bliss. Twisted Lily, a niche fragrance boutique and apothecary, has opened its doors.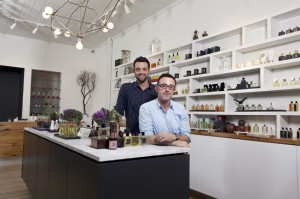 Twisted Lily Niche Perfume Boutique owners, Eric Weiser (right) and Stamatis Birsimijoglou (left) Photo:Thatcher Keats
The proud owners of this exciting new venture are Eric Weiser and Stamatis Birsimijoglou. No strangers to the perfume industry, Eric and Stamatis founded Parfum1.com, one of net's most popular sites for the most exclusive niche fragrances. With Twisted Lily, these gents are bringing it to the next level. "After years of selling online, we wanted to bring the experience of finding a signature scent to a more personal level with a brick and mortar store," said Eric. "We wanted to expand the experience of selling perfume to something more intimate – the difference between ordering a product or sample on the internet versus the experience of discovering fragrance in person."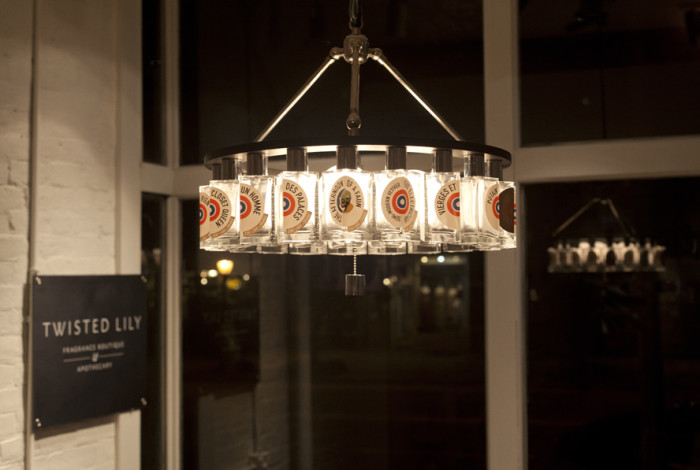 Etat Libre D'Orange statement chandelier
I admit I may have been a bit cocky when I heard this shop would have ultra-exclusives never-before-seen in this part of the hemisphere. I thought I tried them all or least heard of them all. To my great pleasure, I was instantly humbled as I walked through the door. Passing under a chandelier built from empty Etat Libre D'Orange bottles, my jaw dropped. Barely noticing some of my closest friends (including all of my GoodSmellas!) I walked into the store like Charlie walking into the Chocolate Factory.
"Come with me…"
Slumberhouse!
"and you'll be…"
Smell Bent
"in a world of …"
Tommi Sooni!
pure imagination…"
Providence Perfume Company!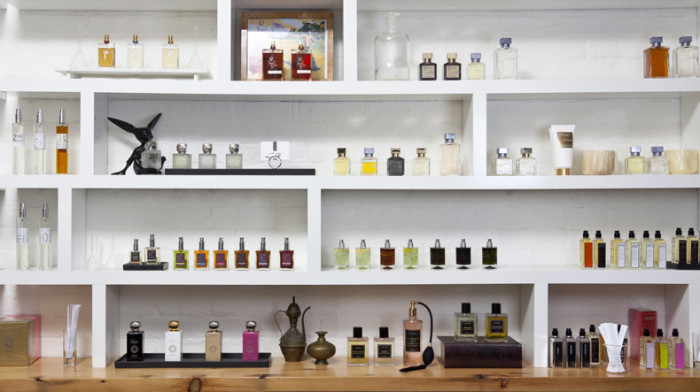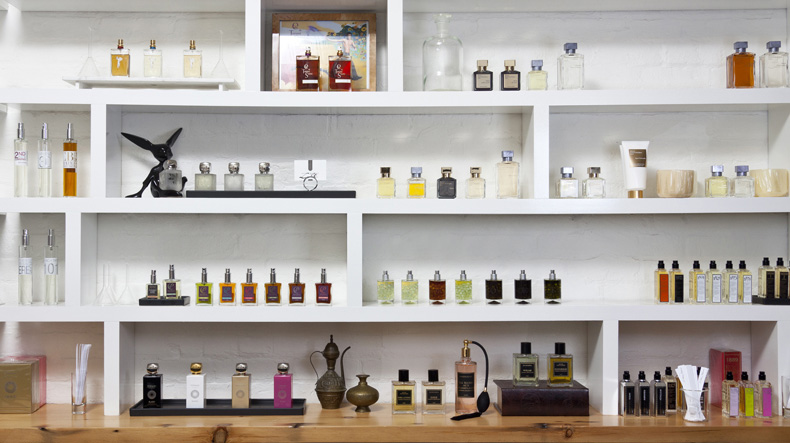 perfumista paradise…in Boerum Hill Brooklyn
Now knocking over my friends, I grabbed some paper sample strips and spritzed away. Montale, Amouage, Penhaligon's, Patricia de Nicolai, L'Artisan Parfumeur, UNDERGREEN, Maria Candida Gentile, Maison Francis Kurkdjian, Ramon Monegal, Mona di Orio, Thirdman, Belle Fleur candles, Etat Libre D'Orange, Rouge Bunny Rouge, Maison Dorin (coming soon), Jardins d'Ecrivains Perfumes and Candles and scads more niche and natural perfumes and beauty brands… I was asked if I'd like a Pear + Olive martini (a nod to the Slumberhouse hit which I named my #1 fragrance last year). I passed on the drink, only because I was already intoxicated by the perfumed air ( I did indulge in the decadent chocolate macarons inspired by Jardins D'Ecrivains ooh la la French Perfumes)
A short while later, with a smile, I approached a special set of shelves. The perfume geek in me instantly recognized the strategic placement of three perfume houses: DS & Durga, Joya, and CB – I Hate Perfume – born right here in the B-K. Like the residents of Brooklyn themselves, these Brooklyn natives live peacefully among the perfumes representing many diverse niche fragrance lines from all over the world. "From Seattle to Sidney, Australia," Stamatis remarked. "Our curation of fragrance means our customers no longer have to go all over Manhattan or Nolita to find niche, naturals or Brooklyn brands. We have brought them all to Twisted Lily: one-stop shopping including brands that are exclusively available here."
Tommi Sooni perfumes from Australia arrive in Boerum Hill
I've often heard business owners recite an old saying: "A rising tide floats all ships." As the world falls in love with fragrance and as more "civilians" become "perfumistas," businesses such as Twisted Lily will all prosper. A secret this good can only be kept for so long.
–Michael Devine, Contributor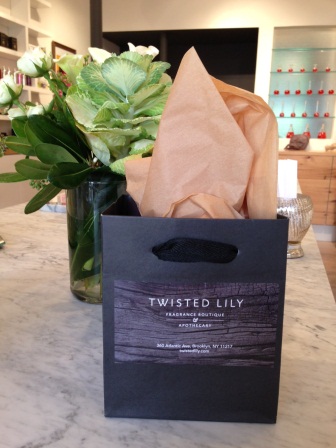 Thanks to Eric and Stamatis, we have a swag bag that is sure to please even the most discriminating perfumista chock full of carded and sprayer samples of the Brooklyn/ New York Exclusives sold at Twisted Lily. To enter, please leave a comment with brands that are unfamiliar to you and some you already love. Your comment will count twice if you can name all the niche perfume brands on the shelf shown in the photo "perfumista paradise". Extra credit if you name the site's best sellers! You must reside in the USA to be eligible. Draw ends October 1, 2013
Like Twisted Lily on Facebook and keep up with special events, offers and happenings
Eric and Stamatis are extending a 15 percent off any purchase of $100 to all CaFleureBon Readers any where in the world through October 7, 2013 with the code CFBTWISTED (excluding Amouage).
We announce the winners only onsite and on our Facebook page, so Like CaFleureBon and use our RSS option…..or your dream prize will be just spilled perfume