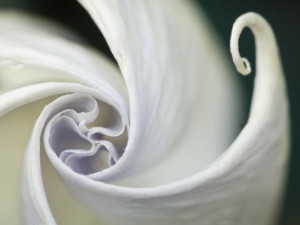 Datura Flower Close-Up by Nancy Rotenberg
Several years ago, my downtown Nordstrom carried the Maitre Parfumeur et Gantier line, along with other interesting, little-known perfumes. I was not yet a full-fledged perfumista, and had not discovered the online community, if it even existed yet. I used to visit the Fine Fragrance Department regularly, exploring these wonders. One day I gravitated toward a pretty bottle with a frosted bas-relief figure of a long-haired woman with lots of flowing drapery all over the bottle. The name, Secrete Datura, was also intriguing.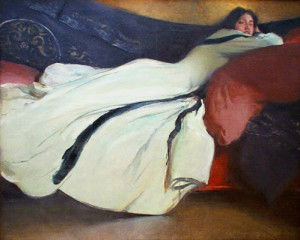 Repose by Alexander John White
Datura is a fantastic, alluring flower, exuding its aroma mostly at night. What I have often called Datura, the plants with the bell-shaped flowers that hang down, have been separated into a different species called Brugmansia, alas, so I don't know if I have actually smelled a Datura. Some Brugmansia have a wonderful aroma, though, and I will probably always think of them as Datura anyway. Datura is a hallucinogenic plant that Carlos Castaneda's mentor, Don Juan, called "the devil's weed," with a feminine power: "She is powerful. She distorts men. She makes them weak in the middle of their great power." It sounds like a Datura perfume would just send you to your knees.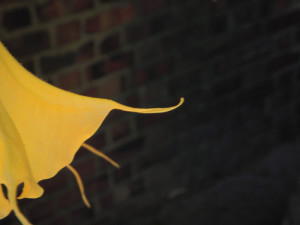 Datura by Tama Blough
When I sprayed that fragrance on my wrist, I did have to go sit down for a while. I had not been as completely and utterly captivated by a perfume since Guerlain L'Heure Bleue, or perhaps Patou Sublime. No, as enamored as I was with Sublime I could wait, asking for some for Christmas. With Secrete Datura, I had to have some at that moment. I think the sales associate saw my desperation, because she whispered to me, "We have it in a purse spray for twenty dollars." I was elated, and took that little bottle home. I didn't care one whit that I wasn't getting the big pretty bottle; it was all about the perfume.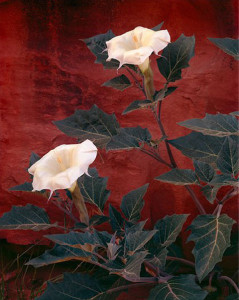 Sacred Datura by Joseph Holmes
I wore it when I went out with my mother one fine sunny day and asked her what she thought. She said, "It just smells like you." I liked that answer, because that was how I felt, too; that this was how I should smell. I knew better than to try to wear it every day and lose the magic. I wore it when I wanted to weave a spell around myself, and cast a fragrant net to bring others nearer.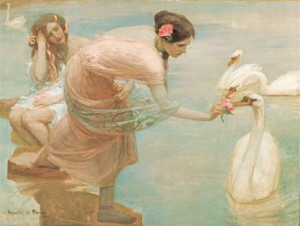 A Summer Morning by Rupert Bunny
Secrete Datura perfume is one I would categorize as a narcotic floral, but it is not dark. The opening is a little sharp and green, with a hint of the depth to come. After a few moments, the heady aroma of the datura surfaces and settles in. I have seen the list of notes, but to me, this is not a perfume to dissect. Perfumer Jean Laporte blended it too skillfully; to take it apart would be like cutting slices in the Mona Lisa to see the depth of the paint. This is a perfume to feel and enjoy and, as some of us like to say, "swan around in." When I wear this at home, I swan, I lounge, I become languid. When I wear it into the world, I swan, I cast glances at handsome men with half-lids, I appreciate the blue sky. I live.
I have shared this perfume with many of my friends. I could be greedy and keep it to myself, but I am in too much wonder to not let everyone smell this perfume. It has come to be associated with me, even by those who have never smelled me wearing it. When I mentioned that I was wearing it the other day, one of my dear online friends said, "That scent always makes me feel like that's how you would smell if we ever got to hug each other." When I finally get to hug her, I will be wearing it.
Notes: Top notes are lily-of-the-valley, amalfi lemon and heliotrope; middle notes are datura, jasmine, honeysuckle and african orange flower; base notes are sandalwood, iris, mexican chocolate and vanille. (per Parfum1)
Thanks to the lovely people at EuroPerfumes (the U.S distributor for Maitre Parfumeur et Gantier) we have a 3.3 oz bottle of Secrete Datura Leave a comment about your favorite Maitre Parfumeur et Gantier Fragrance or what fragrance you wear when you "swan around". The draw will end on January 12, 2013.
We announce the winners only on site and on our Facebook page, so Like Cafleurebon and use our RSS option…or your dream prize will be just spilled perfume.
-Tama Blough, Senior Editor