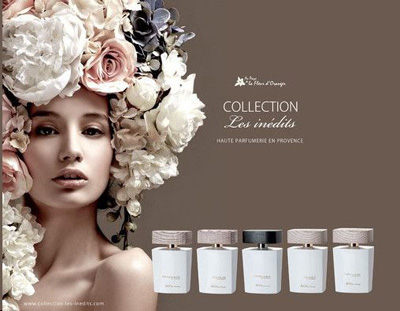 Virginie and Antoine Roux started the perfume company Au Pays de la Fleur D'Oranger in 1998. The Roux family has been a pillar in the Grasse perfume industry for generations; Antoine's grandfather was the flower commissioner to the perfume factories. A terrible frost in 1956 decimated the bitter orange groves, and one of the few survivors of that heartbreak stands proudly in the Roux family garden. Virginie and Antoine have carried on the tradition of cultivation of the regional flowers and trees of Grasse used in perfumery: rose, jasmine, lavender, fig, lemon, violet, and the bitter orange blossom that reigns supreme. In developing their own perfume line, with perfumer Jean Claude Gigodot, they have created a link from their heritage to their present and future. In 2013, they released their Collection les Inédites, consisting of Figue Fruitée, Jasmine Révé, Tubereuse Rosée, Bergamote Boisée, and Lavande Ombrée.
Fig by Jennifer Howard
Figue Fruitée may be my new favorite fig perfume. It is fruity and delicious, with a good dollop of the trademark milky quality fig is known for, but lifted up with citrus and greenery. Cedar adds a bit of spicy wood and warmth. I especially love the lightly sugary drydown, made touch naughty by a little bit of leather. Fans of fig scents will need this one in their collection, because it's quite unique, fun and easy to wear.
Notes: Fig, grapefruit, lime, green notes, cedar, musk, leather, candied notes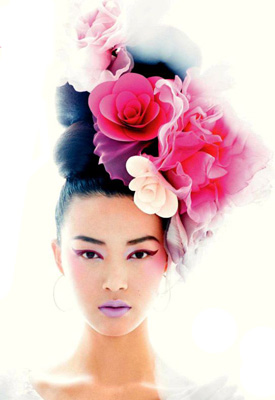 Tian Yee by Chris Cramer for Vogue China February 2013
The very first thing that hits my nose when I apply Tubereuse Rosée is a vivid waxy tuberose, a deluxe, momentary rush to the islands. But then my nose detects something different: it's a rose. Combining tuberose and rose creates a bit of an olfactory uproar. The dewy innocence of roses, which smell their sweetest at dawn, is merged with the humid aroma of the tuberose, which is most aromatic at night. It works surprisingly well, and the perfume is quite fun to sniff as it develops. The sillage keeps the tuberose on top; closer to the wrist, the blend is fascinating.
Notes: Tuberose, rose, ylang-ylang, musk, vanilla, sandalwood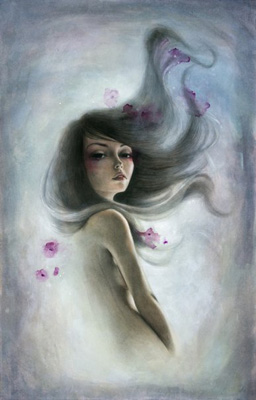 Mandy Tsuang
Jasmin Révé is a tease. It opens sugary and light, a shining example of innocence, like a uniformed schoolgirl just as she leaves the house, blouse buttoned and skirt just below her knee, her face freshly scrubbed. By the time she gets to school, though, her skirt has been rolled to mid-thigh, her top two buttons are undone, and there is a kiss of red on her lips. This perfume performs a similar trick, becoming darker and a touch more indiolic as it starts to bloom on skin. The vanilla adds a touch of sweetness that reminds me of the crunch of the torched top of a crème brulée. Still innocent at heart, but definitely willing to show a little leg, this is one of the most satisfying jasmine scents I have smelled in a while.
Jasmine, orange blossom, heliotrope, rose, musk, vanilla, sandalwood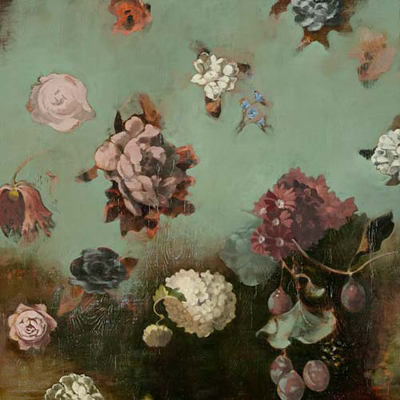 Watteau II by Stephanie Peek
Two of the fragrances in the line have been popular in the European market: Bergamote Boisée and Lavande Ombrée. Both of them skew slightly more toward the masculine spectrum on my skin, but are still solidly unisex. Bergamot Boisée has a brisk, tart opening that quickly morphs into a honeyed wood tinged with light florals. The citrus element of the bergamot is tempered, and less sharp than in some compositions that feature the note. Finding honey in this blend is surprising, and I like it. The drydown is soft, a little sweet, and quite comforting. Lavande Ombrée is a lively, floral lavender infused with unexpected spiciness. I was surprised not to find cumin in the list of notes, so I expect it might be the cedar under the cinnamon that is giving me that impression. The lavender takes a back seat as the perfume wears, putting a musky, brooding leather into the driver's seat. I think this is a remarkable addition to the lavender genre of perfumes, and the lavender-averse should give it a shot, especially if you like leather.
Bergamote Boisée notes: Bergamot, grapefruit, white flowers, cedar, musk, honey, patchouli, oakmoss
Lavande Ombrée notes: Lavender, bergamot, cinnamon, rose, cedar, amber, musk, leather, patchouli
I am excited by the Collection les Inédits ("never been done before"). At $125 for 100 ml of perfume obviously made with quality ingredients, the price point is affordable, and the scents themselves are well-done. I would happily own and wear any of them, and encourage those looking for a new interpretation of a favorite note to seek these out.
I based my reviews on samples from Beautyhabit.
Tama Blough, Deputy Editor
Our generous friends at Indigo Perfumery have just received the Au Pays de la Fleur D'Oranger line and are offering a US reader their choice of a full bottle of their favorite, or a sample set so you can try them all. To be eligible, you must "like" their Facebook page or follow on Twitter (@IndigoPerfumery), let us know which ONE full bottle you would pick, and why, or why you want to try them all if you want the sampler, and that you live in the US. Also let us know you have liked the Indigo page or followed them on Twitter. Draw Ends on March 5, 2014.
We announce the winners only on site and on our Facebook page, so Like Cafleurebon and use our RSS option…or your dream prize will be just spilled perfume.