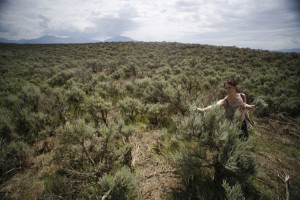 For Strange Women
A couple of years ago a group of perfumistas were discussing how much we loved the smell of our cats' fur and wishing there was a perfume that could emulate it. One person found a link for a perfume called Winter Kitty, and, being the impulsive person I am, I ordered some. The company was called For Strange Women, which I thought was a great name. I followed them on Facebook and had them in the back of my mind until I saw a post asking if there were bloggers out there who wanted to review the perfumes. Curious about the other scents in the line, I asked perfumer Jill McKeever to send me some samples. I received three from the Black Forest Solids line, consisting of Fireside Story, Nightshade Garden, and Black Forest Cake. The samples are bits of perfumed wax between folded ribbon, that you heat in your hands before applying. The benefit to this is that you get a sense of the perfume as it wafts from the ribbon without having to sniff at the stick in a tiny vial or spray a piece of paper. Each is packaged in a little wax paper envelope.
The perfumes are all-natural, and crafted from carefully sourced materials from scratch in Ms. McKeever's Kansas City studio. She specializes in scents that evoke memories and sensations. She offers her solids in beautiful amulets, and the oils come in classic brown apothecary bottles. The aesthetic is pleasing: modern, but with a sense of feminine Gothic and Victorian sensibility. She also makes lip balms and other products that are equally appealing. The packaging is earth-friendly.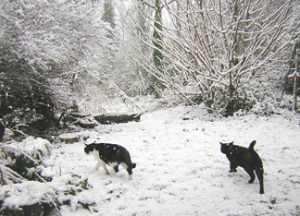 Searching for Aslan by Zenera
First off, let me say that I love Winter Kitty. It is meant to evoke the scent of a cat's fur when it has come in from being outside romping in the pines and snow. The perfume captures that smell admirably, although my own cat is more likely to smell like skunk and vacant lot. What the perfume is successful at achieving is the warm, slightly animal smell of that furry belly that so many of us like to stick our faces in when our cats are warm and happy. The crisp, minty fir top, smelling like the great outdoors, is a nice counterpoint. It really does smell like a winter kitty.
Notes: Douglas fir, mint, Moroccan rose, vanilla bourbon, vetiver, and wood
Grandfather's Garden by George Henry
The first ribbon I heated up was Nightshade Garden, which was inspired by the scent of tomato vines. A crisp, sweet citrus opening is mellowed by leafy greens. I put it on my décolleté and wrists, and when I huffed down my shirt, where the scent had been warmed, I got a whiff of my grandpa's tomato garden in the summer, just enough to create the memory, but not so much that I smelled like a tomato. Because it was cool outside, the scent on my wrists was more herbal. I enjoyed wearing this scent, but would like to try it again on a warmer day so it blooms.
Notes: Citrus, fruit tree leaves, bay, and olive leaf (extrapolated from descriptions on the website)
For Strange Women
I am not allowed to eat Black Forest cake, since it is full of cherries that have been soaked in Kirschwasser, and I don't consume alcohol. I can get my fix with Black Forest Cake perfume. Chocolate in perfume is something I wasn't sure about until I started smelling fragrances made with natural cacao. There is a dense, almost bitter, earthy quality that makes it imminently wearable. This scent has been blended with just a touch of floral notes, and possibly some vanilla, to sweeten it just enough but not turn it into candy. It's very pretty and I like it, but the name of it made me think there might be a bit of black cherry in it, which would be kind of fun. Although the chocolate is dominant, there are underlying aromas that add complexity and an almost smoky quality. I am especially taken with a woody note that is soft and creamy, with a fresh sawdust vibe. If you are intimidated by chocolate in perfume, you might like this despite yourself.
Notes: Cacao, woods, florals, and spices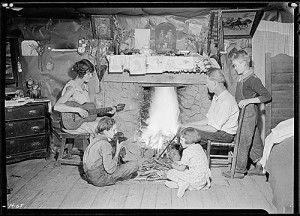 Glandon Family, US National Archives
I tend to not have fireplaces in my own homes, so have to enjoy their hypnotic flames and warmth when I am elsewhere. Applying Fireside Story immediately brought to mind a mountain home my family had at one point, where we used to spend our Christmases. The walls were wood paneled and the fireplace sported the obligatory deer head, named Charlie. We would gather in front of the fire and play Scrabble ™ or just chat and have snacks. We used to burn the occasional pine cone, and that aroma is present in this fragrance. Walking in the snow, we would be able to smell the home fire in the crisp air. This perfume is that waft of welcoming smoke, along with woody resins and a touch of sweetness. Fireside Story is one of the prettiest perfumes I have smelled in the genre of "things that are burning".
Notes: Woods, leaves, pine cones, dried resins, three kinds of vanilla
After testing these three scents that are new to me, and wearing Winter Kitty again, I think that this is a line that bears heavy exploration. Ms. McKeever has a knack for recreating scent memory using natural ingredients, but the perfumes are also easy to wear, which some sense-memory evoking perfumes miss. They don't hit you over the head, merely softly evoke, which is lovely. I am anxious now to try the rest of the line. As with most natural perfumes, you do need to re-apply after a while, and the sillage is fairly close. With perfumes like this, that feel so personal, having them just create a wispy veil is preferable to leaving a huge scent trail, for me, anyway.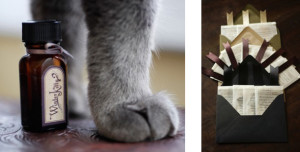 For Strange Women products are available on their website, and there is a good sample program. Ms. McKeever has kindly offered a choice of either a Deluxe Sampler of 14 solid scents, or a 7.3 ml bottle of Winter Kitty perfume oil. Please leave a comment letting us know which you would prefer. Draw ends February 8, 2013.
We announce the winners only on site and on our Facebook page, so Like Cafleurebon and use our RSS option…or your dream prize will be just spilled perfume.
–Tama Blough, Senior Editor