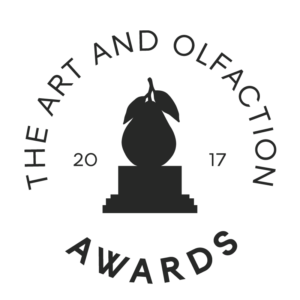 The Institute of Art and Olfaction will be holding the Fourth Annual Art + Olfaction Awards on May 6, 2017, at Silent Green kulturquartier in Berlin, Germany. According to Founder Saskia Wilson-Brown, it is for one year and to better connect the US and European independent, artisan, experimental perfume world. The Judges in both the shortlisting and finalist committees for the Artisan, Independent and Experimental have been announced (you can find out who they are here) and the deadline for submissions closed November 29. We have been covering the awards since their inception in 2014, and to remind readers, all winners are selected through blind judging, which was a first for the industry. This year CaFleureBon is the official U.S. media partner and joins the esteemed group of remarkable organizations that champion artistic perfumery worldwide.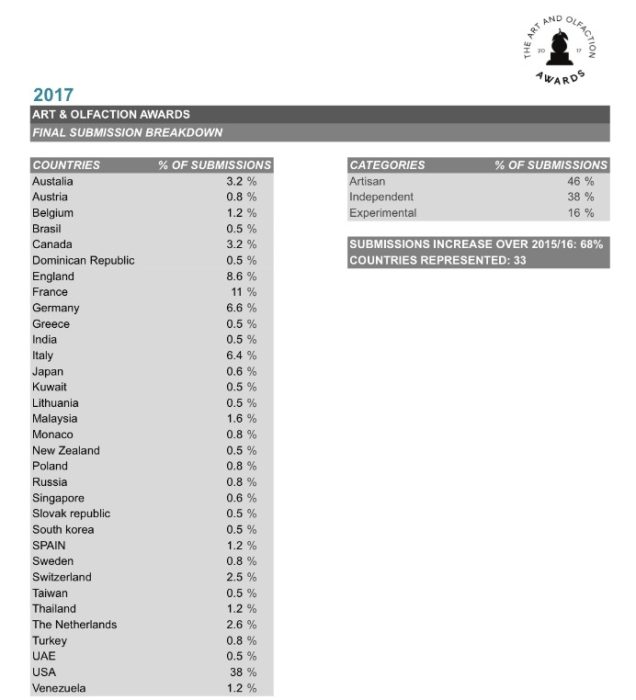 The interest and enthusiasm of the fragrance world has grown exponentially since 2014; happy to share some stats. Perfume submissions for 2017 came from 33 countries and the increase in submissions is 68 percent over 2016. The largest increase came from the Artisan perfumers (created by a perfumer with direct ownership in the company, who blends every formulation in-house without the use of a fragrance house). The USA shows a 38% increase over 2016 the largest of any country.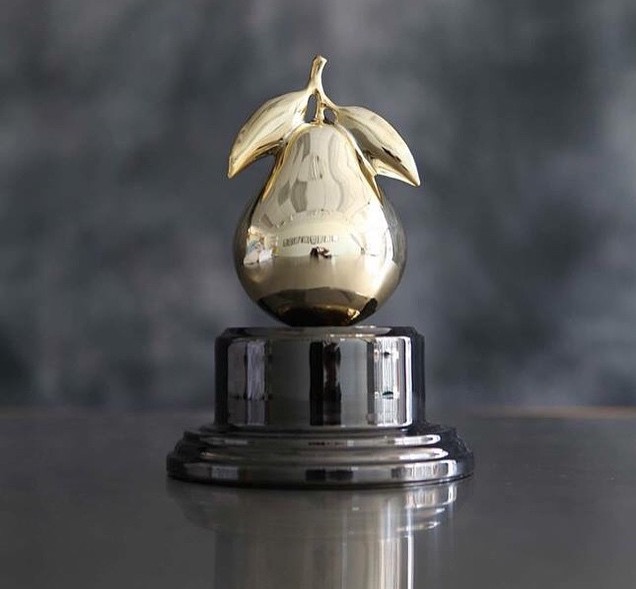 Golden Pear Award
2014 Winners
Artisan Category
Calling All Angels April Aromatics (Germany) Tanja Bochnig
John Frum Aether Arts (USA) Amber Jobin
Independent Category
Ashoka Neela Vermeire Creations (France) Perfumerr: Bertrand Duchaufour
2015 Winners
Artisan Category
Eau de Céleri, Monsillage 
(Canada) Isabelle Michaud
Woodcut, Olympic Orchids (USA) Dr.Ellen Covey
Independent Category
Skive, Canoe (USA) Perfumer: Jessica Hannah
Black Pepper & Sandalwood Acca Kappa (Italy) Perfumer:Luca Maffei

SADAKICHI AWARD FOR EXPERIMENTAL WORK WITH SCENT
Famous Deaths, 
Creative Team: Marcel van Brakel, Frederik Duerinck, Wander Eikelboom, Caro Verbeek
 Venue: Museum of the Image (MOTI), Holland
2016 Winners
Artisan Category
Incendo La Curie (USA) Lesli Wood
Miyako Auphorie (Malaysia) Eugene and Emyrs Au
Independent Category
Bat by Victor Wong Zoologist Perfumes (Canada) Perfumer: Dr Ellen Covey Perfumer
Néa by Creative Directors Madalina Stoica and Julien Blanchard JUL ED MAD Paris (France ) Perfumer Luca Maffei
SADAKICHI AWARD FOR EXPERIMENTAL WORK WITH SCENT
Century's Breath Cat Jones – Sydney, Australia
The 2017 Finalists will be announced at Esxence The Scent of Excellence in Milan March 23-36, where we have been a proud media sponsor since 2011.
The Art and Olfaction Awards are a program of The Institute for Art and Olfaction, a 501(c)3 non-profit organization based in Los Angeles, USA.
-Michelyn Camen, Editor in Chief