Our Editor-in-Chief Michelyn Camen gave us part 1 and 2 recapping the new perfumes from Esxence 2018, now it is my turn. You will read we had many similarities in favorites, and I scouted quite a few other intriguing new perfumes from Esxence 2018.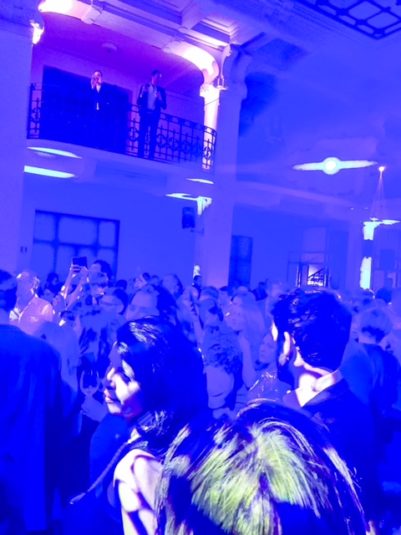 Dance Dance, Dance
"The tenth edition has been a celebration of the community that through the years Esxence has been able to gather" said the bad girl of perfumery Sarah Colton introducing the panel Ten Years of Esxence – Assessing the Dividends & Planning the Future. And what best gathers the perfume bad girls and boys for some real fun more than an Esxence official Gala?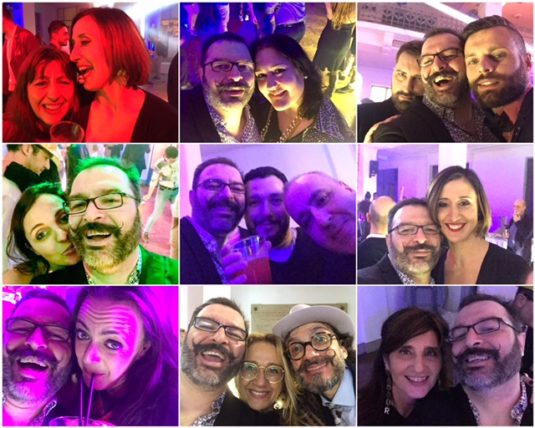 Ermano Picco party smelfies with: Top (R) Megan Paki and Cecile Zarokian, Marina Donato, Jakub Piotrvicz and friend, Middle Row: Christina Medri, Nishane Mert Guzel and Murat Katran, Cecile Zarokian, Bottom row: Stephanie Bakouche, Tiiana and Paolo Terenzi and Stefania Giannono of Nobile 1942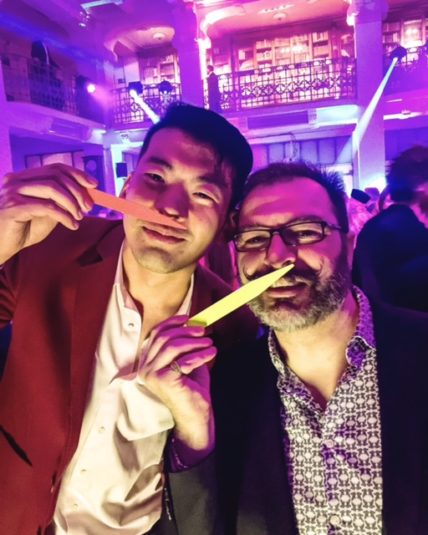 Perfumer Alex Lee of Mane (Michelyn's interview here) and Ermano
This year's Cocktail Prolongé and DJ Set was held at Circolo Filologico, an amazing art nouveau building at the very heart of Milan and the dress code was "a touch of gold", many inspirations that in a way reflect the upcoming trends in fragrances, but I will talk about it later.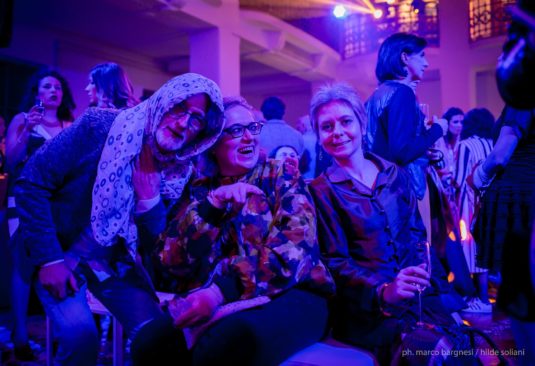 Hilde Soliani with friends
To spice up the opening cocktail Silvio Levi invited Hilde Soliani who is famous for her lip-smacking concoctions as much as for her dramatic temperament that led her into theatrical incursions. Also the buffet had a touch of gold as the saffron laden; fragrant Milanese risotto (my favorite edible gold indeed!) was served. While the music started pumping and lights dimmed everybody rocked the dance floor. I couldn't help grabbing senior editor Lauryn Beer for a whirl time (did I know she knew classical dance too?). How funny!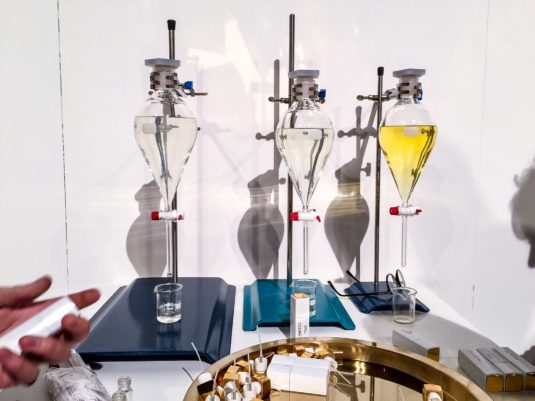 New perfumes from Esxence 2018:Perris Monte Carlo Bergamotto di Calabria,Perris Monte Carlo Mandarino di Sicilia and Perris Monte Carlo Cedra di Diamante
Perfectly matching with "a touch of gold", let me name the Calabrian gold, Bergamot from Reggio to introduce the first trend emerging from Esxence 2018: Zest is Best. The brightest example of this trend is the White Collection introduced by Perris Montecarlo. Mandarino di Sicilia and Cedro di Diamante are simply joyful but the real gem is Bergamotto di Calabria where Gian Luca Perris and Luca Maffei exploit rare traditional and high-tech specialties like the unique bergamot oil sponged the old way from top notch producer Capua 1880 allied to the fruity freshness of Himalayan Timur pepper Mane introduced last fall at Pitti Fragranze.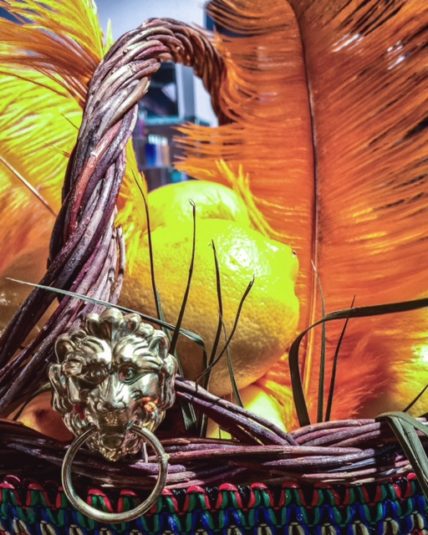 Sicilian Citrus at Antonio Alessandria booth
I enjoyed a few sneak sniffs and loved the thirst-quenching Fara by Antonio Alessandria debuting next fall, this trend is definitely going to stay for longtime. You can swear it's true when even a full frontal oud based brand like The House of Oud takes a depart in its new line THOO, an uplifting trio of eaux which star is a beautiful blue tea and chamomile themed concoction signed by perfumer Cristian Calabrò. In fact after more than ten years of Arabian gold galore where (real and fake) oud has leaked from the most expensive attars down to the cheapest drugstore shower gel, people now long for more luminous fragrances letting the Middle Eastern most coveted wood finally rest as just one of the ingredients in the perfumer's palette.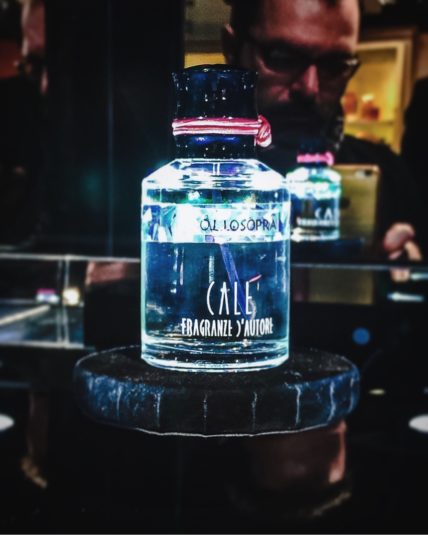 New Perfumes from Esxence 2018: Calé Fragranze Sottosopra
Along with oud, there's a departure from monolithic Orientals in favor of another rising trend: Timeless Elegance. Best in show of this multifaceted refinement is the extrait de parfum L'Iris de Fath, the stunning restoration of the fragrant chimera known as Iris Gris which I will soon review. Neela Vermeire Creations has always made a statement of French refinement and this is again true of the new bubbling leathery iris in Niral.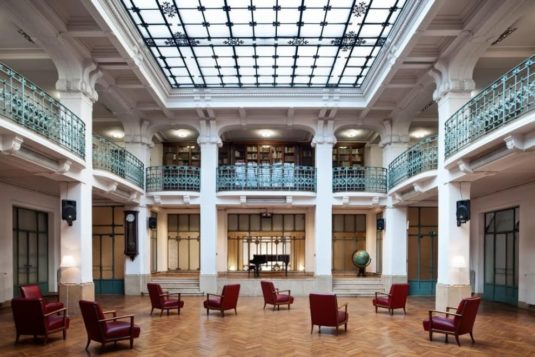 photo by Christina Fiorentini and Laura Rizzo© via milano.republica.it
This classicism now radiates also from the sage laden carnal snuggle of Aedes de Venustas Musc Encensé which muskiness perfectly complements the stained glass ceiling of Circolo Filologico. Timeless elegance meets sunny florals in Cornaline, the latest tempting introduction by Anatole Lebreton which captures the carrot orange mellowness of the stone dipped in a sundrenched ylang ylang harmony. Exploring a pillar of masculine elegance, perfumer Fanny Bal pours in Masque Milano (homage to Hemingway) all the charme of the 1950s thanks to the crystal-clear mineral nuttiness of a special Laboratoire Monique Rémy vetiver heart extraction. Even a Master Chopper of scratchy woods like Arturetto Landi smoothed his axe under the artistic direction of Silvio Levi in the avant-garde leathery green Calé Sottosopra.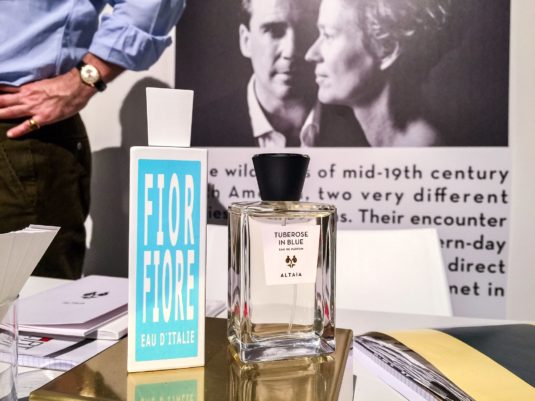 New Perfumes from Esxence 2018: Eau d'Italie Fior Fiore
The floral trend continues to grow now also boosted by this desire for lightness. An exquisite embodiment of the updated jeune fille en fleur is the new Eau d'Italie Fior Fiore created by Master Perfumer Olivier Cresp. Creative Director Marina Sersale took inspiration from the jasmine trellis decorating the exclusive Hotel Le Sirenuse champagne bar to portray a luminous spring romantic date in Positano.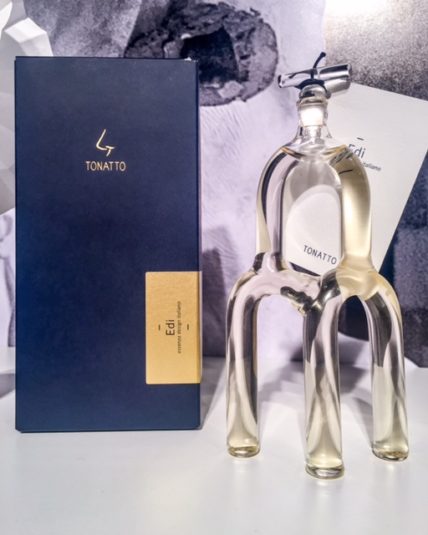 Tonatto EDI Essenza Design Italiano (the essence of Italian Design)
Another discovery in this emerging trend is the ethereal violet in Tonatto's EDI Essenza Design Italiano was created as a site specifi perfume for Triennale Design Museum in Milan and is housed in a light arcades flacon by Designer Astrid Luglio.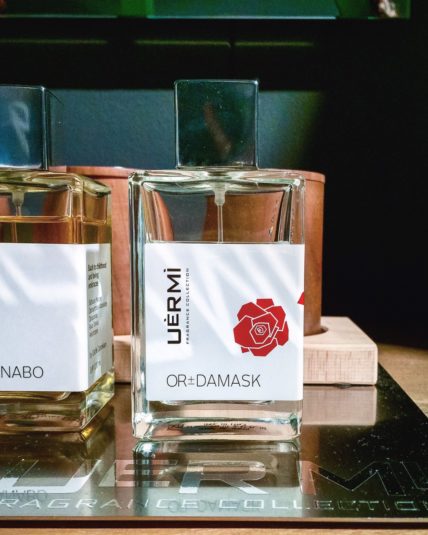 You know Flower Power prevails when a fabric inspired brand Uermi launched its first outspokenly floral, OR+Damask, a rose by Master Perfumer Maurice Roucel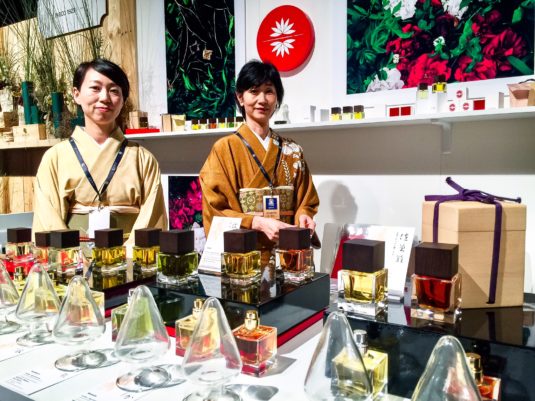 DI SER Booth at Esxence 2018
Together with these trends, as the "Middle Eastern big sillage" fades out the concept of Terroir taked the stage. First, Australia which in the last years gained an international audience with brands like Naomi Goodsir (who just won a French FIFI 2018 for Nuit de Bakelite), Grandiflora and Map of the Heart. Fort & Manle and GoldField & Banks are newer brands that continue to define "Aussie style". Japanese brands like Miya Shinma and Di Ser with their unique and precious perfumes based on uncompromising contrasts are also defining a "J-style" far from the western fragrant cliché of the Rising Sun.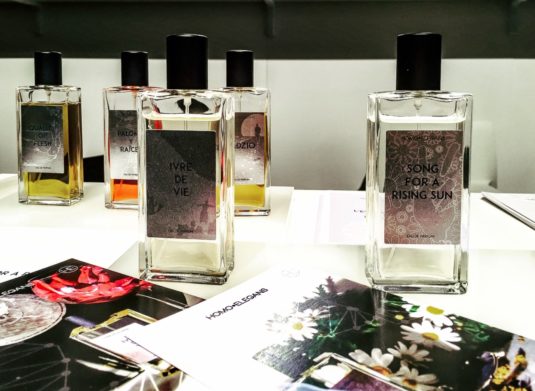 Homoelegans Ivre de Vie and Song for a Rising Sun
Usually relying on cupcakes, macarons and popcorn smells, gourmands have become a staple in perfumery. Now finally, the quest for less obvious perfumes marks a neo-gourmand wave. You can feel it sipping the turmeric infused milk of Gabriella Chieffo Lattedoro (inspired by resilience and serenity, other ongoing themes) or the Persian nan-e badami cookies in Isabey Tendre Nuit. The most refined delicatessen served at Esxence though is the latest Homoelegans Ivre de vie where Maurizio Cerizza depicts La Môme in Paris smashing a bunch of red roses on freshly baked baguettes and a glass of Bordeaux.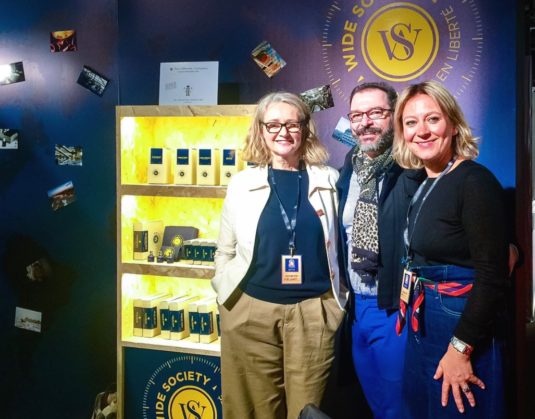 Sophie Gabriel of the new brand Wild Society – Le parfum en liberté , Ermano and Alexandra Monet
Special mention goes to perfumes & suitcases. Since I saw more than one booth featuring both, I suspect we'll see in the future more about fragrant travelers. Worth mentioning is The Different Company owner Luc Gabriel's latest project called Wide Society – Le parfum en liberté (Alexandra Monet and Emilie Coppermann) which offers affordable travel solutions for perfume lovers. Created by perfumer Emilie Coppermann Nubes is a refreshing mix of earth and sparking notes that definitely makes your nose craving for more journeys and adventures
Ermano Picco, Editor (all photos by Ermano Picco unless otherwise noted©)
We are offering a selection of samples from Ermano's post to a registered reader in the EU, Canada and USA. To be eligible please leave a comment with what you enjoyed about Ermano Picco's report about new perfumes from Esxence 2018. What had your nose twitching or what trends appeal to you? Draw closes 4/16/2018