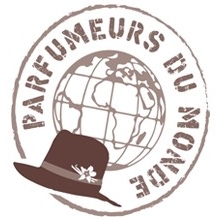 We continue our journey with perfumer Isabelle Gellé's magnificent Parfumeurs Du Monde project, a series of five all-natural scents that take their inspiration from indigenous ingredients found throughout the six French Perfumers' travels. Where part one took us to Peru, and to the rose fields of Turkey and Bulgaria, we now turn our noses south towards India, Madagascar, and South Africa.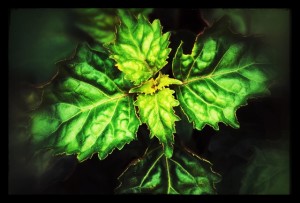 Patchouli plant digitalized MC
Kashi (Light Essence Of India) Isabelle Gellé
Patchouli can certainly be a polarizing note in a fragrance, but when it's done right it can absolutely shine and delight, as it does in Isabelle Gellé's arresting Kashi. Growing up in San Francisco in the 60's and 70's, I was surrounded by the smell of patchouli. It was one of the defining scents of the Viet Nam War/Hippie generation. I honestly thought I had smelled enough patchouli to last three lifetimes. When my journey into fine perfumes started in earnest, I must confess I steered clear of patchouli, until I discovered how truly wonderful it can be in the right hands.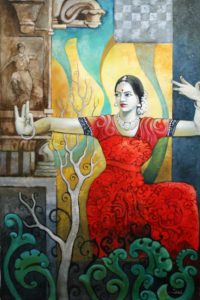 Painting by Shahul Kollengode©
With Kashi, Mme. Gellé pays homage to the Indian sub-continent and specifically the city of Vâransai, where patchouli is used in the production of incense and to perfume sari's and shawls. This gorgeous perfume is surrounded by a downy softness, and the sometimes harsh herbal quality is smoothed out by the jasmine, osmanthus, and vanilla. The sweet earthy facets are played up to create a scent that is nothing short of amazing, like standing in a gloriously hot Vâransai garden, lush with sub-tropical plantings, complete with the smell of dry and dusty earth. But be warned, this stunning tribute to patchouli is a "nuclear" edp with enormous sillage. One or two sprays will last you through to the next day! Notes: Fennel, Iris Root, black Pepper, Yellow Hibiscus, Licorice, Patchouli, Osmanthus, Indian Jasmine, Amber, Peach note, Indian Sandalwood, Vanilla, Ylang, and White Musk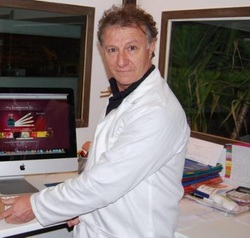 Thierry Bernard
Tsingy (The Princess Who Walks On Tiptoes) Thierry Bernard
Thierry Bernard chose Madagascar as his perfumed inspiration and Ylang as the representative note, it's a match made in heaven. Having spent years on the island of Martinique in the French West Indies, M. Bernard is accustomed to being surrounded by a tropical scented dreamscape that to my mind and memory, must be what heaven smells like. In describing Tsingy , M. Bernard envisions "Madagascar, at sun's dawn with the mist slowly clearing, the plumes of ylang-ylang and frangipani, impregnated with delicate vanilla are dissipating off the wet earth. Tsingy, "The Princess who walks on tiptoes" was born there. This olfactory tale reveals colors, odors and emotions of a magnificent scented land."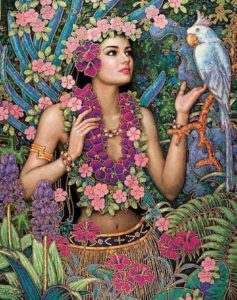 Artist Karl Bang ©
Smelling Tsingy is a truly warming experience and the perfect antidote for a dull winter's day. Opening with a blast of kaffir lime whose milkiness surrounds the common lime and red mandarin, Tsingy quickly settles into a beautiful ylang, slightly indolic, sweetened by vanilla and made more tropical by the frangipani, tonka, and vetiver. You can smell the humidity and almost feel the moisture dripping off of the blooms and giant philodendron leaves. It feels quite soporific, like settling into a woven grass hammock at night, while the jungle rustles and comes alive as you slowly drift off into a very deep sleep. Paradise found. Notes: Pink Pepper, Kaffir Lime, Lime, Ginger, Red Mandarin, Frangipani, Vanilla, Nosy Be Ylang, Tonka, Exotic Basil, Elemi, Patchouli, Vetiver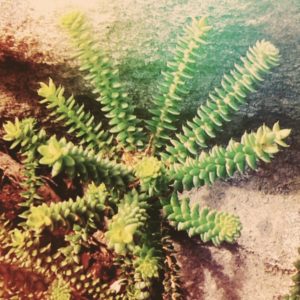 Bucchu Plant from South Africa digitalized MC
Izwe (Sacred Land Of The Zulu's) Perrine Scandel
Our olfactory journey ends in South Africa and a tribute to the Bucchu plant, the citrus-related shrub that is endemic to the mountains of the Cape Provence, with an aroma that is minty, fragrant, and citrus-sharp all at once. Indigenous tribes have used the oil of the Bucchu leaves for hundreds of years, both to scent the body and as a healing and insect-resistant agent. In Izwe, Perrine Scandel uses the aromatic properties of the Bucchu and combines them with notes of the African savannah to create a scent that honors both the historical and contemporary feelings of the South African nation.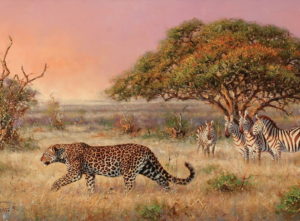 Eric Forlee, 1949 ~ Out of Africa Tutt'Art@
What a wonderful and compelling perfume this is, both modern and vintage, perfectly representing a country and region where cultures clash and mix. Izwe is a dream of the African savannah, replete with dry parched soil, tall grasses brown and green and a touch of wild animal, musty, furry and slightly fecal. There's a slight hot breeze which carries with it the smell of a campfire in the distance, bitter and balsamic. I suspect lovers of perfumes from the classical era of the bigger houses will love this one as I do. It perfectly marries the old-fashioned high couture scents with the contemporary zeitgeist of a country changing and growing. Perfect. Notes: Bitter Almond, Grapefruit, Bucchu, Davanna, Rose, Geranium, Sage, Blackcurrant, Amyris, Tuberose, Patchouli, and Labdanum
Disclosure: Many thanks to Isabelle Gellé for supplying the samples, and my opinions are my own.
–Robert Herrmann, Contributor
Art Direction: Michelyn Camen, Editor-in Chief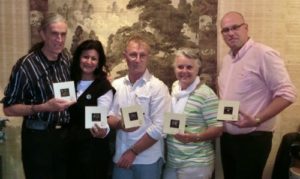 Michel Roudnitska, Isabelle Gellé, Thierry Bernard, Perrine Scandel, Eric Gigodot Parfumeurs du Monde
Note: 'Parfumeurs du Monde" is the work-of-art resulting from a beautiful collaboration between six French perfumers who care about the planet. (The creation of) 100% natural essences in compliance with Parfumeurs du monde charter and with ethics in mind. Portions of the profits will be donated to Coeur de Forêt, a Paris-based NGO established in 2005 which supports small producers for the rehabilitation and protection of forests in Bolivia, Cameroon, Indonesia, Madagascar and Peru." We have recieved numerous requests on where to purchase, http://www.lesparfumsisabelle.co.uk/store/c2/PARFUMEURS_DU_MONDE.html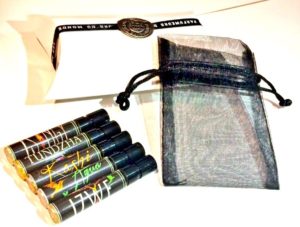 Thanks to the generosity of the six perfumers of Parfumeurs du Monde we have a draw for a discovery set of Michel Roudnitska's Agua Nativa, Jean-Claude and Eric Gigodot's Tundzha, Izwa, Kasshi and Tsingy for a registered reader click here anywhere in the world
or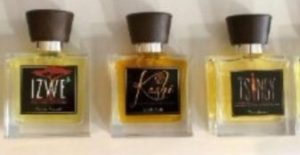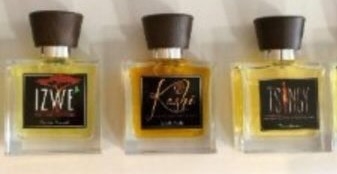 Your choice of 30 ml of either Izwe Tzingy or Kashi.
To be eligible please leave a comment with what appeals to you about Robert's reviews of Kashi, Izwe and Tsingy, where you live, and if you choose the discovery kit of all five scents or your choice of 30ml of Kashi, Iswe or Tsingy. Draw closes 2/22/2017
We announce the winners only on site and on our Facebook page, so Like Cafleurebon and use our RSS feed…or your dream prize will be just spilled perfume