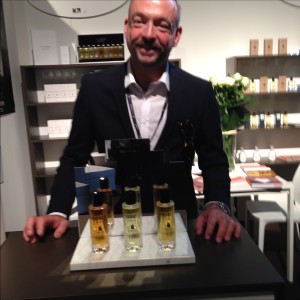 Nicolas Chabot Creative Director and Owner of Le Galion -Photo MC
While at Esxence 2015, we stopped by and met with Nicolas Chabot, The Creative Director of Le Galion one of CaFleureBon's favourite "New Old Houses". The perfumery was founded in 1930 by Prince Murat (brother in law to Napoléon I). The name Le Galion refers to the glorious ships of yesteryear that referenced travel, escape and freedom. Five years later the company was sold to Paul Vacher, an esteemed French perfumer who co signed Arpege, Rumeur and Scandal for Lanvin with Andre Fraysse. He also created perfumes for Dior including Miss Dior (with Jean Carles) and Diorling.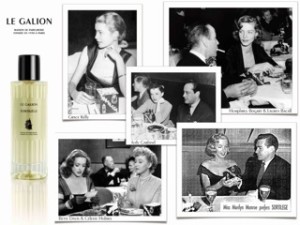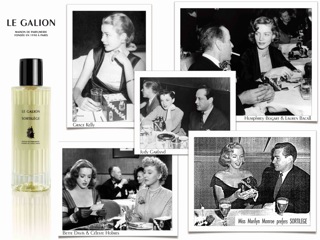 Marilyn Monroe wore Sortilege 1950 Stork Club
At its peak, Le Galion perfumes were sold around the globe and were wildly popular especially amongst the glamorous old Hollywood set.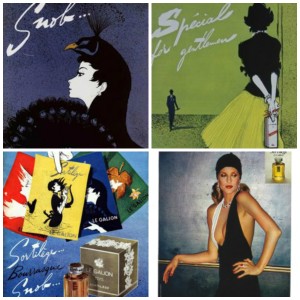 Vintage Le Galion Ads
The historical Le Galion advertising images are also a visual treat. They are incredibly well done and offer a gorgeous slice of life through the decades and are quite covetable. Unfortunately the house was sold in 1980 to an American group and was mismanaged before disappearing from view. Thankfully in 2014, Le Galion had fresh wind to buoy its sails. Perfumes from this revered French house have been brought back to life with the care and attention they deserve thanks to Nicolas Chabot. The resurrected Le Galion range includes Sortilège, Snob, Iris, Tubéreuse, La Rose, Special For Gentlemen, Whip, Eau Noble and 222. CaFleureBon has reviewed them here (Le Galion range by Elisabeth de Feydeau)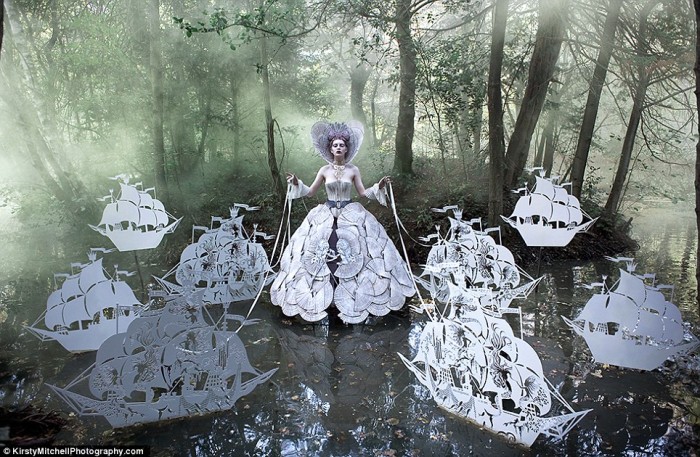 The Queen's Armada Kirsty Mitchell
Le Galion has not been resting on its laurels since its relaunch and six new perfumes were showcased at Esxence – The Scent of Excellence 2015, with a mix of something old and something new. Please welcome Vetyver (a re-working), Cuir and Aesthete, all in EDP formulation. In addition, La Collection Singulière was displayed comprising three new perfumes in extraits de parfum – Sortilège Elixir, Essence Noble ( a re-working) and Sovereign. These new editions will be available later in the year and will be housed in 100ml bottles. Now let's take you on a sail on the high seas and give you an overview of the new perfumes.
Vintage Le Galion Ad Vetyver
THE NEW Le Galion Eau De Parfums
The 2015 reformulation of Vetyver was first created in 1968 and I like to imagine that in those times of sexual liberation women may have taken their boyfriend's bottles and liberally sprayed this on skin. It's fresh and light up top with bergamot, mandarin and refreshing herbal notes. Vetyver takes time to warm, before revealing a smooth tonka, vetiver and musky base that provides an endearing contrast to what's gone before. It's an assuredly simple fragrance and is all the better for it. This would be a perfect spring or summer scent as the chilled, crispness of Vetyver makes way for the sun's warmth. Perfumer: Thomas Fontaine who has worked on the original formula of Paul Vacher.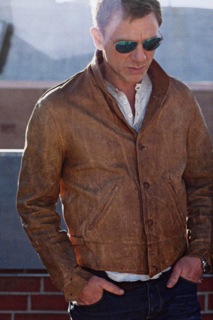 Daniel Craig wearing a brown leather jacket
Cuir 2015 : This leather rendition is what I'd term a classically styled perfume that has a masculine edge. To me this is a well-worn brown leather jacket draped on a man. Every fold of its being has contoured to his body over time. It's familiar, and gives comfort just when he craves that second skin. The opening is a mild brew of bergamot and quickly transitions to a warm, rich leather accord that never errs sweet or too fruity. There is a substantial body to this perfume and the dry down is full leather jacket, with touches of lily and a sumptuous base of sandalwood, ambergris and musk. Cuir lovingly embraces you like the lover you dream of. Perfumer : Vanina Murraciole.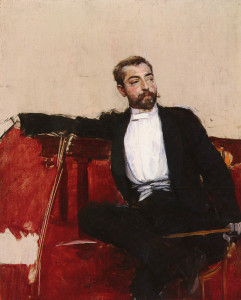 John Sargent Singer Painted by Giovanni Boldini
Aesthete (2015) : Pays homage to Paul Vacher who was a lover of the arts and a pianist to boot. This perfume is an interesting modern composition that hits the sweet spot of marrying leather and oud. The opening is contemporary oriental and starts with a bang. It's warm and inviting as the bergamot makes way for a spiced breath of incense, davana and saffron. It's a captivating start and oud is definitely noticeable in this fragrance but it doesn't take on that medicinal aspect that can be off putting, as its accompaniments are incense and a leathery accord that smells simply divine. There is a smidgen of sweetness in the base, and a slighty syrupy, treacly aspect with additional warmth from the vanilla and sandalwood. This fragrance will make you yearn for exotic travels. Its charms lure me through tiny, cobbled back streets in ancient cities, inhaling smells from the surroundings and discovering the new in the well-trodden paths. Perfumer : Vanina Murraciole.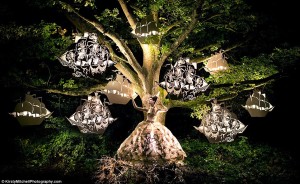 The Queen's Armada Kirsty Mitchell
THE NEW EXTRAITS DE PARFUM :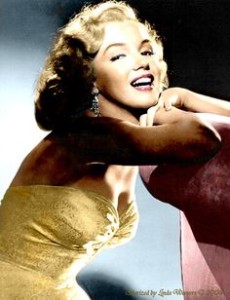 Marilyn Monroe All About Eve 1950
Sortilège Elixir (2015) : Think of golden sunlight, Marilyn Monroe and those bleach blonde locks circa All About Eve. She was an ingénue up against the grand dame Bette Davis and Anne Baxter in this glorious they don't make 'em like they used to film, but managed to make an impression. Apparently she wore the original while making the movie. Sortilège Elixir is a floral symphony of intense gorgeousness. In this concentrated intense version of the original there seems to be more of everything. There are aldehydes and blooms galore in this orchestration. The conductor coaxes the best from the players, including rose, jasmine, narcissus, mimosa and iris. If you're a fan of old school florals that harken back to glamorous days gone by you should give this a whirl. It's bold, bright and beautiful. Perfume: Marie Duchene who has worked on Paul Vacher's original formula.
I'll Wait for You in the Shadow of Summer Kirsty Mitchell
Essence Noble (2015) : Essence Noble is another leather centric fragrance, but this time played out in a lighter, greener style than Cuir and Aesthete. It is a reworking of the base of Eau Noble (1972), the last fragrance created by Paul Vacher. Essence Noble plays with a full citrus opening, laden with a zesty lemon and green mandarin. The leather accord blends perfectly with moss and a touch of sage. There is also patchouli and cedar, but it's never a heavy scent. This to me is an energising perfume and I imagine being outdoors with Essence Noble to freshen and awaken the senses. Perfumer : Marie Duchêne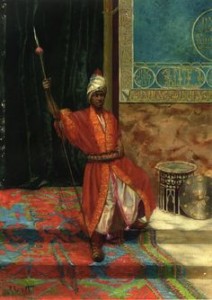 Sultan Guard Rudolf Ernst Orientalist
Sovereign (2015) : This new creation celebrates the 85th anniversary of Le Galion and is a tribute to its founder Prince Murat. It's an ode to travel and spice routes that the grand old ships sailed in days gone by. This oriental fragrance is spiced with a heavy sprinkling of black pepper and woods, with lush florals in the form of rose and iris. Sovereign is very masculine to my nose mainly due to the type of thumping, dry woody base that doesn't work well on me, but I'm sure Sovereign will have its fans particularly of those who enjoy dark deep fragrances heavily spiced. Perfumers: Amélie Bourgeois and Anne-Sophie Behaghel.
Sr. Contributor Megan Paki and Author of meganinsaintemaxime.com
Art Direction: Michelyn Camen, Editor in Chief
Disclosure: Samples provided by Le Galion at Esxence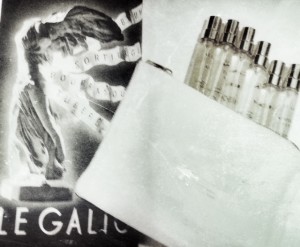 Photo Michelyn
Thanks to Nicolas Chabot of Le Galion we have a worldwide draw for a discovery set of 7.5 ml x 6 for a reader anywhere in the world adn they are not readily available at this time. To be eligible you must be a registered reader, follow the instructions here and yes we do check. Please leave a comment with which of the six new Le Galion fragrances appeal to you the most and where you live. Draw ends 4/19/2015
We announce the winners only on site and on our Facebook page, so Like Cafleurebon and use our RSS option…or your dream prize will be just spilled perfume.