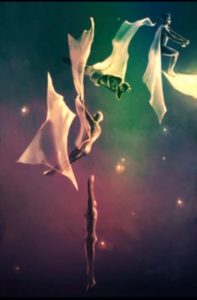 Digital art Cyril Ronaldo apped MC
For many years I have enjoyed sewing for my children and myself. I rarely have the time for this creative outlet anymore but I still have a closet full of beautiful fabrics that I simply can't bear to give away, fabrics that were meant for elegant blouses, evening dresses and all kinds of interesting accessories.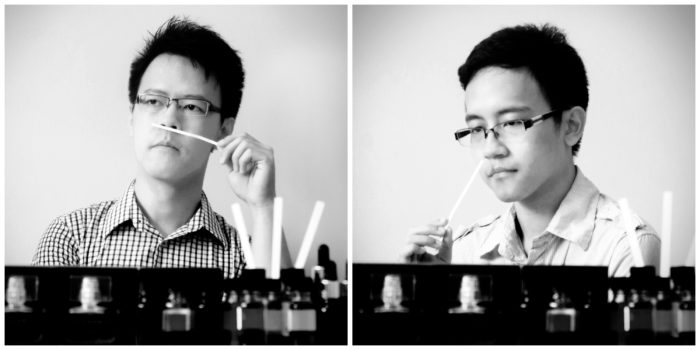 Eugene and Emyrs Au of Auphorie (photo courtesy of Auphorie)
This week, while sampling three of the 2016 offerings from Auphorie, the textures, colors and wear-ability of these lovely new fragrances reminded me of some of my favorite silk and cotton yard goods. Maybe I will wear these textile beauties someday, but for now I will luxuriate in the olfactory textures created by Art and Olfaction Award Winning artisan perfumers Eugene and Emrys Au.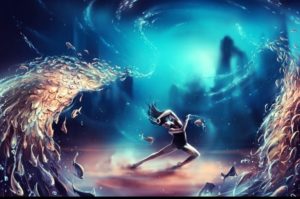 Pisces Dancing from the Zodiac by Cyril Ronaldo
Elfen Spring – During the 1990s, fresh aquatics were "done to death" by designers and celebs alike. As a result, composing an original smelling, contemporary aquatic fragrance has been a real challenge. Elfen Spring is one of the best of this resurrected genre. I was more than pleasantly surprised by Auphorie's carefully crafted, new take on watery freshness. The Eau de Parfum begins with an exhilarating, modern aquatic and carries that aspect well into the floral heart.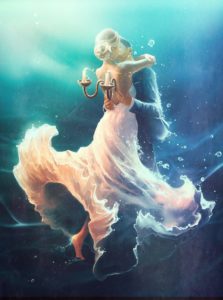 Life is Now Cyril Rolando
The texture of the fragrance is almost that of watered silk – a delicate moiré Anglaise. Lustrous, creamy white blossoms and sweet mandarin contrast against repeated, rippling patterns of green melon, blue water and the scent of amber and woods. The translucent character of Elfen Spring might also translate to sheer, blue-green ombre chiffon, enveloping the wearer in diaphanous veils of muguet, water lily and tuberose. Elfen Spring is discrete, long lasting and far more complex and satisfying than a cursory first sniff would suggest. Fragrance notes and accords: Mandarin orange, lotus, water notes, melon, gardenia, water-lily, tuberose, lily of the valley, precious woods, amber, musk.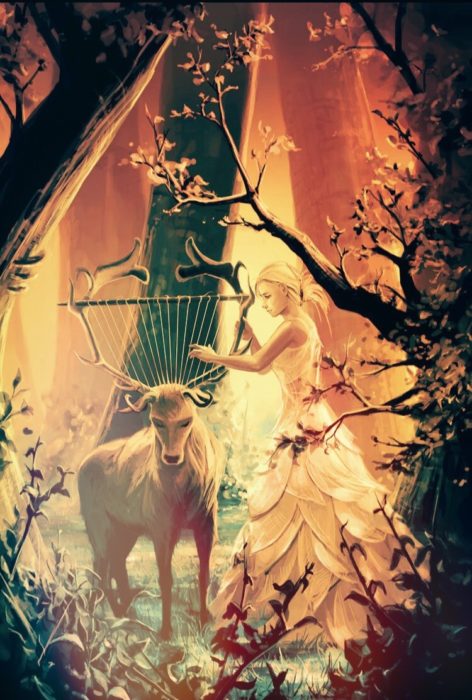 Feral Strings by Cyril Rolando
Regal Secret – For me this is a scent of summer. The initial bergamot, pineapple and juicy fruits create a refreshing cologne-like effect that satisfies my craving for citrus. Regal Secret recalls the classic, cooling scents I so liberally applied long ago and brings back memories of sunny days, the buzz of cicadas and hot afternoons relaxing in the shade of sprawling live oaks. This summery fruit punch is quickly modified by the powder and sweetness of heliotrope and a bouquet of orange blossom, jasmine and lavender creating a smooth, translucent, crisp scent experience, similar to the feeling of cotton lawn against the skin.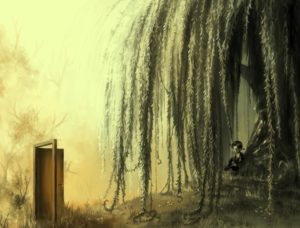 Secret Garden Cyril Rolando
Cotton lawn (originally manufactured in Laon, France) is a type of lightweight semi-sheer cotton with an ultra smooth, crisp finish and a sleek, silky hand. After about two hours Regal Secret slowly loses this cooling, crisp quality and begins a long dry down to the final creamy, napped, suede-like finish of oakmoss, warm vanilla, ambergris and musk. Regal Secret is a light, polite, long-lived oriental fruity-floral Eau de Parfum, reminiscent of summer but suitable for any season. Fragrance notes and accords: Bergamot, pineapple, fig, cassis, orange blossom, white suede, jasmine, lavender, rose, oakmoss, ambergris, vanilla, heliotrope and musk.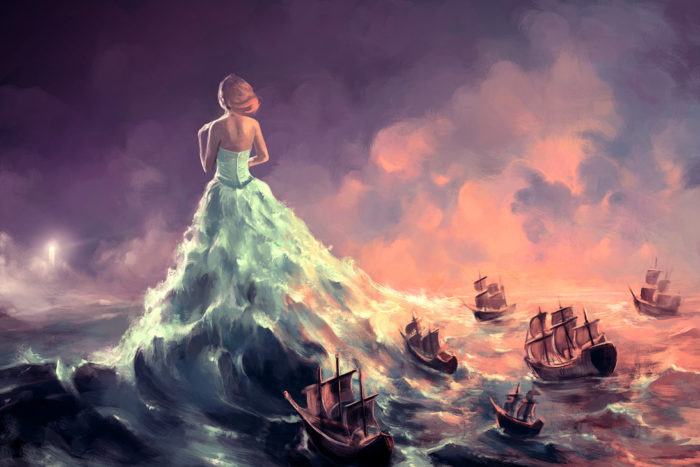 Calypso by Cyril Rolando apped by MC
Eternal Voyage – I am immediately taken with dark, smoky labdanum spiced with a breath of cumin, coriander and some sort of peppery accord. Within minutes this dusky, peppery scent is highlighted with notes of sweet, caramelized brown sugar, burnt crème and amber that give a luscious iridescence to the fragrance, akin to the visual effect and feel of shot silk velvet (changeant or nacre velvet). The colors of Eternal Voyage are hues of rich rose and russet, laced and threaded through with reflective golden amber.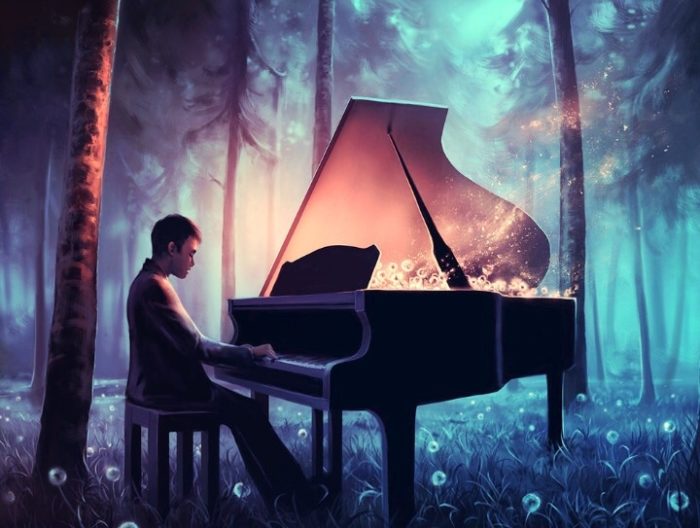 Dandelions by Cyril Rolando
In order to create shot silk velvet, the fabric is loomed using different colors of yarn for the warp and weft. The resulting iridescent effect is enhanced by the texture of the velvet pile, creating both depth and shimmer. In the dry down Eternal Voyage becomes ever richer and deeper as the animalic notes of civet and castoreum give a furry, velvety texture to the vanilla, sandalwood and tonka bean. This dark beauty has a more pronounced sillage than either Elfen Spring or Regal Secret. The scent opens up and spreads out with time, but remains well mannered and comforting through its long life on the skin, a gorgeous, warm semi-gourmand oriental perfume suitable for both men and women. Fragrance notes and accords: Spices, labdanum, rose, brown sugar, amber, civet, castoreum, sandalwood, vanilla, tonka bean and smoke.
Elfen Spring, Regal Secret and Eternal Voyage were all created in 2016 and are available in 50ml spray, ethanol-free Eau de Parfums.
I would like to thank Eugene and Emrys Au for the samples of these lovely fragrances. Opinions are my own.
Gail Gross – Sr. Contributor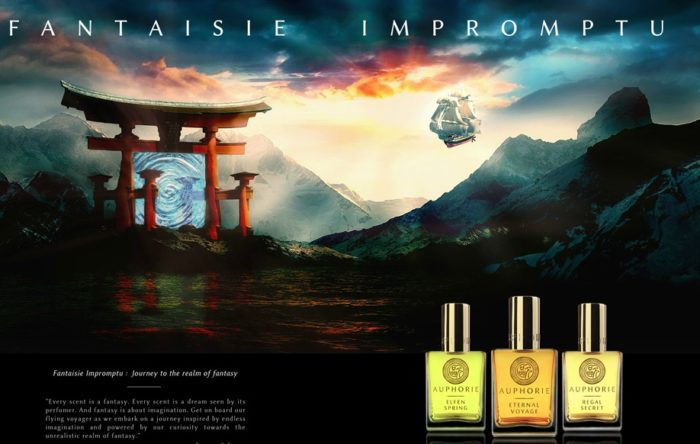 image for Auphorie Elfen Spring, Regal Secret and Eternal Voyage Art courtesy of Auphorie
Art Director: Michelyn Camen – I was inspired by the art for these perfumes used by Eugene and Emrys and chose the fantasy/ surreal Illustrations by Cyril Rolando French digital artist Cyril Rolando aka Aquasixio whose work is available for purchase on deviantart.com here ​

Thanks to the generosity Eugene and Emrys Au and Auphorie, we have a reader's choice of a 50 ml bottle of Elfen Spring, Regal Secret or Eternal Voyage for one registered reader worldwide (be sure to register or your comment will not count).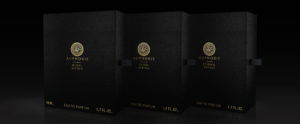 Each fragrance is made in small batches and have limited quantities. If you would like a coffret of all three x 10 ml, the Au brothers will be able to do this for our readers. To be eligible, please leave a comment with what appeals to you about any one of these fragrances, based on Gail's review, where you live and which scent you would chose should you win. Do you assoicate fragrance with textiles? Draw closes November 20, 2016.
We announce the winners only on site and on our Facebook page, so Like Cafleurebon and use our RSS feed…or your dream prize will be just spilled perfume