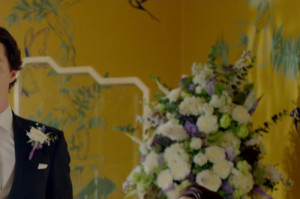 Our highest assurance of the goodness of Providence seems to me to rest in the flowers-The Memoirs of Sherlock Holmes (Arthur Conan Doyle)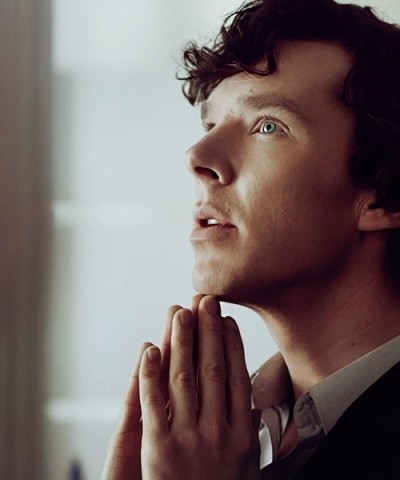 Benedict Cumberbatch as Sherlock Holmes 2010 BBC Series
What is meant by the "clarification of the mind?" What would one need to ingest, to read or study to achieve it? To create one ultimate, shining moment wherein one's thoughts could rest securely, and relieve themselves of the need to flood our consciousness with ever more increasing distractions?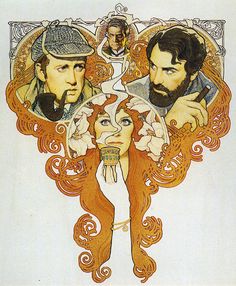 Richard Amsel's original art for The Seven Percent Solution Movie (1976)
Sherlock Holmes is said to have partaken of a 7% solution of both heroin and cocaine to find an inner realm where his mind could ascend into a pure state. And now Shelley Waddington, of En Voyage Perfumes, has asked us to sample her limited edition release, The Seven Percent Solution, in the hopes that it may do the same. There is no illicit drug embedded in this scent – only a plush, scintillating and very clever mix of orange citrus, dusty herbs and flowers which hover over a sweet base of vanilla and sandalwood. While the 7 Percent Solution may not "clarify the mind", it will definitely settle one's nerves quite nicely. This perfume is one giant, relaxing "Ahhhhh" moment for the body and soul.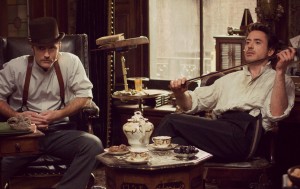 Robert Downey Jr as Sherlock Holmes 2009 and Jude Law as Watson
The 7 Percent Solution begins abruptly with a dewy and sharp sheen of bitter orange citrus and green citron, which is immediately smoothed out by an enormous, billowing magic carpet of sumptuous osmanthus. The osmanthus note at the start of this fragrance is without question more than intoxicating enough to act as a proper heroin surrogate; your eyelids will get heavy and happy at first sniff here. This may be the first fragrance I've sampled that warmed my belly in the same way that a proper dram of whiskey should. Your entire body responds to how The 7% Solution begins.
But, as with all of Shelley Waddington's work, the framing of the scent is as integral to the experience as the notes themselves. The heart in this perfume develops into a dusty and deep frangipani note, and the transition between the swooning hugeness of the osmanthus and the dry, herbal border of the frangipani is breathtaking and deeply grounding. I could fall happily asleep right at this moment in the 7 Percent Solution's development, like Dorothy in the poppy fields or Mr. Holmes and his morphine.
But the heart soon shifts into a lighter, soaring floral phase, with narcissus and a "summer blooming flowers" accord that feels on the skin what watching a flock of birds taking sudden flight looks like to the eyes. There is a brief and delightfully airy white petalled rush which arrives after the exotic herbal trail of frangipani that is as giddy and light as the opening was warm and soporific.
And without that sudden elevated white floral rush, you wouldn't notice the incredibly sweet and delicious drydown when it arrives. A gourmand's delight of amber, vanilla and sandalwood is perfectly underscored by a tight accord of white woods, oak and musk in the 7 Percent Solutions' third act. And again, here is the wondrous magic of Shelley Waddington's expertise in building a fragrance: the musks and woods at the base of this scent are focused and taut, and they provide a wry, detailed counterpoint the sweetness one expects of a scent where vanilla and amber make an appearance. Each note has been carefully deployed, not only for what itself provides, but how it provides a supporting structure to the notes around it. En Voyage perfumes not only wear fantastically on the skin, but they will show you things as well, about how perfumes can develop properly and how to display the intricate mechanisms present as a scent builds over time. Each phase hearkens back to a theme or note pairing that arrived earlier. In the 7 Percent Solution, an enormous and warm outpouring of osmanthus in the top notes is mirrored in the base by the warmth of comforting vanilla and amber, while the heart is a soaring contrast between the earthy dry dustiness of frangipani played against an exhilarating white floral escape from gravity.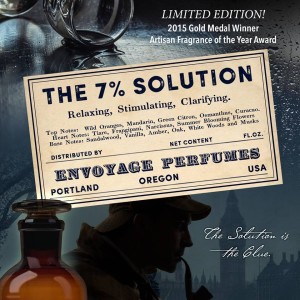 The 7 Percent Solution won the prestigious Taste TV Gold award at this year's Artisan Fragrance Salon, and was a Limited Edition release debuting as one of fragrances in the multi perfumer project "The Unreleased " for the San Francisco's fragrance shoppe Tiger Lily. It is an Eau de Cologne strength fragrance, with average longevity and sillage.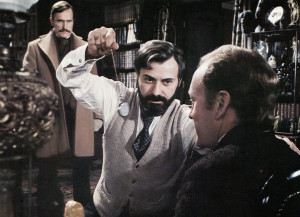 Robert Duvall as Watson , Alan Arkin as Dr Freud and Nicol Williamson as Sherlock Holmes in "The Seven-Per-Cent Solution," 1976
But this is as it should be – for a scent modeled after the narcotic pursuits of one of the literary world's great sleuths, it should not overstay its welcome. The 7 Percent Solution is a scent for when you may feel that the best way to "clarify your mind' is to step completely out of it and let your senses drive for a while. It's a woozy and wonderful hammock to lie in and tune the outside world down to a sweet vanilla and apricot-tinged happy little hum.
Notes: Wild Oranges, Mandarin, Green Citron, Osmanthus, Curacao, Tiare, Frangipani, Narcissus, Summer Blooming Flowers,Sandalwood, Vanilla, Amber, Oak, White Woods and Musks
Disclosure: sample received from En Voyage Perfumes, Opinions in this review are my own.
Pam Barr, Senior Contributor
Art Direction Michelyn and commentary
Editor's Note: The book,The Seven Percent Solution: Being a Reprint of the Reminiscences of John H Watson is on my "one hundred books you must read before you die" list. It was written in 1974 by an American…writer Nicholas Meyer. In the book, and in the subsequent movie, Dr Watson is convinced that Holmes is delusional from his addiction and sends him to Vienna to meet Dr. Sigmund Freud who becomes involved in a kidnapping case; in my opinion re-invented the Sherlock Holmes genre for a new generation. I used various photos from modern movies, but Shelley revealed that Benedict Cumberbatch was her ideal Sherlock.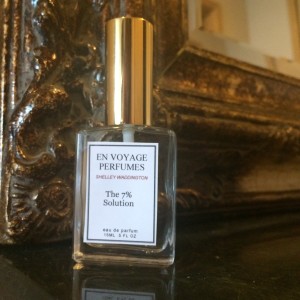 Photo By Shelley
Seven Percent Solution is sold out save for a .5ml bottle and thanks to Shelley Waddington we have a worldwide draw for a .05 oz bottle as shown. This is for registered readers only.To be eligible, please leave a comment below with what you liked about Pam's review, where you live and your favorite En Voyage Perfume. We also would love to know who played your favorite Sherlock Holmes. Draw closes 12/6/15.
We announce the winners only on site and on our Facebook page, so Like Cafleurebon and use our RSS option…or your dream prize will be just spilled perfume.