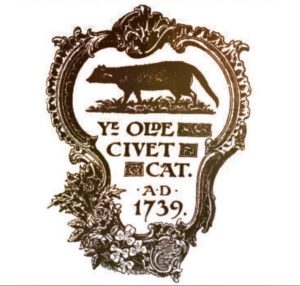 Ye Olde Civet Cat Cafe
There are few things that I really love in life and perfume has always been at the top of my list of loves. While I love all kinds of perfume, it is in all honesty that I can say that my love of perfume is thoroughly entrenched in my love of one single note than any other, civet. Yes, from that one single note my love of perfume developed and has never subsided. To this very day I've never grown tired of its charms. I actively seek out pretty much anything that barely even mentions the word as being (even remotely) associated with it. By and large finding such scents has been left to the realm of vintage rummaging. Why? Well, over the years the use of civet faded from use in perfumery for a multitude of different reasons (cruelty/ethical concerns, scarcity, and changing consumer tastes), but, among perfumista circles, it is (for good or bad) fondly remembered and loved. Now, over the past 5 years or so, it has slowly garnered enough attention that it's well on its way to making a firm comeback.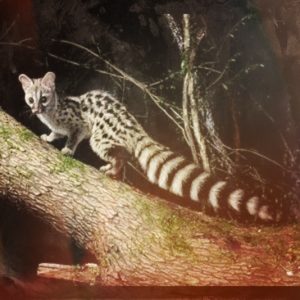 Civet is not a cat but a nocturnal mammal distantly related to mongooses wikipedia digitalized MC
Like with most any "come back" there are and will be differences to what we might remember and expect of course, because things have changed a lot over the past century. In the old days the note was obtained naturally from the perineal glands of the beautiful civet cat (by killing the animal or painfully scraping the glands). These days the note is almost exclusively synthetic, but, anyone familiar with the natural can arguably attest, newer synthetic versions are pretty spot on recreating the unique quality of the note with some (sometimes unfortunate) variation. However, ethically speaking, there is no alternative and, in my opinion, the differences can be overlooked without much fuss.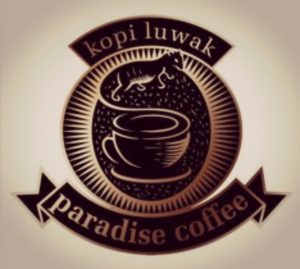 Kopi luwak coffee
Another aspect of civet and it's use (outside perfumery) is its relation to one of the world's most expensive coffees, Kopi Luwak. This coffee is derived from the droppings (yes, poop) of the Asian palm civet which contains digested "coffee cherries" essential to the coffee's existence. Used here, the glands make no contribution to the coffee. So, while the actual perfumery note of civet has nothing to with the coffee itself, it nonetheless adds a further dimension to civet as an animal. More importantly, it brings us to another very important note in modern perfumery over the past 20 or so years, coffee.
Victor Wong of Zoologist and Perfumer Shelley Waddington
Here in late 2016, as we venture along the big circle of life, 2016 Art and Olfaction Award Winning Creative Director Victor Wong and Perfumer Shelley Waddington set out to add another edition to the ethically friendly Zoologist line (they also collaborated on 2015's Hummingbird). The goal was to capture the essence of all things civet in a new fragrance edition named aptly, of course, Civet.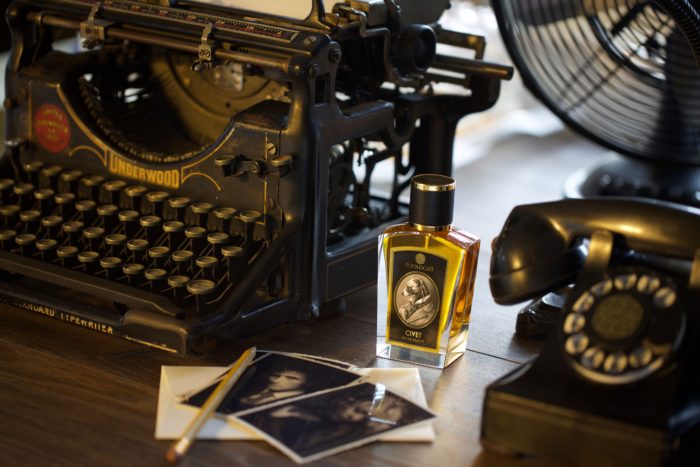 Tableau created for Civet… Photo from Victor Wong for CaFleureBon
In his own words, Victor explained their vision to me: "Civet is the second scent in the 'Zoologist Animalic Musk Trilogy'. The first one is 'Beaver', which features castoreum. Civet, as the name suggests, features civet musk. Originally I wanted Civet to make a strong statement (aka "stink bomb"), and only a handful of perfumistas would appreciate it. However, as we developed the scent, we realized that it was better and more interesting to do the exact opposite – a sensual, rich but low-key musky scent. The florals and spices in this scent are rather subtle and well-blended so that you couldn't easily tell what is in the formula, but they form a strong supporting ensemble just enough to muffle the distinctive civet musk. The end result is a vintage-style scent that is resinous, dark and mysterious, and a little bit dangerous."
Shelley added:"Receiving Victor's Civet brief was a confirmation of how well he understands my wheelhouse as a perfumer. Every perfumer has a bailiwick, a sweet spot, and this 'classic-with-naturals' is mine. Plus, Victor and I immediately leapt to the thought of 'Kopi Luwak', which I've always amusedly thought of as the 'civet butt' note. It certainly brought a lot of magic into the fragrance and fits so perfectly into the concept of Civet."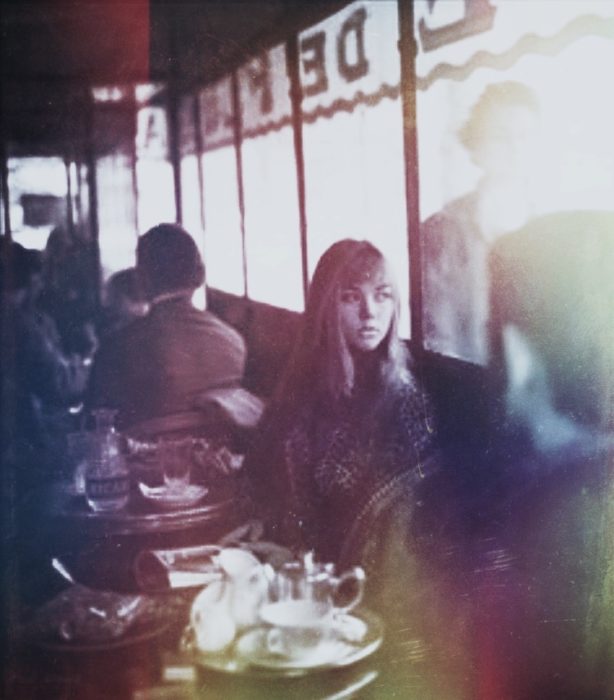 Cafe Flor Paris photo by Robert Capa 1952
I was intrigued from the very moment I heard about this collaboration. The very second I heard about it I wanted to be one of the first to try it. Thanks to Victor and Shelley, I had the opportunity. Civet opens with a tremendous cloud of floral and spice (with an emphasis on spice). Immediately I recognize the more clove like aspects of carnation mingled with orange and a black peppery nuance which warms things up and also helps to diffuse the otherwise less distinct florals. There is a slight tang of bergamot/citrus involved which gives a lift to the composition, but seems to primarily act as an effervescent to an overall spicy vibe. In certain respects the orange starts to turn to a more not quite apricot-ish like aldehyde type thing as the floral notes start to take shape after about ½ hour in. I love it.
Paul Brassai Paris By Night
Moving into the mids the floral character really starts to take hold. Here there is a very deep butteriness of tuberose that lurks to bind everything together. It's is most certainly seductive and calls to mind vintage perfumes very nicely without crossing the line into old-fashioned. Carnation is still evident, but grows less and less evident as time progresses. Ylang lends a hand here as it fades and helps continue the binding process while caressed with a very slightly powdery heliotrope. The combo is accented with sweetly accented florals and civet which is executed beautifully. There is a hint of naughty with the civet, but it's very well tempered. There is no doubt about it, this smells of sophistication and is very well laid out.
Paul Brassei Paris by Night
As we move into the base coffee begins to mingle in and out of the mix in a very clever fashion. It is not necessarily front and center at all, but still ever present. There is still quite a bit of presence of tuberose which is now coupled with a very, very slight hint of vanilla. There is also a resinous (almost woody) and slight leather vibe that rises amidst it all that acts to darken the composition rather nicely. In the very end there is coffee, vanilla, civet, spice powder, and, yes, tuberose that sticks rather discretely to the skin for a very long time. I have to point out here that the overall longevity is massive (8-10 hours +)! I might add that spraying on fabric, really enhances the fragrance beautifully and adds even more longevity to the marvelous mid notes. I'd recommend it.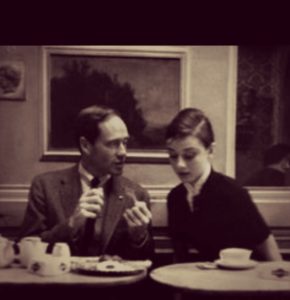 Actors Mel Ferrer and Audrey Hepburn: Photo Yul Brynner
What we are left with is an absolute stunner of a fragrance. Without a doubt there is a vintage air to the composition, but done so with a keen eye on doing something contemporary and somewhat different than the traditional civet scents of the past. Marrying the different historical uses of the animal into one makes for a very interesting take and shows huge respect to the wonderful animal that begat it all.
Top Notes: Bergamot, Black Pepper, Lemon, Orange, Spices, Tarragon
Heart Notes: Carnation, Frangipani, Heliotrope, Hyacinth, Linden-blossom, Tuberose, Ylang
Base Notes: Balsams, Civet*, Coffee, Incense, Labdanum, Musks*, Oakmoss, Resins, Russian Leather*, Vanilla, Vetiver, Woods
* As with all Zoologist fragrances, synthetic ingredients were used in place of any animal products. Civet Eau de Parfum does not use animal products.
Disclaimer: Civet sample provided by Shelley Waddington for Zoologist – thank you! Opinions are my own.
Aaron Potterman, Contributor and Vintage Perfume Expert
Art Direction; Michelyn. I wanted to capture the seductive, vintage vibe of Civet and used Paris Cafe Society photographs from Paul Brassei, Yul Brynner and Robert Capa spanning 1930s-1950s to evoke a mood rather than just a literal translation of civet.
Editor's Note: Zoologist Perfumes was awarded our 2016 Best Fragrance for Bat (Dr. Ellen Covey) and Best Independent House. Civet was also Contributor Robert Herrmann's pick for a Best Fragrance of 2016. Civet will be released December 31, 2016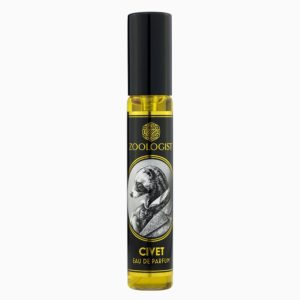 Thanks to Victor Wong we have a draw for a registered reader worldwide for an11 ml Travel Spray. To be eligible please leave a comment with why you would like to try Civet based on Aaron's review, where you live and if you have a favorite Zoologist Perfume. Draw closes January 4, 2016
We announce the winners only on site and on our Facebook page, so Like Cafleurebon and use our RSS feed…or your dream prize will be just spilled perfume