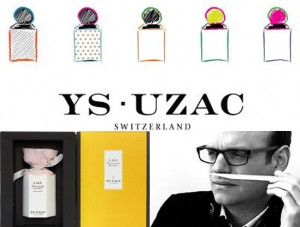 Ys Uzac Perfumes and Creative Director Vincent Micotti
Some fascinating artistic scents have been coming out of Switzerland over the past few years with the exquisite vintage pornography of Vero Kern, Andy Tauer's essays in nuance and painterly abstraction and the wonderful natural collection of Richard Lüscher Britos that I reviewed recently on ÇaFleureBon. The other house I must add to this list is the vastly underrated Ys Uzac, founded by Vincent Micotti, a former professional cellist and his wife Vera Yeoh. She is responsible for the exquisite delicacy of the Ys Uzac look, some of the most beautiful packaging in contemporary perfumery. The boxes mix Japanese origami and the texture of lacquer, the bottles nestling in hand-made floral-form cases dressed in silken tissue.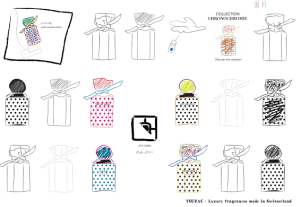 Courtesy of Ys Uzac Perfumes
Tiny drawings are draped across the cartons, adding a stylish artisanal scrawl to oriental perfection. I was astonished when my bottle of arrived in the post; it was like a Meiji era objet d'art. I love the weight of the glassy black bottle top, it feels like obsidian. Vincent and Vera have assembled a complex collection of fragile and poignant fragrances shot through with melodic leitmotifs. Pohadka, Métaboles, Lale ,Monodie (click here for Tama's perfume reviews) are all remarkably beautiful and I don't say that very often. There is delicacy and purpose at play in the structures utilising some distinctive notes such as Mirabelle, rhubarb, licquorice, mint, caramel, cognac, Wintersweet, vernal grass and blond tobacco. Yet each scent has a distinctive personality and rhythm.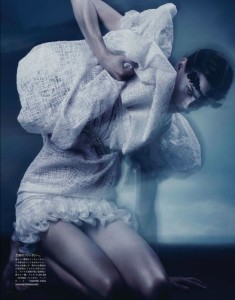 The Virgin Spring Saskia de Brauw & Kinga Rajzak by Solve Sundsbo for Vogue Japan March 2012
Satin Doll is perhaps the standout scent from the YS Uzac collection, a bold and wondrous iris/tuberose chypré. The traditional chypré genre has all but been murdered by reformulation due to the punitive erosion of oakmoss levels (evernia prunastri) by regulatory bodies such as IFRA. In recent years, the term neo-chypré (even I have used it…) has been bandied about a lot to try and categorise a new generation of patchouli and resinous fruit-tainted scents that play with rose, iris and jasmine. The lack of large doses of true moss is telling, but some perfumers, most notably Betrand Duchaufour have managed to create chypré riffs that smell new with hints and echoes of nostalgia.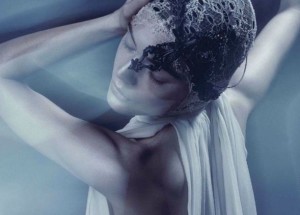 The Virgin Spring Saskia de Brauw & Kinga Rajzak by Solve Sundsbo for Vogue Japan March 2012
There was a lot of buzz surrounding Satin Doll at Esxence in 2013. After my recent love affair with Mathilde Laurent's La Panthère, another lovely neo-chypré (told you…) I revisited Vincent's powdery scent and found it alluring and immensely compelling on my skin. Despite the fragrance's reference to the famous Duke Ellington & Billy Strayhorn track, this is not an upbeat formula, but a hyper cloudy, opaque projection of tuberose and jasmine on washed out skies. The chypré aspect shimmers and radiates out from the careful application of oppoponax and a transparent veil of patchouli and myrrh laid gently over the final stages as if the notes were gathering for sleep. The key to Satin Doll's persuasive beauty is the careful movement of musical perfume between the rich flounce of tuberose absolute and the silky tone of bruised iris pallida.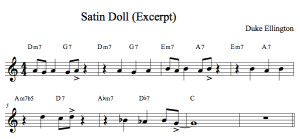 The beauty of Ys Uzac is not conventional, but strange and earned, discernible from unique angles of light and perception. The musical motifs that Vincent uses are deliberate and modulated with passion and care. Ys Uzac is undiscovered musicality for many, I suggest you listen to the notes and allow yourself to be seduced.
–The Silver Fox, Editor and Editor of The Silver Fox
Disclosure: Review based on my own collection
Art Direction: Michelyn Camen, Editor in Chief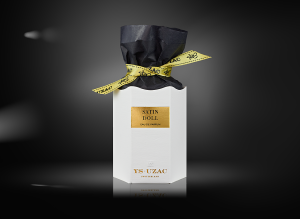 Thanks to our friends at Luckyscent.com we have a draw for three CON USA readers for three samples of Ys Uzac Satin Doll. To be eligible, please leave a comment about what enticed you about The Silver Fox's Review of Satin Doll. If you want your comment to count twice you can tweet " #YSUAZCSatinDoll #perfume @luckyscent @scentofelegance @fifthsensenyc @Esxence". Draw closes 9/22/2014
We announce the winners only on site and our Facebook page, so like CaFleureBon and use our RSS option…or your dream prize will just be spilled perfume.