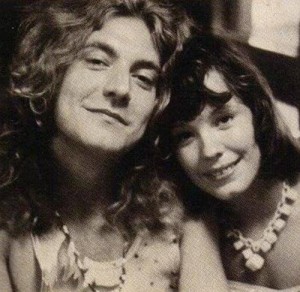 Robert Plant with one of his groupies Pamela de Barres
"Meet me in the middle of the air,
If my wings should fail me, Lord. Please meet me with another pair" -From Led Zeppelin Physical Grafitti, 1975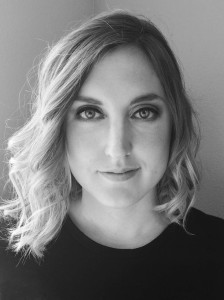 Jeanette Jo Price of Wax Poetic
Inspired by poetry and perfected through passion, Wax Poetic launched in 2015 by California based perfumer Jeanette Price who composed three perfumes: Ember, Flight, and Fruition. Each fragrance is created by Jeanette in true artisan style, in small batches and housed in bottles that are hand dipped in black wax. Jeannette describes her scents as sensorial poetry with olfactive diction.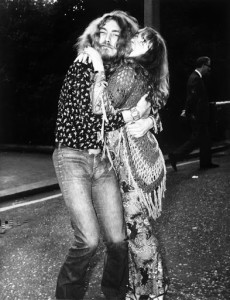 Robert Plant and Pamela de Barres
If Ember is about renewal of the earth and soul, Flight is inspired by air and our spirit yearning to be free of social and moral constraints. This eau de parfum is a splendidly daring fragrance and not necessarily only for the way it smells, but for the way it makes you feel. Flight is for the non-conformists, those painted with a different brush. Their own. With the first spritz upon my wrist I am instantly aware of how well Jeanette takes the concept of rebellion and translates it into a scent. Beginning with a burst of kinetic energy the sparkling grapefruit t uplifts my spirits and sets the stage for my inner alpha; champagne bottle in hand and ready to drink straight from the bottle, social etiquette be damned. This is a fragrance of melodic arrogance and speaks to me of brazen counter culture swagger. Flight can be worn easily by both men and women. Sillage is above average and longevity is excellent between 5-7 hours. Notes: Marigold, sparkling white grapefruit, and tomato leaf.
I was listening to Led Zeppelin In My Time of Dying when writing my prose for Flight.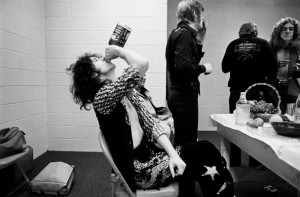 Jimmy Page Drinking Jack Daniels Photo Neal Preston
Pamela in Flight by The Nosey Artist
I sat at the edge of my bed gripping the neck of the bottle as I begin to take in my usual morning wake up drink. No coffee for this young lad, oh no that would never suffice, young rock stars like me need a little more than caffeine to start the day…one good guzzle of Jack Daniels and then I bent over the mirror to powder my nose. As I lifted my head in a sense of calm alertness I looked across the bed to see my latest victim sound asleep.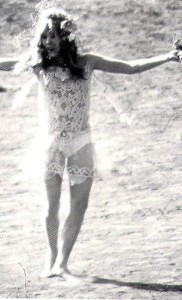 Pamela De Barres
Pamela I think her name was Pamela anyhow, she was gorgeous and one of the most seductive women I had ever encountered, either that or I just felt a sense of accomplishment given I had just seduced another groupie and there she was naked in my bed her long jet black hair thrown across the pillow with her fire engine red lips making the slightest smile of satisfaction. I traced my nose down the crook of her neck to take in the beauty of her smell once more; light traces of grapefruit and marigold tickled my nose. Her perfume was elegant and playful, much like her spirit- so unfortunate that her lovely soul would never be the same again.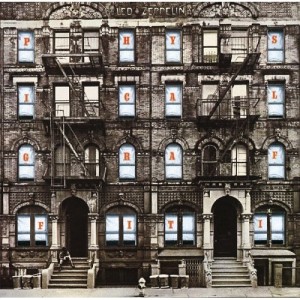 Physical Graffiti album cover Water Street, Manhattan
I rose from the bed and walked over to the floor to ceiling windows of my penthouse as I over looked the New York skyline: I still had my 22 year old body, I was rich, famous, a sex symbol, and had the world in the palm of my hands. As I contemplated my fortunate fate the lyrics to a song I once sung in my past life came to mind, "In my time of dying, don't want nobody to moan.."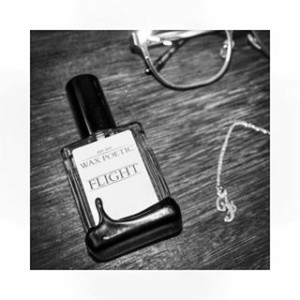 Abruptly my thoughts were interrupted as I felt his presence fill the room, I knew he was behind me just watching and reading my mind; I'm sure he was amused that I was singing the same song that he once greeted me with long ago. As I turned around to face him the most airy scent, maybe Lucifer's began to seduce me, it was crisp and green like crushed basil or tomato leaf and made my body feel as if it was levitating.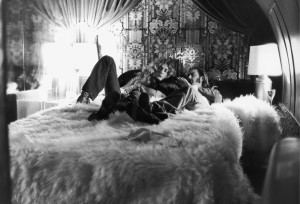 Robert Plant & manager Richard Cole in bed discuss details of their upcoming concert, New York City, New York, July 30, 1973. (Photo by Express Newspapers/Getty Images)
"Hello my love", he spoke to me in the most celestial voice. Strangely enough compared to all the women who have fallen victim to my powers he had to be the most beautiful being I had ever seen in my life, he had pristine porcelain skin that shined like diamonds and long flowing hair that seemed to change colors depending on his mood; which at the moment was dirty blonde so I knew he was content and probably slightly amused which definitely put me at ease.
He walked over to me and placed his impeccably manicured hand atop my shoulder and cracked that picture perfect smile as he observed Janice sound asleep, "I'm surprised this never gets old to you, 66 years and you still haven't changed." I knew he was being facetious, how could this possibly get OLD to me when I had 600 more years left on this earth? Before I could answer him he bent down to kiss me on the forehead and as I closed my eyes and his lips touched me they seemed to warm my skin and enchant my soul. I became elated as the smell of fresh tomato leaf once again subdued me for what felt like an eternity, then right as I begin to snap out of it-POOF-he was gone like he never even came.
I stood there feeling melancholy as the warmth from his lips was still felt on my forehead; I turned back to the bed to observe Janice once more. There were moments when I wanted to change, but what's a lad to do? I sold the only thing I truly owned to take from this world as I truly please. I bargained my soul for the sky, my will for wings, my freedom…for Flight.
–The Nosey Artist, Contributor
Art Direction: Michelyn
Disclosure I received my sample from Wax Poetic
Follow @the_noseyartist, @waxpoeticinc and @cafleurebon on Instagram
Thanks to Jeanette Price of Wax Poetic Perfumes we have a draw for a USA or Canadian registered reader (you must do this pesky step or your comment is void)
A reader's choice of a 30ml bottle of Flight
OR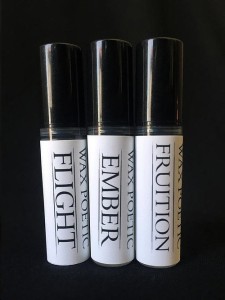 Sampler Set of all three Wax Poetic fragrances Flight, Ember, and Fruition
To be eligible leave a comment with what appeals to you about Flight from The Nosey Artist's review and his perfumed prose, the fragrance you would like to win and where you live. Draw closes 12/7/2015
We announce the winners only on site and on our Facebook page, so Like Cafleurebon and use our RSS option…or your dream prize will be just spilled perfume