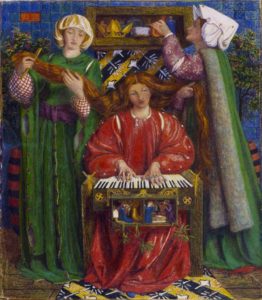 Dante Gabriel Rossetti, 'A Christmas Carol', captioned 'Xmas 1857-8
I am unapologetically Christmas Obsessed. "Christmas creep" is a non sequitor for me; my house is fully decorated by the first week in November. I love the music, the shopping, and all the carbs; I love giving presents, I love getting presents. I have Christmas clothes and Christmas jewelry, and of course Christmas perfume. I love every bit of the crazy. In fact, I thrive on it. Some call it commercialism, I call it unbridled joy, and I don't plan on cutting back any time soon, with all due respect to minimalists everywhere.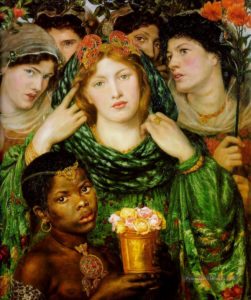 The Beloved Dante Gabriel Rosetti
But there comes a point each year when I take my inner Griswald firmly by her Santa hat, sit her down with a moose mug full of eggnog and call it done. Everything is twinkled, tinseled and jingled; it's time to take a deep breath and relax in to the "all is calm", "peace on earth" portion of the holiday. And this year Laurie Stern at Velvet & Sweet Pea Purrfumery has come up with the perfect fragrance for this: Rose Encens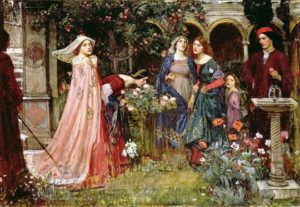 John William Waterhouse The Magic Garden
Rose Encens opens in Laurie's garden, with succulent blood oranges and vibrant, aromatic lime. (I'm always amazed at the richness of Laurie's citrus; there's never any unpleasant sharp or sour notes, just a wonderfully fragrant, mouth-watering juiciness.) Within a few minutes, the roses begin to unfold….dozens and dozens of roses.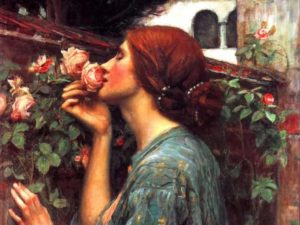 The Soul of The Rose by John William Waterhouse
You get the feeling of being surrounded by roses in a garden, the lovely scent wafting in the air all around you, and yet there's also the slightest hint of green, which gives the effect of a freshly cut bouquet. Rose Encens is a must-have for any rose lover; I can't think of any other rose fragrance that smells this realistic.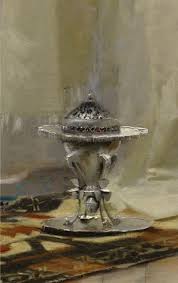 John Singer Sargent. Fumée d'Ambre Gris. Detail of Incense Brazier
But what has made this perfume magical for me is the Frankincense. It's so seamlessly blended into the rest of the notes that I didn't even realize what it was initially; at first I thought Laurie had found some especially gorgeous, warm roses for this new creation. But once the Frankincense took the spotlight, there was no mistaking it for anything else. It is incredibly beautiful, with a depth I haven't experienced before in any other incense fragrance. But here's where the magic came in: it's like serenity in a bottle for me.

A detail from the Briar Rose series by Sir Edward Burne-Jones
I have never been particularly into aromatherapy. Although perfume in general is very therapeutic for me, the actual practice of aromatherapy is not something I've ever explored. But I started noticing that every time I wore Rose Encens, I felt noticeably calmer. This was astonishing to me, since calm is not something I am accustomed to feeling in mid December. I could feel my heart rate slow down.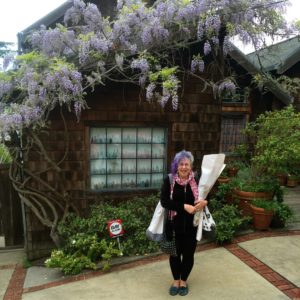 Laurie Stern, Natural Perfumer and founder for Velvet & Sweet Pea's Purrfumery
This happened time and time again, at home, at Wal-Mart, at the doctor's office. My very own Christmas miracle, courtesy of Laurie Stern!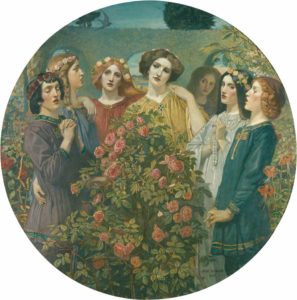 Hymn To A Rose John Duncan
Please don't think this is a seasonal fragrance; you could and should wear Rose Encens any time of year! Citrus and roses and incense can be enjoyed in every season; this would be gorgeous for Valentine's Day, and any Mother would appreciate getting such beauty on the day we celebrate her. But Rose Encens truly has been perfect for me during the wonderful madness that is December and it's going to be a holiday tradition for me from this year forward.
Notes: Blood orange, lime, rose, resin essences
DISCLOSURE I purchased my own bottle of gorgeous & serene on December 8th, and am already a third of the way through it.
Tammy Schuster, Sr. Contributor
Art Direction: Michelyn Camen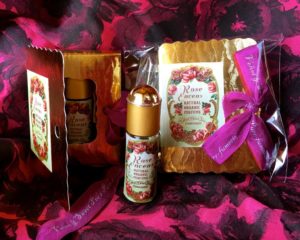 Thanks to Laurie Stern of Velvet & Sweet Pea's Purrfumery we have a draw for a registered reader USA resident for a bottle of Rose Encens. To be eligible please leave a comment with what you enjoyed about Tammy's review, and if you have a favorite aroma that calms you this time of the year. If you have a favorite Velvet & Sweet Pea's Purrfumery, please let us know. Draw closes 12/31/2016
We announce the winners only on site and on our Facebook page, so Like Cafleurebon and use our RSS option…or your dream prize will be just spilled perfume