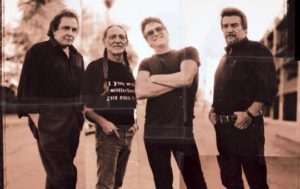 The Highwaymen – Johnny Cash (left), Willie Nelson, Kris Kristofferson and Waylon Jennings known as The Mount Rushmore of Country Music
El Cerrito, California's Laurie Stern, founder of Velvet and Sweet Pea's Purrfumery, released a limited edition fragrance, Highway– a tribute to wanderlust, new beginnings and the song behind the 2016 PBS film "American Masters- The Highwaymen: Friends Till the End" which celebrates the personal and musical relationship between Willie Nelson, Johnny Cash, Waylon Jennings and Kris Kristofferson.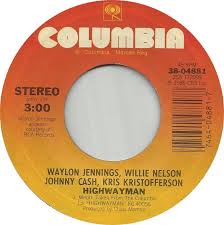 The song itself,Highwayman, written by Jimmy Webb in 1977, chronicles the journey of a soul through incarnations as highwayman, sailor, construction worker and captain of a starship and was recorded by these country legends in 1985.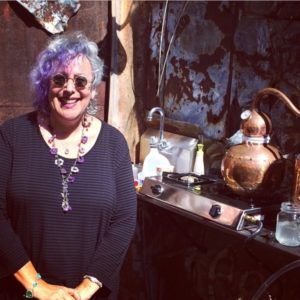 Laurie Stern Velvet and Sweet Pea's Purrfumery via instagran with Lemon verbena distillation
"I'm evoking new beginnings with this perfume," Laurie says, "That rambling, roaming change and the fluid nature of our lives is at the heart of this perfume." Something which fans of all kinds of music can relate to, not just those whose hearts beat with a bit of twang.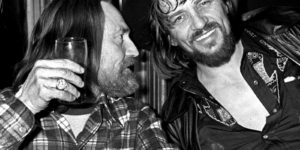 Willie Nelson and Waylon Jennings drinking
The unisex aroma is rich with Velvet & Sweet Pea's Purrfumery aesthetic, from the ornate packaging to the ornate aroma within- the experience is both sweet and somewhat boozy- a winding road of wooden, floral and herbaceous mile markers.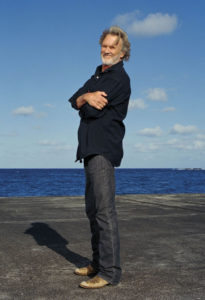 Kris Kristoffersen on the road
The opening is a citrus and neroli swirled vanilla- somehow a nostalgia which beckons to the road. Black currant bud provides a hint of the exotic, jasmine sambac offers the promise of something romantic- all hallmarks of a classic road trip. Although there are suggested notes of something alcoholic, Highway seems to be only hinting at the country music go-to and Willie's proclivities are surprisingly absent.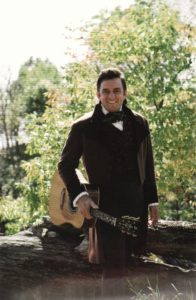 Johnny Cash in the woods Jim Marshall
As Laurie says- this is "a scent that speaks to the roaming heart", and as Highway dries down, it is also a strong support for these brave nomadic souls- a forest of woods including cedar and black spruce offer a sturdy framework for the adventure. Camping under the canopy is not a far removed thought, and Highway proves to be as comforting as it is thrilling.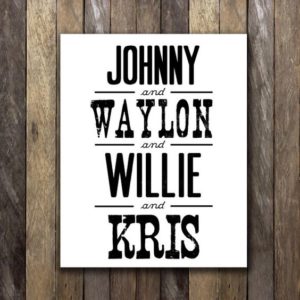 A limited edition from the natural "Purrfumery" house, Highway is a moment in time, and one which may never pass this way again- not unlike the grouping of country music legends who have traveled roads we dare not and bring back the emotive stories we dare not live. For myself, Highway is the impulse-leave-the-city-I'm-not-reachable-camping which I used to succumb to as often as I could.
Notes: citrus, berries, cedarwood, vanilla and blue spruce, black currant bud, neroli, jasmine sambac, frankincense, green mandarin
–Einsof, Natural Perfume Editor
Art Direction-MC
*disclosure: my sample was provided by Velvet and Sweet Pea Purrfumery for review.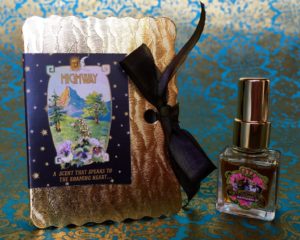 Thanks to the generosity of Velvet & Sweet Pea's Purrfumery we have a draw for a 4mL bottle of Highway for one registered reader in the USA (you must be registered to be eligible.) Please leave a comment with what you enjoyed about Einsof's review of Highway, your favorite country music song from one of the Highwaymen and if you have a favorite Velvet & Sweet Pea's Purrfumery fragrance. Draw closes 9/10/2016.
We announce winners on site and on our Facebook page- so like Cafleurebon and use our RSS feed option or your dream prize will be just spilled perfume