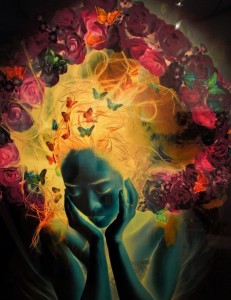 Koh Sang Woo credit Tutt'Art
"But he who dares not grasp the thorn should never crave the rose" -Anne Brontë
"Thorn & Bloom Perfume's philosophy was born of the notion that imperfection can elevate beauty in surprising and spectacular ways. I hope Thorn & Bloom Perfume can help take you where you want to go." Jennifer Botto of Thorn and Bloom believes aroma "…can bring you full blooms in a frozen tundra, fresh grass in a sea of pavement, or a lover's musk when you're all alone." She proves such concepts with her debut line of all natural perfumes and more so also shows aroma can transport you to worlds of beauty which may not be memories you have actually lived.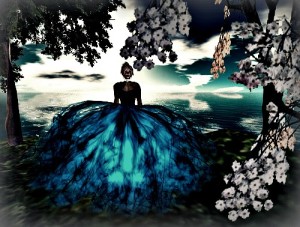 Eshi Otowa Smokey Tux Photo:eshiotowara.com
Seattle is burning. The Emerald City turns pink for a few weeks every spring, streets lined with cherry trees… only this spring it's all ablaze. Stranger in the Cherry Grove opens with cherry blossom as one would expect, although it's not the high gloss synthetic rush of ubiquitous bathing stores and high acidic attempts at capturing the scent of a cherry.No. This cherry is black and full of smoke and resin. The Seattle Asian Art Museum has melted down Volunteer Park; its sticky years of Asian resined silk screens are slowly running down Capitol and First Hills. Rivulets of chrysanthemum and almond colored paint leak toward the sea.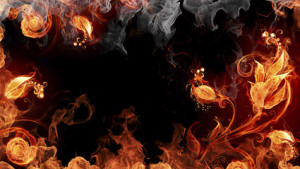 Burning Flowers cdn7.facegfx.com
The cherry wood hangs thick in the air and birch tar and saffron unfurl as smoke signals in the Pacific Ocean air. Birch tar and vanilla give impressions of both burning the city to the ground out of rebellion and burning it as offering- something sweet, something aflame. Perhaps the old Chinese tunnels in Pioneer Square are giving up their aromatic ghosts, years of underground banned and beloved botanicals heaving into Puget Sound.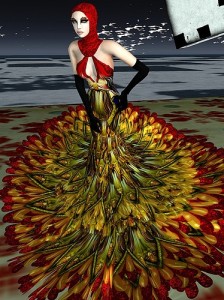 Eshi Otowa Sacred Fire eshiotowara.com
There is a stranger in the cherry grove, a mad or holy woman with a match stick and a smile. She will be there dressed in leather when the almond, amber and cherry accord have faded; she will be there, grinning, a Diamond Strike in hand. She knows you will agree, with growing enthusiasm: this city must burn… and so you spritz again.
Notes: Black Cherry, Cedarwood, Sandalwood, Saffron, Amber, Birch Tar, Vanilla, Chrysanthemum
–Einsof, Natural Perfume Editor
Art Direction:MC Eshi Otowara, painter and designer as well as Koh Sang Woo are not affiliated withThorn & Bloom, or is their art an endorsement. Both Artists depict flowers, women and nature in an almost virtual reality-like manner which seemed to fit Einsorf's review.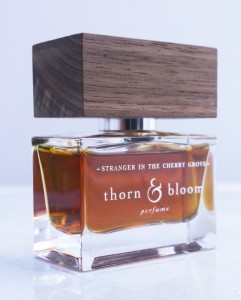 Thanks to Jennifer Botto of Thorn & Bloom we have a draw for 30 ml of Stranger in The Cherry Grove for a registered CaFleureBon US reader. To be eligible please leave a comment with what appeals to you about Stranger in The Cherry Grove, where you live and if you have a favorite quote referencing fragrance or flowers (extra credit). Draw closes July 8, 201
We announce the winner's only onsite and on our Facebook page, so Like CaFleureBon and use our RSS option…..or your dream prize will be just spilled perfume.