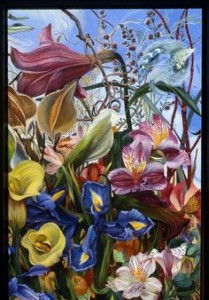 Icon Judy Garfin
Every gardener knows the joy of seeing a seed lovingly placed into the soil and gently cared for until it finally sprouts and pokes forth its curious green tendril to be followed by seed leaves and then watching the true form of the plant come through. They also know tentative and nervous moments after transplanting outdoors, hoping the little green friends will be strong enough to survive the shock of the big outdoor world. And every gardener knows the heartbreak and sorrow of walking out into the garden after a storm, and crying at the torn off flowers, broken stems, ripped apart leaves, and the sap, precious lifeblood of the plants, dripping forth from its wounds.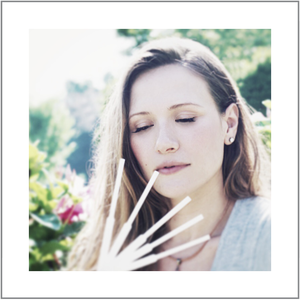 Jennifer Botto of Thorn & Bloom
Artisan Fragrance Salon winning natural perfumer Jennifer Botto of Thorn & Bloom Perfume takes us to the heart of just such a garden, reaching its summer fullness, and guides us through the emotional rollercoaster of a well-tended garden beaten down by nature's power, beautiful but cruel, with her captivating scent Savage Garden.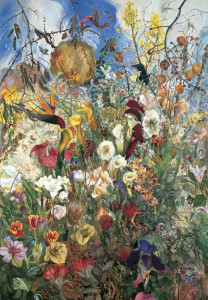 JudyGarfin TambourineSummer
The perfume opens with happy and refreshing notes of fresh herbs with wafts if creamy florals. They combine to build an almost greenhouse effect, providing the sense of humidity and soil to mingle with herb and flower. The combination is enveloping, bringing you right into the heart of this moment, surrounded by vegetative beauty. Each aspect of the scent stands out distinctly, yet readily shares olfactory space with its counterparts.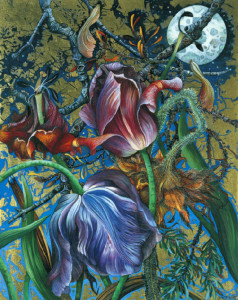 Judith Garfin Fragments of Desire
Then comes a warning, a chill and forceful gusts of stormy winds begin rolling in from the distance. And before there is time to shut the windows and close the doors, the ferocious air rips through the greenhouse, ripping, snapping, and tearing, the scents rapidly swirling around you with bits of herb and flower and dirt. Gratefully the voracious storm passes as quickly as is arrived, but the garden is wounded, and will need much love to recover.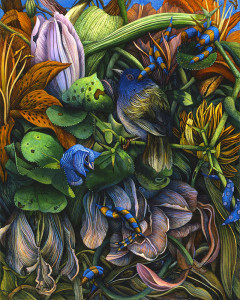 Judith Garfin Bands of Blue
The cold green smell of leaves shredded, flowers bruised, dewy balsamic sap oozing from stems split in half. A moment of shock and sadness overcomes you. It is a moment of heartbreat, followed by one of hope. Nature can be fearsome, but it can also be awe-inspiring. Though battered and bruised, there is also a scent of hope in the air, plants already beginning to mend themselves, waiting for their gardener's gentle hands to give love and care, returning each of them to their former glory.
Notes: Bluegrass, Mint, Tarragon, Ylang Ylang, Tuberose, Violet Leaf, Vetiver, Orris Root, Sandalwood
As winter comes to replace the summer garden months here in the northern part of the hemisphere, Savage Garden provides us a brief reprieve and an olfactory memory of the spring and summer to come.
Michael Singels, Sr. Contributor and Natural Perfumery Editor
Disclosure: Samples sent to me by perfumer for review consideration. Opinions are my own.
Writer's Note: Be sure to take advantage of the holiday season discount codes available on the Thorn & Bloom Perfume site good through December 11th.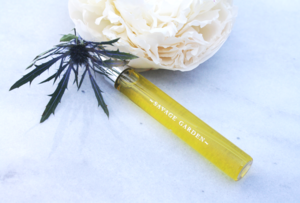 Thanks to Jennifer Botto of Thorn & Bloom Perfume, we have a draw for a sample collection of Thorn & Bloom's collection or a 7.5ml mini of Savage Garden. Draw is open to CON USA and Canada only for a registered CaFleureBon reader. To be eligible please leave a comment with what appeals to you about Savage Garden, or what other scent you would enjoy smelling from Thorn & Bloom's collection, and where you live. Draw closes December 13, 2015
We announce the winner's only onsite and on our Facebook page, so like CaFleureBon and use our RSS option…..or your dream prize will be just spilled perfume.