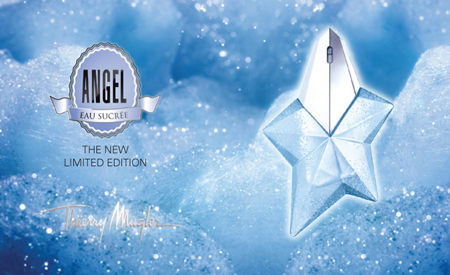 Photo: Thierry Mugler Parfums
Earlier this month Thierry Mugler Parfums released Angel Eau Sucrée the newest version of Angel, the fragrance that has been one of the most polarizing, iconic and bestselling perfumes of the past two decades. Created by Yves de Chiris and Olivier Cresp in 1992, Angel's groundbreaking overdose of ethyl-maltol (the scent of candy floss/caramel) paired with natural patchouli, berries and a floral base, ushered in a wave of perfumes known as Gourmands. Like most popular commercial fragrances, Angel has had many incarnations (a polite term for flankers). Each iteration of Angel I have worn since the mid-90s, have been engaging and interesting forays that keep the decadently delicious soul of the classic alive and Angel Eau Sucrée is no exception.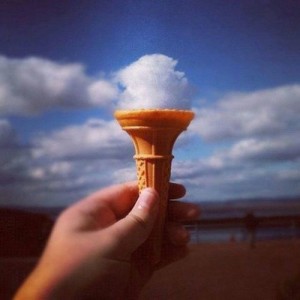 Angel Eau Sucrée, was composed by Perfumer Dorothée Piot of Robertet who focused on the edible aspects of the original, while lowering the concentration to Eau De Toilette. Angel's unmistakeable DNA is there, but Mme. Piot chills the dominant notes into a demulcent scent that shimmers with a cool frostiness associated with refreshing summer desserts. The fruity opening of red berry sorbet captures the nose with an energizing wave of tartness. Frozen berries melt into a whipped chiffon-like heart of burnt meringue infused with floral aromas
Angel Eau Sucrée is more playful and lighthearted than its older sister.The caramel and candy floss are there, but Mme Piot uses a much lighter hand, creating an excellent "alter-ego" for those who just can't wear Angel. I wore Eau Sucrée during 80 Fahrenheit degree days working in my garden, and it was never too cloying or heavy. Parfums Mugler, once again has broken the flanker "mold" by releasing another Angel perfume that is neither boring nor diluted to within an inch of its fragrant life. It is said that Thierry Mugler created Angel from his memories of childhood days spent at summer fairs, Angel Eau Sucrée feels very close to that inspiration. Sillage: good, then average. Longevity: very good (all day or all night).
Notes: Red berries sorbet, carmelized meringue accord, vanilla & patchouli
Disclosure: Review based on tester sample sent to me by Mugler Parfums via Clarins USA.
John Reasinger, Senior Editor & Natural Perfume Editor