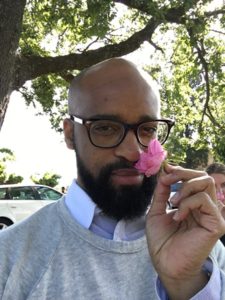 Rodney Hughes Natural Perfumer of Therapeutate Parfums
Natural Perfumer Rodney Hughes, who lives and creates in Bed Stuy in Brooklyn, is a familiar name and voice at ÇaFleureBon, (both as a former Natural Perfume Editor and featured in CaFleureBon Profile in American Perfumery); he is the creative force behind Therapeutate Parfums. This year, Therapeutate introduced a modern minimalist aesthetic at the Capsule- Elements shows in Las Vegas and NYC. What has not changed in all our years of working with Rodney is his commitment to high quality botanical compositions and the richness of perspective Therapeutate continues to offer- or their invitation for us to "Inhale Life."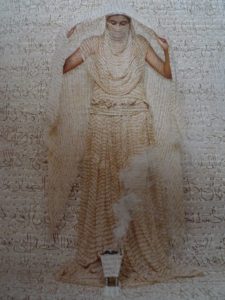 Les Femmes du Maroc Moorish Woman, by Lalla Essaydi
Each Therapeutate perfume brings me to a cultural and somewhat geographical location- even to the point of being almost certain there is a hint of society specific incense formula in each- in Cardamom Rose there is the distinct aroma of sandalwood and rose powder mingling in the bottom of the incense box. (This is a very specific memory for me, as these two powders could be found at the bottom of shipment boxes of a certain aromaology company I used to work for; they sold incense at the time which was merely rose and sandalwood powder.)
Rodney explains, "...Meditation and incense clearing was certainly apart of the process… …inspired by my travels, walks in NYC and mostly by my research on metaphysics. The line is influence with a state of healing always in mind. … The question- 'is it going to be interesting, will it be unfamiliar while at the same time calling upon what is also familiar to us.?' Balance is the key. I love strong smells, but even more when they are tempered with brightness and smooth finishes."
Lalla Essaydi's "Silence of Thought #5," 2003
An answer comes in the buffing, smoothing action of vanilla on cardamom- giving softness to the piquant spice and orange to brighten the opening of Cardamom Rose, allowing flight to the astringent qualities of cardamom and resting the formula into a velveteen resin of blossom and sweetness. "Juxtapositions. They must always have a certain quality about them. Any item without quality, certain luxury and experienced taste I don't want it. My taste is discerning."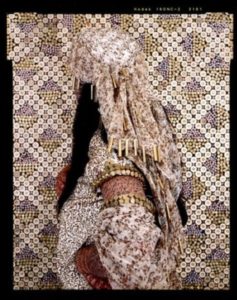 Lalla Essaydi – Bullets #3 2009
"Strong" is an interesting word- I understand there is a formability to be found in Therapeutate's sillage and longevity, one which would satisfy the commercial needs for such qualities, the strength I find is one of intention and literal therapeutic value. Cardamom is often used in mystic circles for spiritual practices, an olfactory way of parting the veils of illusion. Pine accentuates this clarity while the immortal rose gives compassion, empathy– this synergy is akin to unconditional love.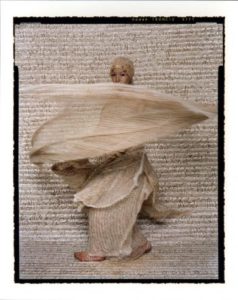 LALLA ESSAYDI – Dancer 10 2009
Perhaps owing to the exaltation of rose, or the use of cardamom and main character- Cardamom Rose leaves me a deep Arabic sense of wonderment- similar to the dizzying awe when lost in the repetition of mosaic tile or the hypnotic calligraphy of the written script.
Notes: Rose Otto, Cardamom, Orange, Pine, Vanilla & Sandalwood
*disclosure: my sample was provided by Therapeutate Parfums for review.
-Einsof, Natural Perfume Editor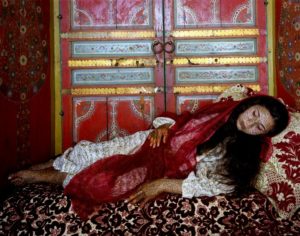 Silence of Thought Lalla Essaydi
.Art Direction MC: I chose the work of Morocco Born of Lalla Essaydi, whose modern reinterpretaions of European Orientalist art has been exhibited worldwide including at The Smithsonian Institute of African Art for the mixture of ancient and modern juxtapositions Einsof writes of. Cardamom Rose has the intensity and mystery of her photographs yet retains a modern feel.

Rodney is a certified perfumer with the Natural Perfumers Guild,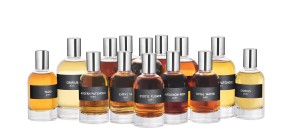 Thanks to Rodney Hughes, we have a USA ONLY reader's choice of a sampler of the following Therapeutate parfums Modern Patchouli, Cardamom Rose, Chrys 14, Osirius, Taosi, Exotic Flower and Royal Water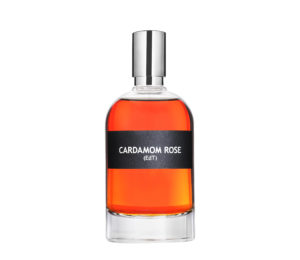 Or a 25 ml bottle of Cardamom Rose for a registered reader in the USA Only (don't know how to register…click here!!)
Please leave a comment with what you enjoyed about Einsof's Review of Cardamon Rose and your choice of fragrance should you win. Draw closes August 15, 2016
We announce the winners only on site and on our Facebook page, so like Cafleurebon and use our RSS feed option … or your dream prize will be just spilled perfume.