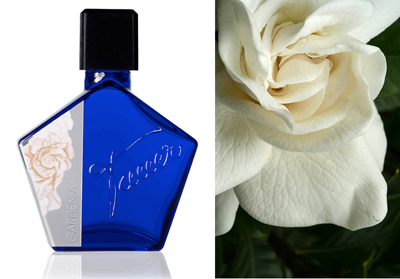 La Sotto La Luna bottle, Gardenia, photgrapher not known
Swiss Perfumer Andy Tauer of Tauer Perfumes has always been on my frontburner of perfumers to watch. He has created several of my favorite perfumes, including one that helped make me the perfumista I am today. I can't say "Oh, I love everything he makes!" because there are some that I am ambivalent about. Let's just say that as far as individual perfumers go, he has a good track record. His latest release, Sotto La Luna Gardenia, falls midway between love and ambivalence, with some unusual and probably unintended imagery involved.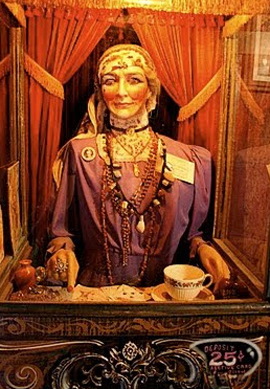 Vintage Fortunetelling Machine, photographer unknown
My first dab of Sotto La Luna Gardenia surprised me with the imagery that popped in my head, so I waited for a full wearing, and yes, it was there. This perfume is, to me, old-timey. By that I don't mean vintage like we think of vintage perfume. It reminded me of a love potion oil you would pick up at a carnival, or if you were adventurous, at a Botanica* in the Hispanic neighborhood. However the main image in my head was of a fortune-telling machine, all lit in red. What the heck? I have to confess that I own some spell-oils, and rather enjoy their odd aromas. They are not high perfumery by any stretch, but that is not their purpose.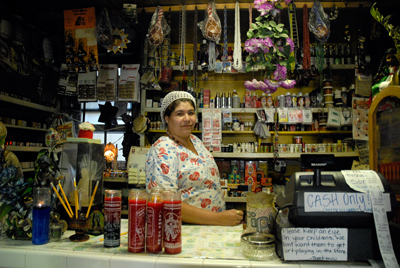 Lupe of Botanica los Scieños, Mission District, San Francisco, photo by Wendy Goodfriend
When I first fully apply, I get a distinct scent of cinnamon, like slightly buttery cinnamon toast, with a heavily languid gardenia. There are a few iterations of gardenia in this composition, and they blend interestingly. I get a lot of creamy spice, with a little thrill of the overripe flower, like an exotic carnival palm reader whose hair adornment of fresh gardenia has seen a bit of wear by late night, combined with her slight over-use of a dusky scent. Why do I say it is old-timey? Because the images I get are not of a modern carnival, but a dusty, dimly lit traveling show. The unguents and oils are offered by the spiritualist as side trade to fend off the warnings she just gave in her slightly foreign accent, put on to disguise she is from Atlantic City. As her nervous clients dab them on, her tent is filled with floral, spicy, candied aromas, and that is what Sotto La Luna Gardenia reminds me of.
Notes: The spicy freshness of gardenia budding under a bright moon. The green floral delicacy of gardenia in full bloom with a gentle rose; The powdery mossiness of ripe gardenia with a hint of jasmine, in a bed of sandalwood, tonka and vanilla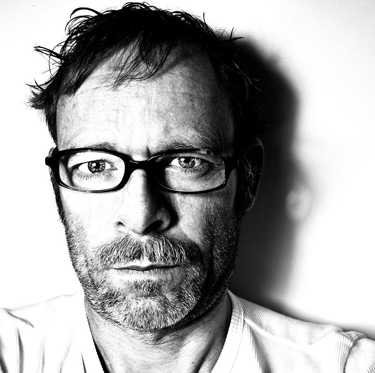 Perfumer Andy Tauer, photo by Andy Tauer
Sotto La Luna Gardenia is the first in a proposed series of floral perfumes based on nightflowers. This one was inspired by rabbits dancing in the night, which is a nice visual. I am attracted to flowers that are at their best at night. Andy did a lovely job of keeping his base light enough to not overwhelm the heady star of the show, and I look forward to the rest of the line.
My sample was provided by Twisted Lily. Sotto La Luna Gardenia is available for pre-order until September 9, when it officially launches, at Twisted Lily and other stockists, and online at Tauer Perfumes. $145 for 50 ml.
Tama Blough, Managing Editor
* Note: I think these shops, the botanicas, are known by other names in differernt locations, but basically they sell supplies for Santaria (Regla de Ocha) a blend of Afro-Cuban native spirituality and Catholicism. Of course, they are happy to sell to people just poking around, like me, and will advise you if you select something spiritually dangerous.
Thanks to Twisted Lily, we have three samples to give away to three readers in the US.. Let us know your favorite Tauer, what interests you about this perfume, and where you live. Draw closes September 7, 2014
We announce the winners only on site and our Facebook page, so like CaFleureBon and use our RSS option…or your dream prize will just be spilled perfume.