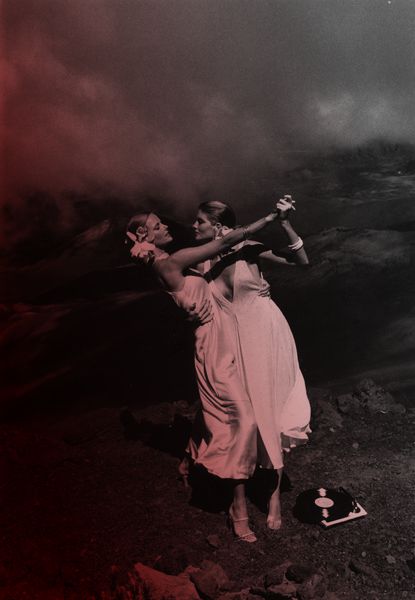 Cheryl Tiegs & Rene Russo by Helmut Newton for Vogue, December 1974 (colorized MC)
The moon's cycles have been used to mark the passing of time, for planning of agriculture, and choosing fortuitous times to engage in activities or work on tasks. The waxing or growing moon is a time for starting new projects and seeing their growth with the moon to fruition. The full moon signals times of bounty and harvest. The waning or shrinking moon is good for working towards removing unwanted presences, obstacles, or habits. The dark moon or new moon though, that is a time of quiet, of self-reflection, a time to choose what seeds you want to sow and wake those dormant sparks of life from slumber. With her new release of Dark Moon Rose, perfumer and senior contributor Elise Pearlstine of Tambela Natural Perfumes honors the magic in the lunar cycles with a heady and seductive perfume of rose on amber that is sure to fan those sensuous sparks into hot glowing fire.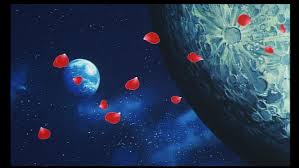 Moon and Rose Petals image Sailormoonnews.com
Dark Moon Rose was originally created by Natural perfumer Elise Pearlstine in January 2014, a very busy month for lunar events. January began with not only a new moon, but a super moon, followed by a full moon falling on our perfumer's birthday, then ending with a second new moon. This made for quite an auspicious month, and Ms. Pearlstine began work on New Year's Day laying the foundation for the perfume. On the full moon, she began making modification and adjustments to the formula to help it sparkle. Then on the final dark moon of the month, Elise finalized and polished the perfume into a stunning release. Wanting this perfume to be a labor of love and an opportunity to spread joy.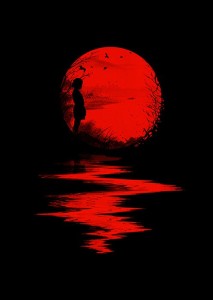 Blood Moon cracked.com
In response to the requests for more lunar fragrances, Ms. Pearlstine set to work with the moon cycles and reformulated this jubilant perfume to round it out a bit further and improve its longevity. On July 31st, a blue moon (second full moon in a single month) and August 1st, the day of the full moon, she made some adjustments and is releasing the new version of Dark Moon Rose for the Blood Moon September 28, 2015.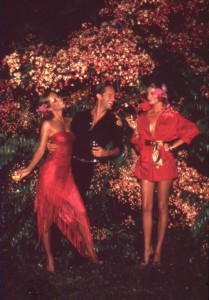 Cheryl Tiegs & Rene Russo by Helmut Newton for Vogue, December 1974
Dark Moon Rose opens with a fleeting citrus note, then quickly introduces a rich, lush, narcotic rose that swallows you up in sensory bliss. The rose is captivating, alluring, and continuous, revealing new facets of the scent much live the petals slowly opening to a full bloom. Musky notes keep it a very dark rose scent true to its name, with spices interweaving and giving an easy and enjoyable transition into the amber.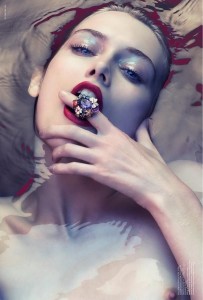 Oh, the amber! It is a delectable base, spicy, sweet, and almost edible. The addition of a gentle patchouli and cocoa note keep the amber on the drier side, so it avoids the cloying and the powdery facets of some amber fragrances. This makes for an amber that can be enjoyed even on warmer evenings. Dark Moon Rose has good sillage and above average longevity for natural perfumes. It can be worn easily by men as well as women.
Notes: four kinds of roses, jasmine, neroli, sandalwood, a traditional amber base of aged labdanum, benzoin, and vanilla, tonka, chocolate, aged patchouli, a touch of tarragon, and a bit of Meyer lemon. (so many of these notes and ingredients have been featured in Elise's popular ÇaFleureBon Perfume Notes & Ingredients returning this month)
Disclosure: I received my sample from Tambela New Perfume Review: Tambela's Dark Moon Rose + Super Moon Draw
Michael Singels, Senior Contributor
Editor's Note: A rare supermoon eclipse will take place on September 28,2015.Art direction Michelyn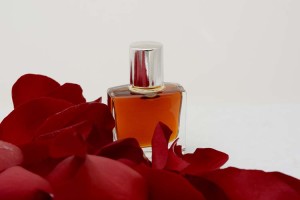 Tambela Perfumes Dark Moon Rose
Thanks to the generosity of Elise, we have a 7 ml bottle of Dark Moon Rose up for draw to a registered user anywhere in the world. (You must be registered). To be eligible, please leave a comment on why you want to try Dark Moon Rose by Tambela, where you live and your favorite perfume ingredients post from Elise! Draw will close 09/4/15.
We announce the winners on our site and on our Facebook page, so Like Cafleurebon and use our RSS option…or your dream prize wil be just spilled perfume