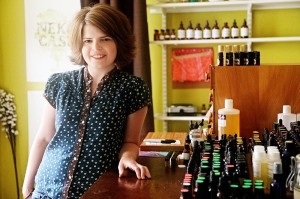 The Original Sweet Anthem Studio Meredith Smith
In the Summer of 2016 a quiet buzz started moving around the Pacific Northwest; Sweet Anthem Perfumes was re-opening after a two year hiatus. Since 2007, Sweet Anthem then based in West Seattle, had been a "must-see" destination on every perfumista's Northwest itinerary. In 2007 Natural Perfumes were not quite "a thing" yet, and held a certain below-the-radar mystery to most fragrance lovers, often dismissed as Head Shop leftovers rife with Patchouli oil, musk, and a vague scent of Nag Champa. Sweet Anthem helped change all that and was a leader in natural perfumery in the Northwest.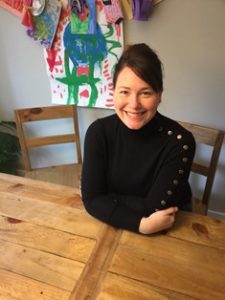 Marisa Borrevik Sweet Anthem Natural Perfumes
In opening Sweet Anthem, then owner Meredith Smith had decided the time was right for vegan, cruelty free, and mostly natural perfumes offered at very reasonable prices. Sure enough, the idea was a hit and her Seattle studio perfumes were flying off the shelves and soon started showing up at Anthropologie and other retail locations. Now re-opened in Portland Oregon under the very capable day-to-day operation of Marisa Borrevik, with Meredith popping in from time to time, new baby in tow, to offer input, Sweet Anthem is back in business creating wonderful scents!
The new three-perfume Timeless Collection is Marisa's first endeavor for Sweet Anthem, and it's a stunner. It's also the first 100% all natural perfumes they've offered. The inspiration for the range is in Marisa's own words…"Our lives, experiences, passions are wrapped up in these complex memories. But somehow to me, olfactory memory seems the purest in feeling. The Timeless concept was born out of an eagerness to understand the world in a different way – like historical fiction for the nose. The time periods felt like they choose themselves, I knew exactly the eras I wanted to evoke and what the finished product would feel like……"The Perfumes all capture a historical era or moment in time; scent as a time capsule of past and future:
Robert's parents in San Francisco 1948.
1948-Beginnings The year 1948."The war to end all wars" had ended three years prior, Service men and women had returned home, gotten married, and the first wave of the baby boomer generation were turning two years old. The population of the USA was skyrocketing as more babies were being born every day.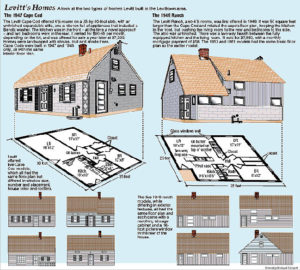 Blue Print of Levittown Houses
Levittown the first suburb (in Nassau County New York) was built, and after the horror years of WW2, couples were anxious to get their slice of the "American Dream." The world was galloping towards the future and life was good and prospects bright.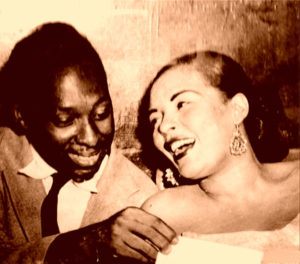 Bob Anderson and Billie Holiday Apollo Theatre. Happy Birthday Lady Day April 7, 2017 (photo late 1940s)
1948-Beginnings gorgeously captures that rapture and sense of hope, shaking off the chains of the past, and striding forward. A ray of light after years of unspeakable darkness. The floral notes at the top give a nod to the classic perfumes of the past, and the green chill of the vetiver mixed with the exotic, slightly bitter frankincense and labdanum are decidedly pushing the modern. 1948 Beginnings is the perfect amalgam of past and future. If like me, you're a fan of Guerlain L'Heure Bleue or the classic Dior's then I suspect you'll love this scent! Notes: Honeysuckle, frankincense, labdanum, myrrh, orris, jasmine, & vetiver.
Robert Herrmann as Woof in Hair NYC. (photo by Martha Swope)
1969-Revolution: The year 1969. Many of us were there. The world watched as a president, a senator, and a civil rights leader were assassinated.. Television brought these events right into our living rooms, and once again we were mired in a war. The Summer Of Love was two years gone, and with it much of our innocence and naivety. Men continued to grow their hair long, and everyone was still encouraged to "turn on, tune in, and drop out." On Broadway, the American Tribal Love Rock Musical HAIR was the big hit, perfectly reflecting the dissonance of the era and the desire for the Age Of Aquarius to commence.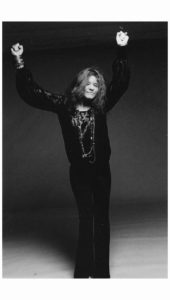 Janis Joplin by Francesco Scavullo, 1969
On both coasts a revolution of another kind, the sexual revolution was amping up towards it's reign and ultimate demise through the 70's. 1969-Revolution is all about the exuberance and waning of the flower child, as darker times approach.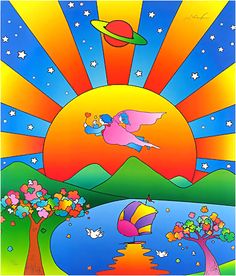 'Universal Harmony' by PETER MAX
The perfume opens with a "Let The Sunshine In"-tonka bean zingy Coca-cola/fizzy drink feeling that is as bright and happy as a be-in in Golden Gate Park. Pure unadulterated youth, freedom and "good vibrations". This very quickly settles down into a gorgeous floral heart supported by the woody, spicy notes of the amyris and sandalwood. The burgeoning darkness comes through the oakmoss, vetiver, and benzoin, and it's very clear that "The Times They Are A'Changing." Notes: Tonka bean, tuberose, amyris, Moroccan rose, sandalwood, oakmoss, vetiver, and benzoin.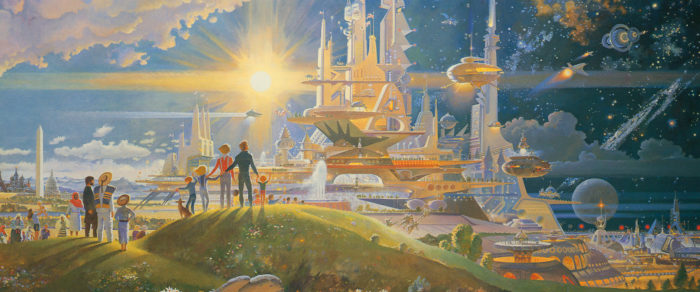 The Prologue and the Promise, 1993, Robert McCall©
2020-Hope: In a fractured world where divisiveness and fear rule our emotions, we keep hope alive like a light in the dark, and turn to things that comfort us. Like nestling into a loving mothers arms, 2020-Hope will have you feeling as if there are good days still to come, and cohesiveness and love might just propel us forward to a better future yet to be revealed. Opening with a blast of pithy yuzu and petitgrain to lift you up, the absolutely beautiful emerging sandalwood, almond, tonka, and lavender help you to maintain your elevated equilibrium. Like the first bite of a crisp and creamy vanilla Macaron, you exhale easily and realize that you can do this, you can get through this, and with letting that breath out, your spirit settles. Calming and wonderful. Just what we crave. Notes: sandalwood, tonka bean, bitter almond, yuzu, benzoin, lavender, petitgrain, vanilla
Disclosure: Many thanks to Sweet Anthem Perfumes for supplying the samples. The opinions are my own
–Robert Herrmann, Contributor
Art Direction: Michelyn Camen, Editor-in-Chief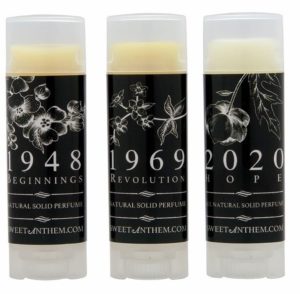 Thanks to Sweet Anthem Perfumes and Marisa Borrevik, we have a three-sample (5 ml. each) set of the Timeless Collection in solid perfume form for a registered reader in the USA. Please be sure to register if you have not done so. To be eligible please let us know what you thought of Robert's reviews, which perfume you resonated with you and which year in your life or historically would make a great perfume. Draw closes 4/10/2017.
We announce the winners only on site and on our Facebook page, so Like Cafleurebon and use our RSS feed…or your dream prize will be just spilled perfume.