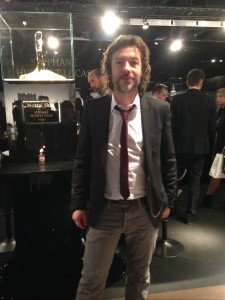 Stéphane Humbert Lucas at Esxence introducing Mortal Skin (photo by Michelyn)
Michelyn met Stéphane Humbert Lucas at Esxence and from her photo he looks like a young Serge Gainsbourg. But I digress. If you are not familiar with Stéphane Humbert Lucas he is known as a synesthetic perfumer. M. Lucas is the nose of SoOud (which he created with perfumer Henri Sorsana ) and Nez à Nez . He started his first solo brand Stéphane Humbert Lucas 777 in 2013 (launched in the USA at Osswald NYC). Monthly Contributor Nancy Lichtenstein wrote about 777 Black Gemstone "If Maleficent wore a fragrance, it would be Black Gemstone by Stéphane Humbert Lucas 777. Although the numbers in the brand's name stand for good luck, this scent has an undeniable demonic power that burned a photographic image of Disney's greatest villainess in my brain"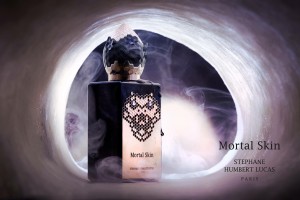 Mortal Skin photo © Roberto Greco
That sentence is a great segue way into Mortal Skin, the first perfume in his new Snake Collection. After dabbing on the sample, my first thought was DARK and that I can't wear something like this, a purely artistic fragrance that pushes every boundary taking me right out of my comfort zone.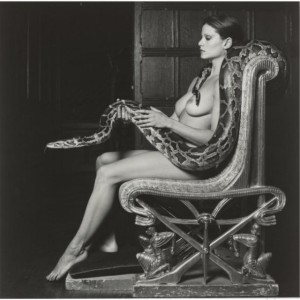 Robert Mapplethorpe Lisa Lyon with Snake
If there ever was a fragrance created as art and for art's sake, this is it. I am not sure if it smells good, great, bad, but it is clearly one of the most unusually compelling scents of the year.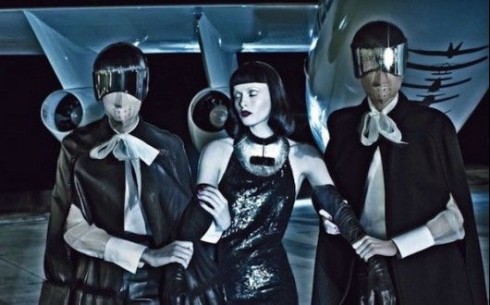 Vogue 2012 Virgin Galactic The SpaceShip Company Karen Elsen Photographer Steve Klein
There are perfumes which one wears for compliments, some for nostalgia or scent memory, those which just exist on a mundane plane, and a special few that push the "perfumiverse" to its limits. Such it is with Mortal Skin – a perfume with a glittering cobra head for a flacon and which inhabits a realm somewhere between spilt calligraphic ink found in an Egyptian tomb and the interior of an alien space ship.
The opening of Mortal Skin is powered by thunderous, black heat. The top notes are listed as blackberry, ink, frankincense and labdanum. What come across is hot ink and an exceedingly green blackberry with the only touch of sweetness coming from the davana. The frankincense and labdanum team up for a kind of asphalt and leather thickness that is nearly opaque.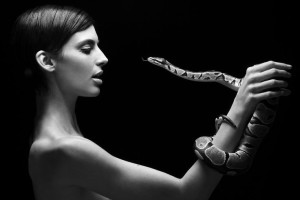 Rachele Schank with snake. Shot by photographer David Page in Paris.
The heart of the fragrance offers no quarter from the storm, either. The ink accord finally breaks down and gives way to a sweet opoponax, which is held in check by a solid concrete sidewalk iris note. There's a raspy cardamom floating in the background as well, with the whole composition performing a push me-pull you dance of the notes combining and blending. Mortal Skin strikes rather than undulates. First the opoponax takes center stage, then the cardamom grabs your attention. It's no small symbolism that this fragrance has a snake's head as its bottle stop, because it unwinds in just the way a snake does, writhing and curling in an elliptical thrust to propel it forward. Mortal Skin's darkness both compels and repels the wearer. The ink accord married to the frankincense and cardamom is like visiting a daycare center where the children are all happily coloring at the activity table, and what they've created is indecipherable hieroglyphics and symbols drawn by an alien race that escaped Section 51.
The Man Who Fell to Earth 1976 David Bowie
At the drydown of Mortal Skin there is hints of cedar and ambergris peeking through. But that leathery labdanum remains, joined with civet and some musk. Darkness, darkness, and more darkness; with a pinpoint of light that blinds you if you look straight at it. Mortal Skin for all its blackness is a thoroughly captivating style of perfumery. The strength and sillage are considerable. When you look up into the Heavens, know that we are Not Alone in the universe. Something is lurking above the cloud layer, hovering in that darkness and waiting to speak to us. You will recognize them by their scent, Mortal Skin.
Notes: Blackberry, Ink, Frankincense Labdanum (Rockrose), Opoponax, Iris, Davana, Myrrh, Cardamom, Ambergris, Storax, Sandalwood, Labdanum (Rockrose), Civet, Atlas Cedarwood, Birch, Musk
Pam Barr, Senior Contributor
Disclosure: I received my sample from Osswald NYC
Art Direction: Michelyn Camen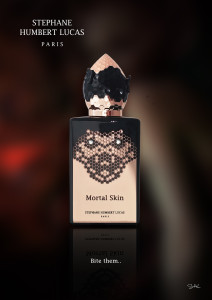 Mortal Skin Photo © Roberto Greco
Thanks to Stéphane Humbert Lucas , we have a worldwide draw of two generous samples. To be eligible, you must be a registered reader. Please leave comment with why you would like to try Mortal Skin, where you live and what character would wear Mortal Sin (David Bowie aside). If you have a favorite perfume created by Stéphane Humbert Lucas please add that as well. Draw closes 9/8/2015
We announce the winners on our site and on our Facebook page, so Like Cafleurebon and use our RSS option…or your dream prize will be just spilled perfume.