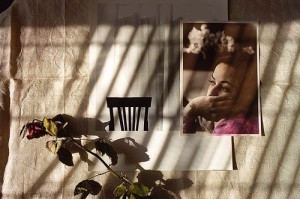 Rana Javada Once Upon A Time Untitled 2 courtesy of Robert Klein Gallery
"I will soothe you and heal you. I will bring you roses; I too, have been covered in thorns." -Rumi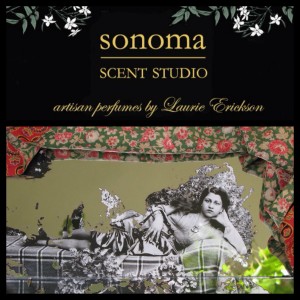 Rana Javadi Iranian artist via Artsy.net
Laurie Erickson of Sonoma Scent Studio (well known for her beautiful artisan perfumes and at CaFleureBon for her collaboration with Editor-in-Chief, Michelyn Camen on Yin and Ylang) awaits the arrival of a carefully selected damascenone natural isolate, the final ingredient in her forthcoming Amber Incense; a poetic study of primordial forces in perfume: incense, roses, and amber.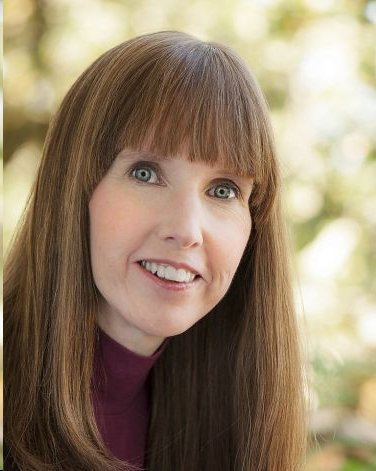 Laurie Erickson of Sonoma Scent Studio
An archetypal moment for the perfumer, as she reinvents her website this week, and Amber Incense's full release, following later this month. Sonoma Scent Studio is preparation for a quantum leap, where the common sense science of "where there is smoke there is fire" will be as true as living on a flat planet.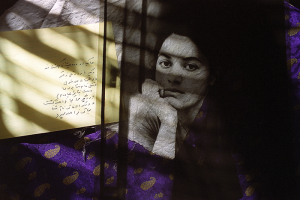 Rana Javadi Once Upon a Time courtesy Robert Klein Gallery
"Like the shadow, I am and I am not." -Rumi
Capturing the swirling non-permanence of incense smoke and it's residency in aromatics, Laurie has structured a perfume which alters accords like the pillar of aroma shifting and rising from a glowing ember. From the opening plum and Sichuan pepper on elemi and frankincense– you are summoned and the mythical process has begun- you are hero called to leave what you know and everything you think you know about these so-called perfume standbys is now Dark Ages.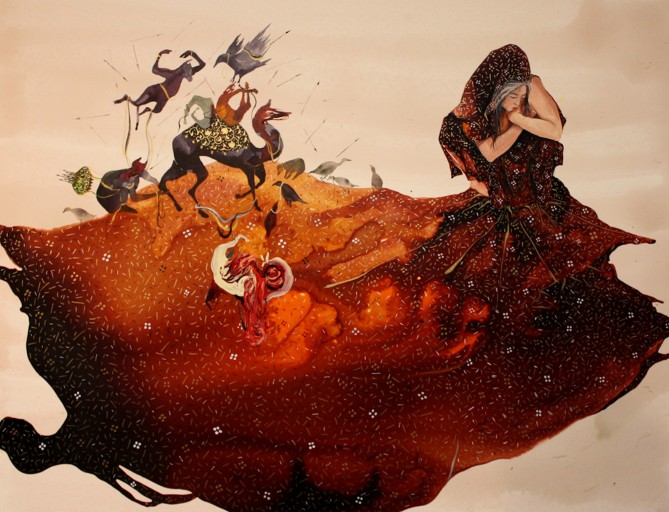 painting Iranian artist Shiva Ahmadi The Red Veil
"I have become a rose petal and you are like the wind for me. Take me for a ride." -Rumi
Plum blooms into queen rose and joined by her king, jasmine, the resins are now billowing patchouli, oakmoss, and tonka; a blend vintage in aesthetic. While we may be proving there can be smoke without fire, there is the same imminent change of something aflame- bursting with the heat of change.This heat melts a glorious rivulet of beeswax and a clearing of cedar, which uncharacteristically has remained a forest in the background. Heliotrope and an apricot blend from natural isolates sweeten and perfect this golden moment when reapplication is understood and accepted as destiny. We are at the moment in the mythic hero's journey when there is temptation to rest in paradise found. Myself, subject to siren song, would rest here in the arms of this olfactory Circe… happily transforming into wallowing pig if only this moment in Amber Incense would last eternally.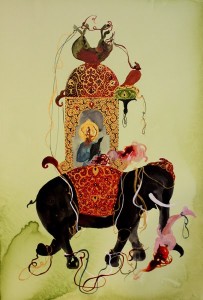 Shiva Ahmedi
Our journey is profound, but far from over.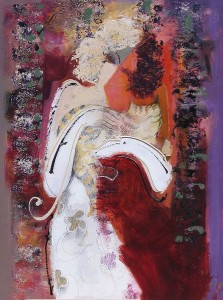 Mahmood Sabzi – Iranian Abstract Impressionist painter – Tutt'Art@ (21)
"LIGHT THE INCENSE! YOU MUST BURN TO BE FRAGRANT! To scent the whole house, you must burn to the ground." -Rumi
Before burning Amber Incense to the ground, you still have the amber archetype to encounter, and the return home a changed individual. Laurie integrates the wondrous feats of our journey by beginning the rose and benzoin dance which kicks up puffs of powder as they tango across the stage. It is a delicate and frenzied spectacle and also smokescreen– another waft has cedar peppered with pepper somehow left over from where we've begun. Slowly, New Caledonian sandalwood mingles and clears the amber- which is sweet and classic in its combination of vanilla, benzoin and labdanum.
Notes: elemi , Sichuan pepper CO2, clove bud absolute, rose absolute, jasmine sambac absolute, beeswax, frankincense, cedar, New Caledonia sandalwood absolute, labdanum, oakmoss absolute, patchouli, heliotrope isolate, natural apricot isolate blend, natural damascenone isolate, tonka, benzoin absolute, vanilla
-Einsof, Natural Perfume Editor
(disclosure: my sample was provided by Sonoma Scent Studio for review; Michelyn was a beta tester.)
*all quotes by Rumi.
Editor's Note: This is Laurie's third 100 percent natural perfume, joining Cocoa Sandalwood (2013) and Spiced Citrus Vetiver (2013). Amber Incense will be available in 34ml /$125; 17 ml/$64; 5ml/$25. Congratulations Laurie on your beautiful new website
Art Direction: Michelyn Camen Jelaluddin Rumi, the 13th century mystic, was truly one of the most passionate and profound poets in history. Einsof brings the beauty and relevance of Rumi to Laurie's Amber Incense. To honor this heritage, I chose modern Iranian artists. They are not affiliated with Sonoma Scent Studio; I chose them because they spoke to me.
*"What you seek is seeking you."
Laurie has generously offered three samples of the final formulation of Amber Incense to a US reader. Irreplaceable, these samples are from the original final modification of the perfume, for the commercial batch still waits its damascenone bloom. To be eligible please leave a comment with what you enjoyed about Einsof's review and your favorite Sonoma Scent Studio fragrance. Draw closes March 14, 2015
We announce the winners only on site and on our Facebook page, so Like Cafleurebon and use our RSS option…or your dream prize will be just spilled perfume