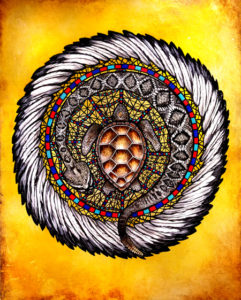 Original Art Work by Angela St. John's husband
"The turtle shell is my armor, the spiderweb holds negativity in its sticky silken thread, the venom of the rattlesnake protects me and the eagle allows me to fly from danger."-Angela St John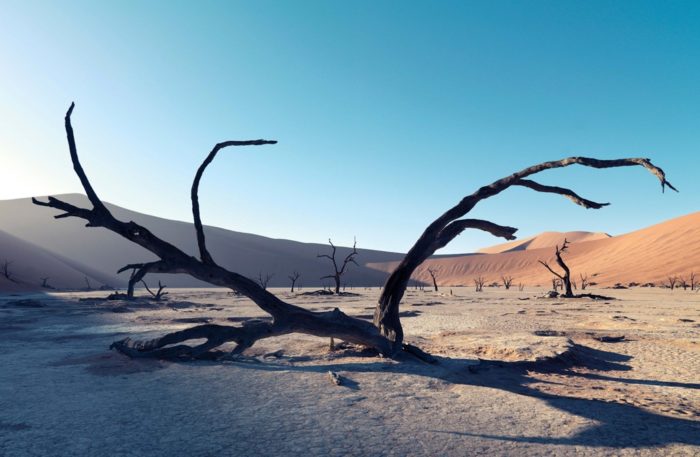 Narcisse Magazine Those Without Shadows©
The desert is a haunting and haunted locale, the feeling of both spirit and history almost palpable, not only drawing people to it but also inspiring artists, poets, authors, and cultural creatives of all genres to produce extraordinary work. At first impression it may sound desolate, but it is anything but.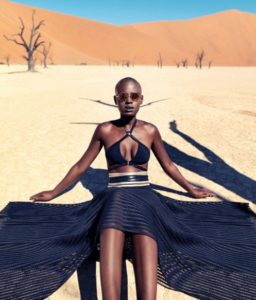 Narcisse Magazine Those Without Shadows©
There is something undefinable, mystical, and downright magical about a desert landscape. It's as if all that endless space and turquoise-electric blue sky makes personal growth something far beyond a self-help group or a best-selling "How To Improve Your Bad Self!" hardcover book.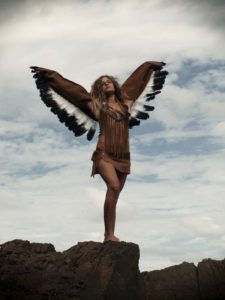 Photo Googlesearch
Standing in a Southwest desert setting, the brown earth undulating into stunning striated hills and plateaus, seem to push your psyche to grow and expand to fill the space, but the never-ending boundless vistas of sky and earth can never be filled, so it continues pushing your expansion on and on. An eternal quest for spiritual fulfillment. You feel yourself becoming a small part of that landscape that's full of life while at the same time quiet and profound. With her new fragrance Guardian, Solstice Scents perfumer Angela St. John has miraculously captured the all-encompassing and protective nature of desert culture, and magically captured it in a bottle; an olfactive genie ready to uncork, spray on, and face your battles. A true Southwestern talisman.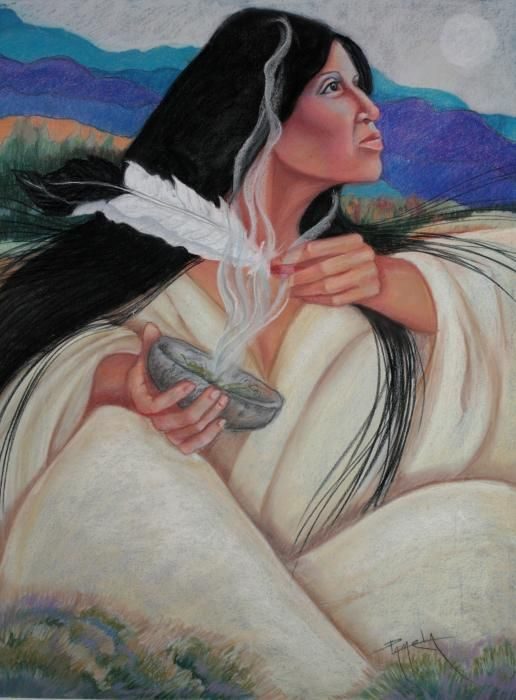 Smoking the Sage by Pamela McCabe©
Essentially a gorgeously rendered Amber and Sandalwood perfume, Guardian opens with the scent of a sweet sage smudge-stick with tendrils of citrus and wildflower flitting in and out, a fitting opening for a protective desert perfume, smudging being a time-honored ritual of new beginnings and creation.Just as some might use a burning smudge stick to purify a new home, workspace, studio, or project, the aromatic sweetness of the top notes of Guardian to dispel any negative energy from hindering the wearer. The smokey waft of a smoldering Pinõn pine fire adds to the sweetness, and is an odor that is intrinsic to the American Southwest desert psyche.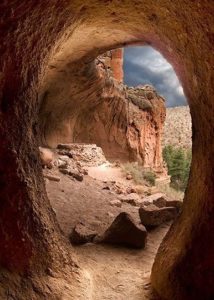 Bandelier National Monument, New Mexico Googlesearch
So ingrained is this odor in the cultural DNA, that even when visiting New Mexico's prehistoric cave dwellings Bandalier National Monument, you'll notice smoke smudges on the walls of the ridge face dwellings containing a faint trace of the Pinõn pine aroma still present after 11,000 years.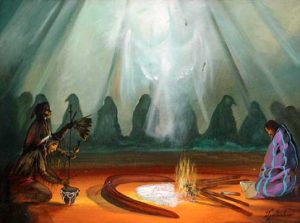 Jeff Yellowhair "Morning Water"©
Guardian edp softens as it wears and the Oudh, Fir Balsam, Cypress, Juniper, and Patchouli appear, giving the impression of walking through a high desert chaparral forest at dusk, the ground soft with needles, yet dusty, dry, and slightly camphorous. All of these scents surround and strengthen the Amber and Sandalwood base acting like a protective shell, and creating a scent that is at times mysteriously elusive, yet close and comforting as a well worn Navajo blanket thrown over your shoulders, redolent with the smells of nature and your surroundings.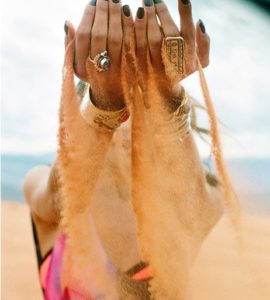 Photo by Lynn Dearstyne ©
Angela St. John and her House Solstice Scents elicit an almost fever-pitch desire among her followers whose numbers are legion. Guardian is a stunning creation that is sure to swell the numbers of those that love St. John's beautiful creations and those new to her olfactive art.
Notes: Amber, Bergamot, Rowan Flower Essence, Three kinds of Sage, Spruce, Pinõn Pine, Fir Balsam Accord, Spikenard, Oudh, Patchouli, Cypress, Juniper, Muhuhu (African Sandalwood), Mushroom Accord, Shiso
Disclosure: Many thanks to Solstice Scents for supplying the sample. The opinions are my own
–Robert Herrmann, Contributor
Art Direction: Michelyn Camen, Editor-in-Chief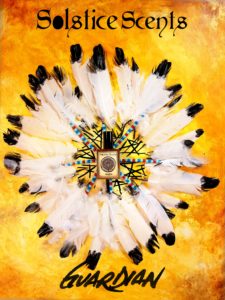 Thanks to Solstice Scents and Angela St. John, we have a draw for our registered readers. Worldwide: for our international readers, we have a 5ml of Guardian edp, and for our USA readers we have a 60 ml of Guardian edp. Please be sure to register if you have not done so. There is only one winner. To be eligible please let us know what you thought of Roberts' review, if you have a favorite Solstice Scent, and where you live. You can read the multi –perfumer collaboration to commemorate CaFleureBon's 7th anniversary here . Draw closes 3/22/2017
We announce the winners only on site and on our Facebook page, so Like Cafleurebon and use our RSS feed…or your dream prize will be just spilled perfume.