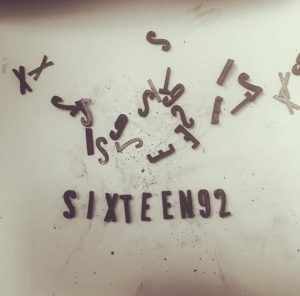 via @sixteen92perfumerie
When those in the know notice and speak highly of a new virtually unknown perfume house, and that same perfumer goes on to be nominated for a 2017 Art & Olfaction Award I, like the great eye of Sauron, swing about and focus my perfume-sniffing laser beam on finding out more.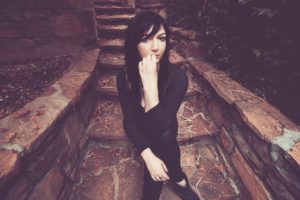 Claire Baxter of Sixteen92 Perfumes
Based in Dallas Texas, and named for the date of the Salem Witch Trials, Sixteen92 is the brainchild of Claire Baxter, self-described CEO and Head Witch, introvert, secret lover of race cars, gardening, and '90s video games. In her early 30's Claire is passionate about singing opera, fragrance, and the scientific nuances that connect scent with memory. Her glorious scents, based on legends, myths and fairy tales, are for the most part vegan, and completely non-animal tested. The perfume oils run 35-40% fragrance concentration, and her new Extrait de Parfums a whopping 35-50%. "I've always been a creative. I've also always been a lover of fragrances, and particularly fascinated by the science behind scent/memory associations. My journey actually began as a search for a creative outlet, something I could create with my hands; something tangible that could connect with people in a meaningful way. Fragrances are bottled memories, and during my earliest experiments I realized that the style of fragrance that I wanted to share trended more toward conceptual or atmospheric — the scent of my Grandmother's garden, or how I imagine the forests of Grimm's fairy tales or the bustling speakeasies of prohibition-era Chicago may have smelled. The challenges lie in finding a voice — much in the same way a designer or writer discovers their personal style. And I think that's something that's always evolving. Our perfumes are equal parts science, alchemy, and yes, a touch of magic!" -Claire Baxter, Sixteen92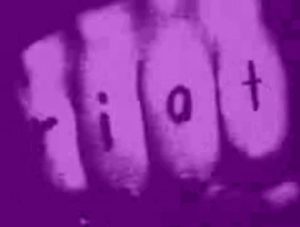 Bruise Violet Extrait de Parfum was inspired by Claire's love of the early 90's "Riot Grrrl" movement, a genre of underground feminist punk-rock bands founded here in the Pacific Northwest. Bruise Violet is a rapturous time machine back to 1993. This extrait-strength sensuous liquid opens with a sweet and innocent lipstick and violet that morphs into anything but..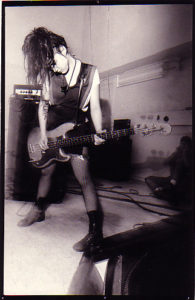 Kathleen Hanna of Bikini Kills 1990s photo Pat Graham
Very quickly the scent veers towards the dark rebellious side as an almost animalic and very vintage vibe sets in. Imagine the young girly frills of Little Bo Peep but with a secret that's hidden beneath her flouncy crinolines; a black leather bustier laced up the back, and a thigh tattoo reading "Born To Raise Hell, Not Just Sheep" Her shepherdess's crook, looking innocent enough hides a Shaolin blade sharp enough to shred a foolish heart into ribbons.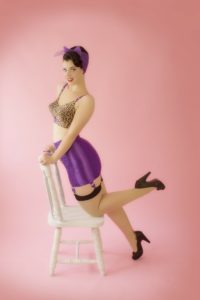 Miss Victory Violet by Zandy J Photography©
She is the sexy wolf beneath the innocent sheep's clothing. A total badass with a blinding 500 watt smile! The dry down highlights the woody and bitter orris aspect of iris, while constantly maintaining the violet innocence, a beautiful and intriguing emotional juxtaposition of good and bad.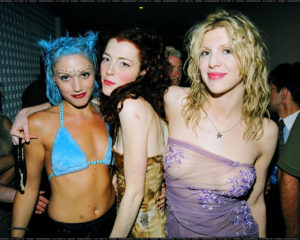 Gwen Stefani with Courtney Love and Melissa Auf Der Maur of Hole
This is a scent that begs to be worn while out clubbing with your posse, and later in the bedroom, with your girlfriend/boyfriend (or both), in an increasing state of déshabillé. A boudoir scent…but so much more. If you've got a thing for violet-centric perfumes, you'll want this in your collection.
Notes: Red lipstick accord, dusting powder, white iris, violet leaf, Damascus & Bulgarian rose, red grapefruit zest.
Disclosure: Many thanks to Claire Baxter and Sixteen92 Perfumes for supplying the sample. The opinions are my own.
–Robert Herrmann, Sr. Contributor
-Art Direction: Michelyn Camen, Editor-in-Chief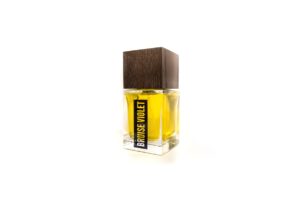 Thanks to Sixteen92 Perfumes and Claire Baxter, we have a 7.5 ml travel spray for a registered reader in the USA. Please be sure to register if you have not done so.To be eligible please let us know what appeals to you about Robert's review of Bruise Violet, if you enjoy violet notes in perfume and your favorite 90s' girl group. Draw closes May 1, 2017.
Follow us on Instagram @cafleurebon and@sixteen92perfumerie
We announce the winners only on our site and on our Facebook page, so like Cafleurebon and use our RSS feed…or your dream prize will be just spilled perfume.